Old John Deere Manure Spreader Sold for Record Price
May 8, 2012
by Machinery Pete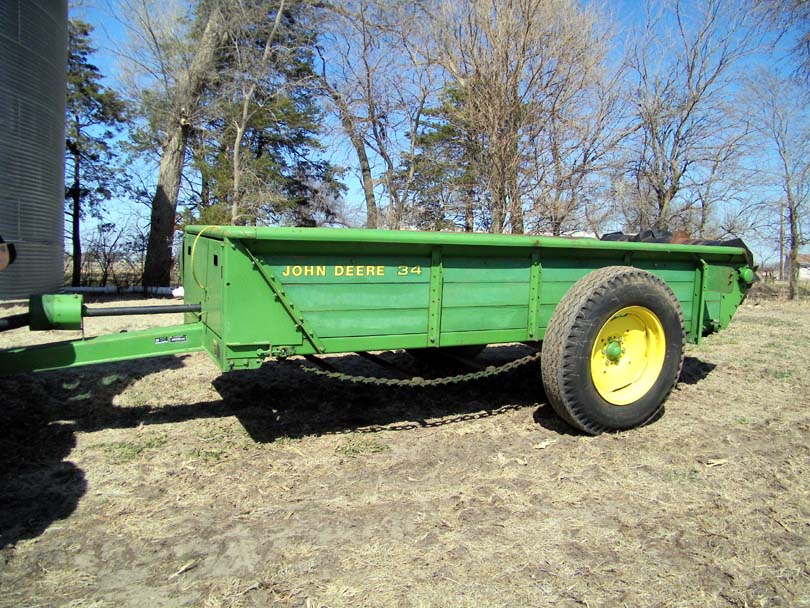 This John Deere 34 manure spreader sold for a new record high auction sale price of $2,700 on an April 13, 2012 farm auction in east-central Nebraska
Time to show a little love to the old manure spreader.
My last blog post here for Machinefinder.com focused on a sweet 1995 John Deere 7800 2WD tractor sold for a record auction price of $71,000 on a recent southwest Indiana consignment auction. I talked of how "beautiful" this used tractor was.
Well guess what…old used manure spreaders can be easy on the eyes too. Don't believe me? Check out the John Deere No. 34 manure spreader pictured above. This manure spreader sold for a new record high auction sale price of $2,700 on an April 13, 2012 farm auction in east-central Nebraska.
Obviously this No. 34 spreader was in very nice condition. So nice it sold $700 higher than the previous high auction sale price I'd seen on a John Deere 34 manure spreader over the the past 15 years ($2,000 on 4/23/05 auction in west-central Indiana).
Here are a couple other very strong sale prices from the April 13, 2012 farm auction in east-central Nebraska:
* 2000 JD 893 8-row corn head: $20,750
* 1997 JD 8300 MFWD tractor with 4,710 hours: $83,000
Used John Deere farm equipment in very good condition…
obviously in buyer demand.