Frontier offers more than 600 implements that are designed to work as hard as those in control. When paired with John Deere equipment, these implements can help with virtually any task around the property you may encounter.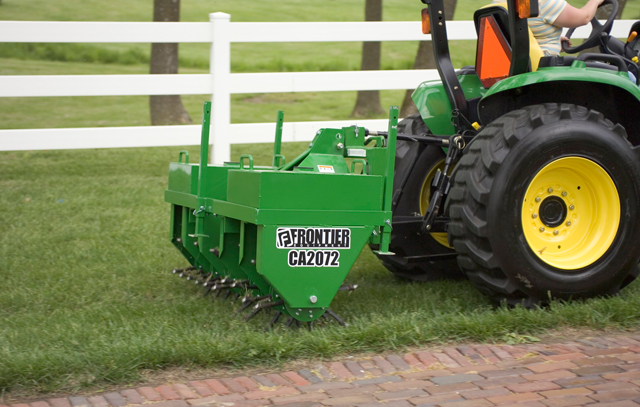 In this video gallery, we've pulled together four tutorial videos that cover the following tasks:
Manure spreading
Mowing with a grooming mower
Aerating, fertilizing, and overseeding
Building a rail fence
In this video, a John Deere representative explains how to spread manure across the pasture using a Frontier manure spreader. A Frontier MS1112 is matched with a John Deere 5100E in the clip, showing operators how to hitch the implement to the tractor and shift the spreader from low speed to high speed from within the cab. It's important to remember the coverage applied to the pasture is dependent on the ground speed and the gear box's speed setting. Watch this video for a full Frontier manure spreading tutorial.
Frontier grooming mowers are great pieces of equipment for those looking to achieve a smooth cut for golf courses, lawns, and sporting fields. In this tutorial video, a Frontier GM1190R is paired with a John Deere 4066R Compact Utility Tractor. Before choosing your mower model, be sure to fully examine the turf area to see what you're up against. The video goes on to explain how to hook the grooming mower up to the tractor, connect the PTO, and adjust the cutting height and pitch of the implement. Watch the full video to learn more about Frontier grooming mowers.
Frontier core aerators can help land owners maintain their property by aerating and preparing the soil for fertilizing and overseeding. A John Deere 4066R is matched with a Frontier CA2072 in this example, showing how to hook the aerator up to the tractor and level it. The video goes on to show the types of Frontier implements that can be added to the tractor to take on fertilizing and seeding.
As the weather warms up, many land owners look to build rail fences along their property. In this video, a PHD400 Post Hole Digger is matched with a John Deere 4066R Tractor, showing operators the steps that need to be taken from start to finish when it comes to successfully constructing a split rail fence.
We hope these videos were valuable to those looking for answers to manure spreading, mowing, aerating, and building a rail fence with John Deere and Frontier equipment.
If you enjoyed this post or want to read others, feel free to connect with us on Facebook, or Twitter!
You might also like: