It's your land, and you've got big plans for it! With a John Deere tractor and the right Frontier farm equipment implements – you can lift it, load it, move it, spread it, and then sit back and enjoy it!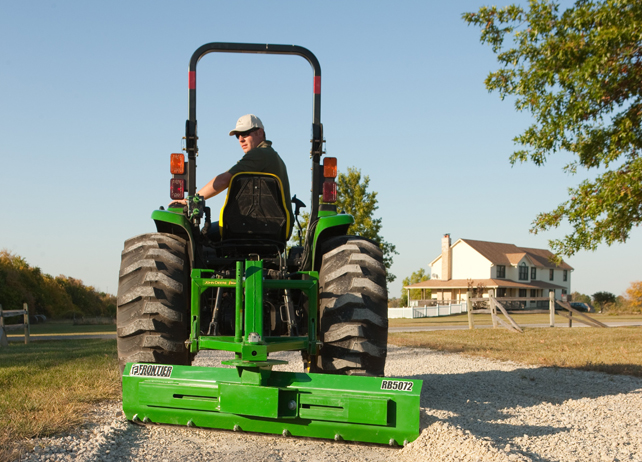 To help you on your way to conquering tasks around your property, we've put together this video gallery providing the information you need to get the most out of your Frontier farm equipment and implements from John Deere.
If you want to eliminate the need to add gravel every year, maintaining your gravel drive is essential. The better job you do of maintaining your gravel drive, the less risk you will run of developing gullies and washboard ruts.
In this video, you'll find out how to maintain a front gravel drive utilizing a rear blade. See the John Deere 3038E Compact Utility Tractor with 37 hp and hydrostatic transmission packaged with the John Deere D160 Hydraulic Loader with a lift capacity of more than 1,100 pounds.
Learn how to smooth and level a low spot in your property using a box blade. Have a chance to see the results that a Frontier BB5072 Box Blade coupled with the John Deere 3038E compact utility tractor can achieve.
This video explains some of the key features of the box blade and other Frontier farm equipment being used, and how these implements can be used to successfully level a low spot with gravel.
How To Adjust And Use A Rotary Cutter
This video talks about rotary cutting and how to maintain some of the rougher areas. In order to do this, you will need a reliable tractor like the John Deere 1025R packaged with the H120 Hydraulic Loader, and the Frontier RC2048 Rotary Cutter. Learn how to adjust and use a rotary cutter, and maintain and control pasture.
Frontier has more than 600 implements that are available only from John Deere. So, if you're looking for implements that help turn your tractor into the workhorse it was built to be, think Frontier and your local John Deere dealer!
If you enjoyed this post or want to read others, feel free to connect with us on Facebook, Twitter or Google+!
You might also like: