When you need new equipment for livestock and equine purposes, you know that you can turn to Deere to find the right machinery. There is a range Frontier™ equipment that can help with all things livestock and equine around your property, whether you need a mounted sprayer or a manure fork. Let's take a look at some of these machines and attachments, and closely examine how they can help you out in the field.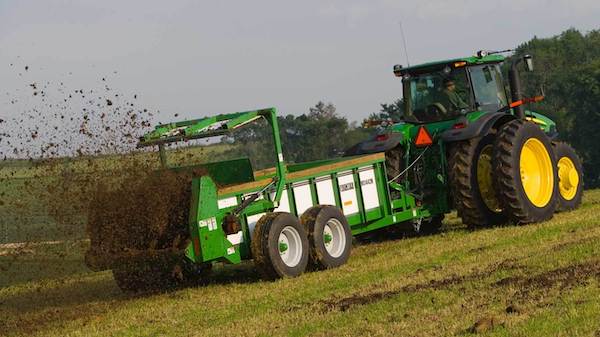 Side-Discharge Manure Spreaders
With a side-discharge manure spreader, you can provide uniform distribution as you work across the land. These spreaders are also adjustable for precise placement of material and feature variable auger speed, tandem axles, and are PTO-driven. The side-discharge expeller is 20 inches wide, and the spreader itself comes with an automatic chain oiler system.
Hydraulic-Push Manure Spreaders
To reduce the amount of time spent on the task at hand, you may want to consider a hydraulic-push manure spreader. This product allows you to cover a large amount of ground in a short amount of time, with its high-capacity spreader boxes and fast unload times. It comes with a solid polyethylene floor and sides and structural floor beams spaced 9.5 inches apart for maximum support.
Chain-Unloading Manure Spreaders
To spread material more evenly, consider a chain-unloading manure spreader. This piece of Frontier equipment allows you to maximize nutrient value and has a 25-50-660 heaped bushel capacity.
Grinder-Mixer
The Grinder-Mixer from Frontier comes with a large-capacity chamber that enables you to mix your own rations in fewer loads. It has a 14-inch mixing auger and an optional weight scale.
Free-Stall Scrapers
With an optional bolt-on back-drag and compatible with 300, 400 and 500 Series Loaders, a free-stall scraper is perfect for cleaning those hard-to-reach areas of dairy pens.
Manure Forks
Frontier AM20F Manure Forks have working widths of 50- or 60-inches, are 21-inches high, and 24.7 inches deep. They use seven tines to remove manure-filled hay or bedding from inside of barns and stalls.
Manure Forks with Grapple
Many of Frontier's manure forks can be easily attached with a grapple for even more productivity out in the field.
3-pt Mounted Sprayers
The 3-pt Mounted Liquid Sprayers from Frontier are dependable and can cover a large area in a short amount of time. They come in 25', 30', 30' Boomless, and 40' and 45' working widths. Customers can opt for a hydraulic or PTO pump as well.
If you have any questions about these pieces of Frontier equipment, you can contact your local John Deere dealer.
If you enjoyed this post or want to read others, feel free to connect with us on Facebook, Pinterest, or Twitter!
You might also like: