Dairy producers have a wide array of needs, and John Deere has several dairy solutions designed to help customers in this line of work across the country. Keeping animals healthy and productive are top priorities in the industry, and John Deere knows this.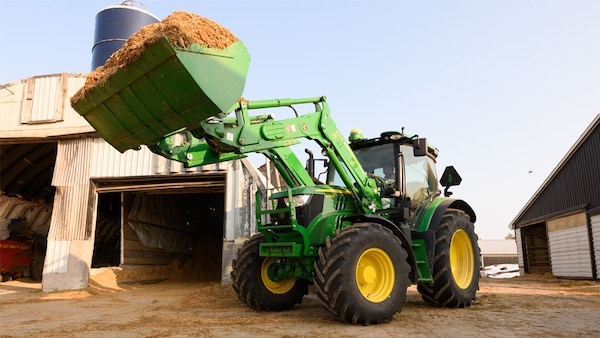 John Deere Dairy Solutions
Now, there are numerous products and technology specially designed to help dairy producers. Let's take a look at the operational solutions available through Deere.
Harvest Lab 3000
Dairy producers can use the Harvest Lab 3000 to measure moisture, dry matter, protein, starch, and much more on the go.
JDLink
With JDLink, dairy operators can see all of the critical and timely information they need about their machinery from afar. This makes equipment management a breeze.
John Deere Connected Support
John Deere Connected Support gives dairy producers the help they need to keep their equipment running smoothly.
Manure Constituents Sensing
With manure constituents sensing, dairy operators can measure liquid manure nutrient levels in real-time. This allows them to apply nutrients more precisely while using data to make more informed decisions.
Operations Center
The John Deere Operations Center gives users an opportunity to see exactly what's happening within their operation. This allows for improvements to be made along the way.
AutoTrac
AutoTrac from John Deere ensures that users are not overlapping out in the field. Ultimately, this can reduce fatigue while boosting productivity.
Cutting Equipment
John Deere has self-propelled windrowers and drapers to make swathing a breeze. Mower Conditioners also allow customers to cover more acres with greater tractor compatibility.
Enhancing the Efficiency of Dairy Operations
The solutions listed above are designed to help dairy producers make the most of their time. Capabilities of these solutions include the following.
Drying and Gathering
With Frontier Rotary Rakes and Wheel Rakes from Deere, dairy producers can easily maximize their output and save time, regardless of the terrain.
Bale and Chop
Baling hay and chopping silage have never been easier, thanks to the baling equipment and self-propelled forage harvesters from John Deere.
Packing and Storing
On a similar note, packing and storing hay bales is simple when producers use John Deere machinery, such as its inline bale wrappers.
Handle and Feed
Deere and Frontier equipment ranging from bale carriers to mini-loaders reduce stress on dairy producers by making them more efficient out in the field.
Manure Management 
With Frontier manure spreaders, forks, and free-stall scrapers, dairy operators have everything they need to take care of their land over time.
For more information on all of the dairy solutions that John Deere has to offer, check out the video below!
If you have any questions about John Deere equipment and how it can change the way you manage daily operations, you can contact your local John Deere dealer.
If you enjoyed this post or want to read others, feel free to connect with us on Facebook, Pinterest, Twitter, or Instagram!
You might also like: