John Deere Side by Side
John Deere & Company offers eight different John Deere side by side gator models to satisfy the needs of all jobs; whether it's tearing through mud in a Montana field or transporting plywood through a New York City construction site, the John Deere Gator UTV is guaranteed to get the job done. For those of you who already own a John Deere Gator vehicle and others who are considering investing in one, it's likely you have a specific purpose in mind for your Gator. But, with the 100+ accessories available, there's a chance your Gator has yet to reach its full potential.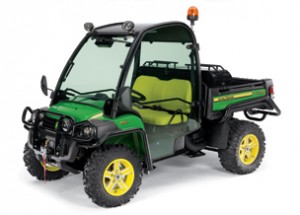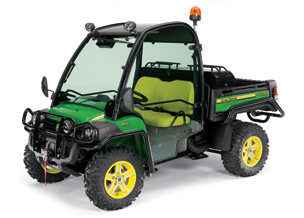 There are probably some recreational activities we can all think of for the John Deere side by side Gator but for safety sake this post will give seven of the coolest utility uses for your Gator UTV. Depending on your Gator model, the available Deere accessories can transform the vehicle into a completely different machine capable of new tasks. So let's spark your imagination!
Carry absurd amounts of cinder blocks: It doesn't necessarily have to be cinder blocks, but you get the idea. The box behind the Gator is big, strong, and reinforced by steel and critical stress points; a Gator box won't buckle under even the biggest loads.
Plow your ice rink: Oh, you don't have an ice rink behind your house? Well, in that case, feel free to attach a plow blade to your Gator and plow your driveway that is hiding beneath two feet of packed winter snow.
Go muddin': No need to look for a bridge or wooden planks covering a messy path in the woods or fields; the Gator tires, rack-and-pinion steering, and four-wheel drive will get you through any sticky April mud. Gator UTVs can tackle any terrain and make sure no job goes unfinished.
Burn rubber: The Gator HPX 4×4 can reach speeds of up to 25 mph! But this speed isn't exclusive to the race track; Gators can maintain their speed through several tough terrains. In fact, a Gator gives you effortless steering, choice of a gas or diesel engine, all-wheel drive hydraulic disk brake, and some serious momentum.
Pull out that stubborn stump: Got a stump with roots that stretch for miles? Hitch up a chain to the tractor pull on the Gator and experience a tug-of-war between the machine and Mother Nature.
Embrace hunting season: Since the Gator guarantees its all-terrain capabilities, it's perfect for deep woods transportation while you're tracking that sneaky buck. Don't worry about branches smacking your face and getting rained on; Gators can be fully equipped with a roof and windshield. BONUS: You can get a camo Gator.
Tow a cart full of…anything!: Attach a cart, hitch, or winch to tow around the extra cargo that won't fit in the Gator box. Hitch up a whole caravan of materials if need be and cut down the number of trips to the job site.
If these are ideas you've never thought of or things you've tried 100 times, we hope they motivate you to really push your John Deere side by side gator to the limit. These vehicles are meant for the toughest terrains and built with strength that should be put to the test. Remember to stay smart, safe, and responsible when it comes to testing the capabilities of your Gator and let us know if you can think of any other awesome ways to use it!
You might also like: