The John Deere 7130 premium tractor may not be the biggest tractor in the field, but it's definitely one of the most productive. With the help of the CommandCenter™ database, the JD 7130 is equipped to tackle all sorts of farming tasks at a high level of performance.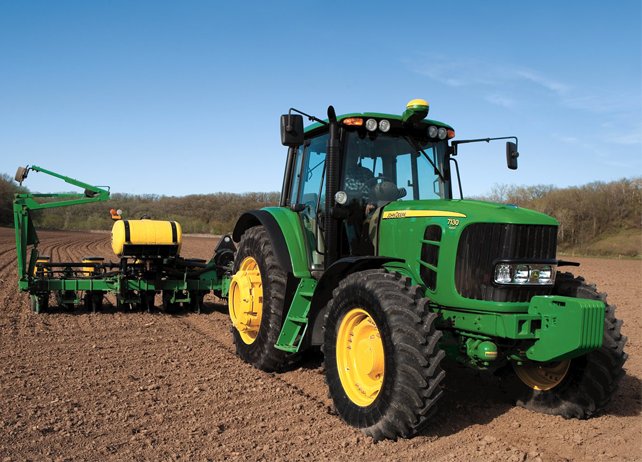 The CommandCenter™ is really the bread and butter of this model; it's a monitor inside the operator cab that combines tractor controls and performance into one, user-friendly interface.  Operators can customize the CommandCenter™ based on the performance characteristics they want to keep a close eye on.
By integrating the advanced technology of a touch screen monitor and the physical functions of a Deere tractor into an in-cab control system, farmers are presented with a new opportunity for productivity. Gone are the days of manually checking fuel levels, oil pressure, or guessing at fuel consumption per hour. All of these metrics appear on the CommandCenter™, along with several others, while the John Deere 7130 premium tractor is working.
Right at the operator's fingertips are insights into area worked per hour, hitch lift limit, and much more depending on what you wish to monitor. With these controls, farmers can address issues before getting into the field or anticipate when maintenance or servicing will be required. This predictive insight of the CommandCenter™ is what gives the John Deere 7130 premium tractor its reputation for productivity.

In addition to the CommandCenter™ monitor, the John Deere 7130 is equipped with other performance-boosting features, including the ComfortGard™ cab that provides optimal operator comfort. A comfortable operator can stay in the cab for longer and finish the job without fatigue.
The innovative design of the tractor itself and the intricate details are what make the John Deere 7130 premium tractor the productive machine it promises to be. What has your experience been like with your JD 7130? We'd love to hear your insights!
If you enjoyed this post read more like it on our Facebook page!
You might also like: