The John Deere 1023E is categorized as a sub-compact tractor, but after a look into its full capabilities, it seems to have the ability to be much more. It's a landscaper, a snow mover, and a finish mower. It's a gardening vehicle, a lawn seeder, fence-builder, and more importantly, it's a weekend entertainment vehicle used to make you prideful of your property.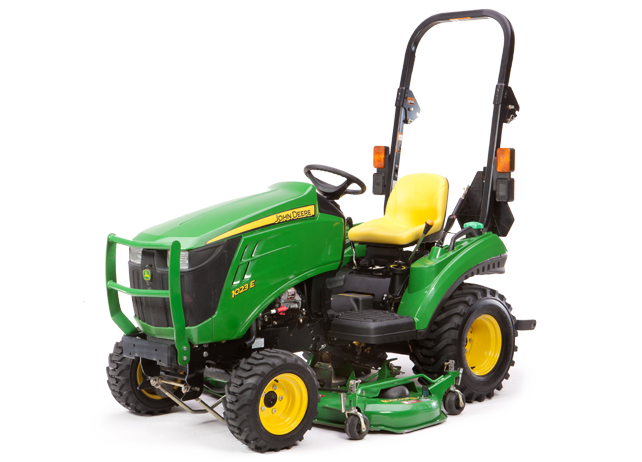 Thanks to its versatility and many capabilities, the 1023E can be used throughout all four seasons, making it one-of-a-kind. Let's take a look at 6 key features that make the 1023E more than the typical utility tractor.
Want to learn more about our inventory of John Deere equipment? Click here to contact your local dealer!
1. Diesel Engine
The power in the John Deere 1023E is provided by a compact and high-performance three-cylinder Yanmar TNM Series diesel engine. This engine provides the 1023E with 22 hp capabilities and was developed to meet Tier 4 environmental protection agency (EPA) environmental requirements with low levels of both exhaust and emissions.
The isolated style engine provides reduced vibration and noise for the operator, resulting in a smooth and quiet riding experience.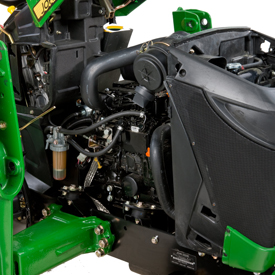 2. Implement Compounding
Both the John Deere 1023E and 1025R are implement-friendly for the operator thanks to implement compounding features. More than one implement (including a loader, mid-mower, and a variety of 3-point hitch implements) can be mounted at a time, eliminating labor-intensive implement changeover.
Versatility is essential when tackling a number of tasks and this feature ensures multiple attachments can be utilized at once to make sure the job is done in a timely fashion.
3. Fast and Easy Implement Changeover
When implements do need to be changed over, it can be done easily from the front to the back of the tractor. A front Quik-Tatch hitch makes front implement change-over a breeze as all front implements (blades, brooms, and snow blowers) use a common hitch.
The 1023E also incorporates AutoConnect, which allows operators to easily mount mid-mount mower decks, loaders and backhoes within 5 minutes without any tools necessary. In the back of the tractor, rear implements are easily changeable thanks to the iMatch Quick-Hitch which gives the operator three fixed points to back in and pick up a rear implement that is iMatch compatible.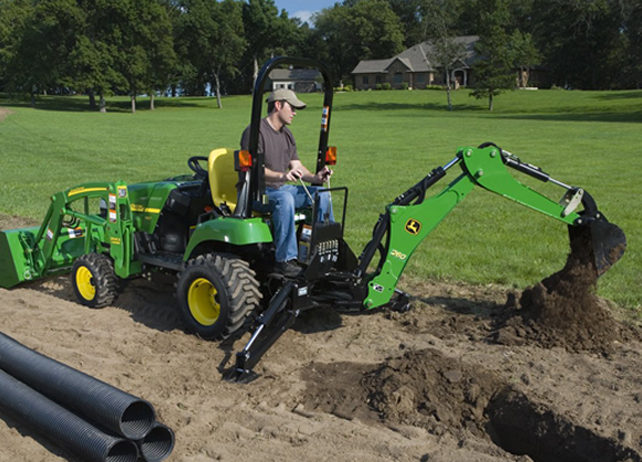 4. Twin-Touch Foot Controls
To meet the needs of jobs where productivity is a must, the 1023E's Twin-Touch foot controls allow the operator to select the speed and direction of travel with the touch of a toe. Large foot pedals allow for operator comfort and convenient operation of the tractor and eliminate clutching for even the fastest direction changes.
5. 4WD and Power Steering
Four-wheel drive and power steering are standard on the 1023E tractors, allowing for excellent maneuverability in even the tightest spaces. The narrow width of the 1023E coupled with the 57-inch wheelbase provides a great combination, giving the tractor ample power and traction while in narrow spaces.
6. Open Operator's Station
When completing tasks around the house or in the field, visibility is essential. The 1023's operator station allows for just that, with front-horizontal exhaust and a sloping hood design similar to that of other utility tractors.
Getting on and off the machine is made easy as well, as large and easy to grab handrails are located on each fender for an easier on and off of the tractor from either side.
Each of these features makes tackling any task around the house or in the field a breeze, thanks to the versatility and power rolled together into one tractor.
If you enjoyed this post or want to read others, feel free to connect with us on Facebook, Twitter or Pinterest!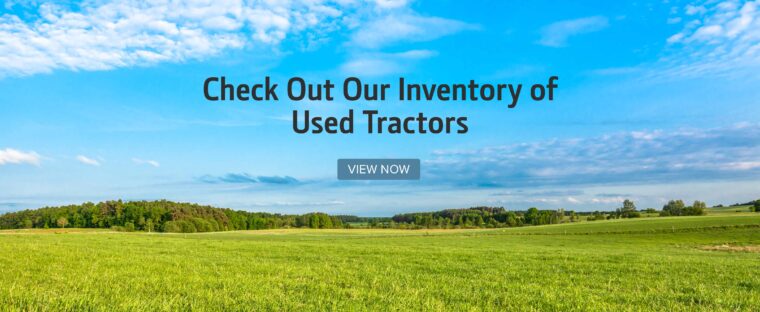 You might also like: