John Deere's 1 Family Tractors are designed to give operators the ability to work their land from sunrise to sunset. Thanks to dozens of implement options and their versatility, these tractors behave like (and look like) pint-sized agricultural machines. Two of the most popular 1 Family models – the 1023E and 1025R – share many similarities yet do have some critical differences that make them unique.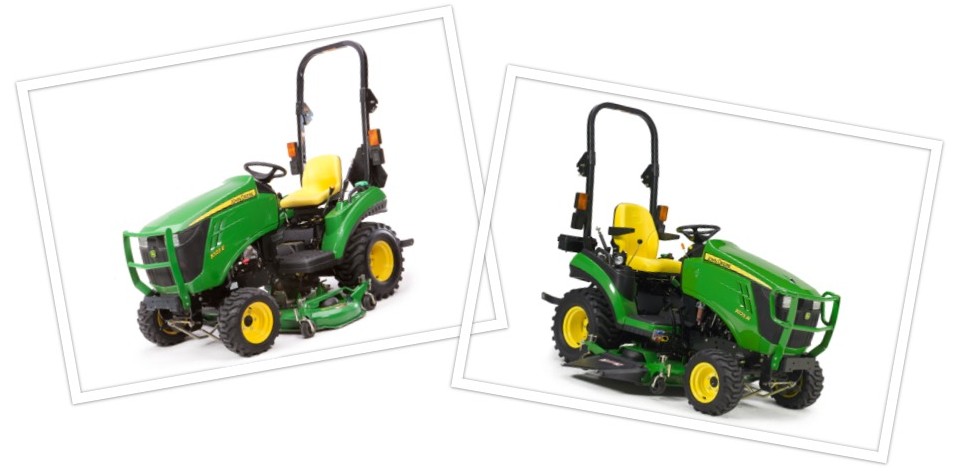 To help clear the air, we've put together a John Deere equipment comparison – this will the critical components of these tractors, what they share, and what is different between the two.
Engine Specifications
The John Deere 1023E is powered by a Tier 4-compliant isolated Yanmar® TNM Clean & Silent Diesel Engine with 22.4 gross hp (PS) and 14.5 power take-off (PTOu) hp. On the other hand, the 1025R features a Tier-4-compliant isolated Yanmar TNV Clean & Silent Diesel Engine with 24.2 gross hp (PS) and 18.0 power take-off (PTO) hp. Both models have a rated engine speed of 3,200 rpm.
Hydraulics
The 1023E and 1025R both feature an open-center hydraulic system with a single-pump flow diverter that delegates an appropriate amount of flow to all hydraulic functions aboard the tractor. Power steering for each model is applied via the hydrostatic charge pump, which sends power to the steering circuit. The dual mid-selective control valve (SCV), found in both models, has the ability to operate loader or other implements. It's also used to operate the optional independent lift kit for the mid-mount mower.
Transmission
John Deere offers hydrostatic transmission (HST) with Twin Touch foot controls on the 1023E and 1025R tractors. When fluid is placed under pressure, it then transmits engine power to the drive wheels via the hydraulic pump and motor. The hydrostatic-drive unit acts as both a clutch and transmission. For operators that demand high levels of productivity (loader or mower applications), the Twin Touch pedals allow them to select both speed and direction of travel with a touch of their toe. It's important to note the 1025R offers cruise control capabilities while the 1023E does not.
3-Point Hitch
The limited Category 1, 3-point hitch is standard on both the 1023E and 1025R tractors to enable quick and easy hookup of hitch implements. However, the 3-point hitch rockshaft control type differs between the two models. The 1023E's type is known as "select control," which allows operators to accurately set rear implement depth or change the cutting height of the mid-mount mower (when installed). The 1025R's "position control" rockshaft type allows operators to do the same things as the select control type, but also provides added precision and minimized "jerking" or leaking down.
Operator's Station and Comfort Features
The sloping hood design of both models provides exceptional visibility while the step-through textured flat operator station and fender-mounted large handrails make it easy to get on and off the tractors. For added safety, the 1023E and 1025R each include a foldable Roll-Gard rollover protective structure (ROPS) and retractable seat belt; the foldable nature of the ROPS and narrow tractor frame make storage effortless. For added comfort and usability, the 1025R offers a deluxe lighting package, deluxe seat, tilt steering and floor mat. Owners of the 1025R will also find a toolbox and 12V outlet aboard their tractor.
We hope this John Deere comparison helped identify what makes the John Deere 1023E and 1025R powerful pieces of equipment that feature both similarities and differences that work for landowners of all sizes.
If you enjoyed this post or want to read others, feel free to connect with us on Facebook, Pinterest, or Twitter!
You might also like: