Whether you're a homeowner looking for a tractor to assist with some basic yard work, or you're an agricultural producer that makes a living off the land, and everything in between, there are a variety of John Deere tractor models available to meet your needs.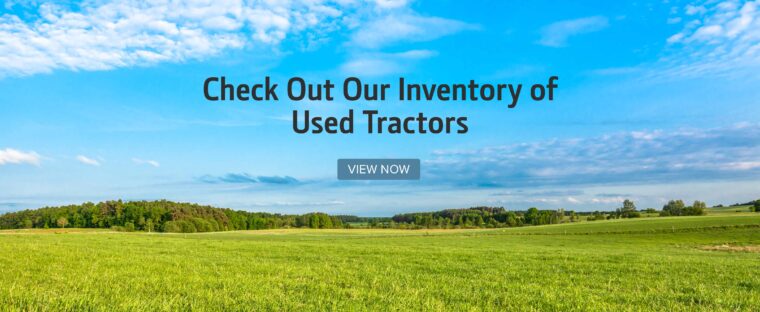 Sure, you can learn about these John Deere tractors by perusing through pages and pages of brochures and product manuals, however, we wanted to take the time to put together a complete visual guide, offering photos of all different kinds of John Deere tractor models. Enjoy!
4WD Tractors
The 9R Series is truly a beast of the John Deere product line. These tractors provide 360 to 560 engine horsepower, making them exceptional for the largest jobs regardless of ground conditions. This lineup is the definition of power. You don't have to compromise efficiency in order to get the power you desire. With 360 to 620 horsepower, hitch-lift capacity of up to 20,000 pounds, and a hydraulic flow up to 115 gpm, John Deere 9R series tractors productively take on all challenges presented on the field.
John Deere 9R Series Tractors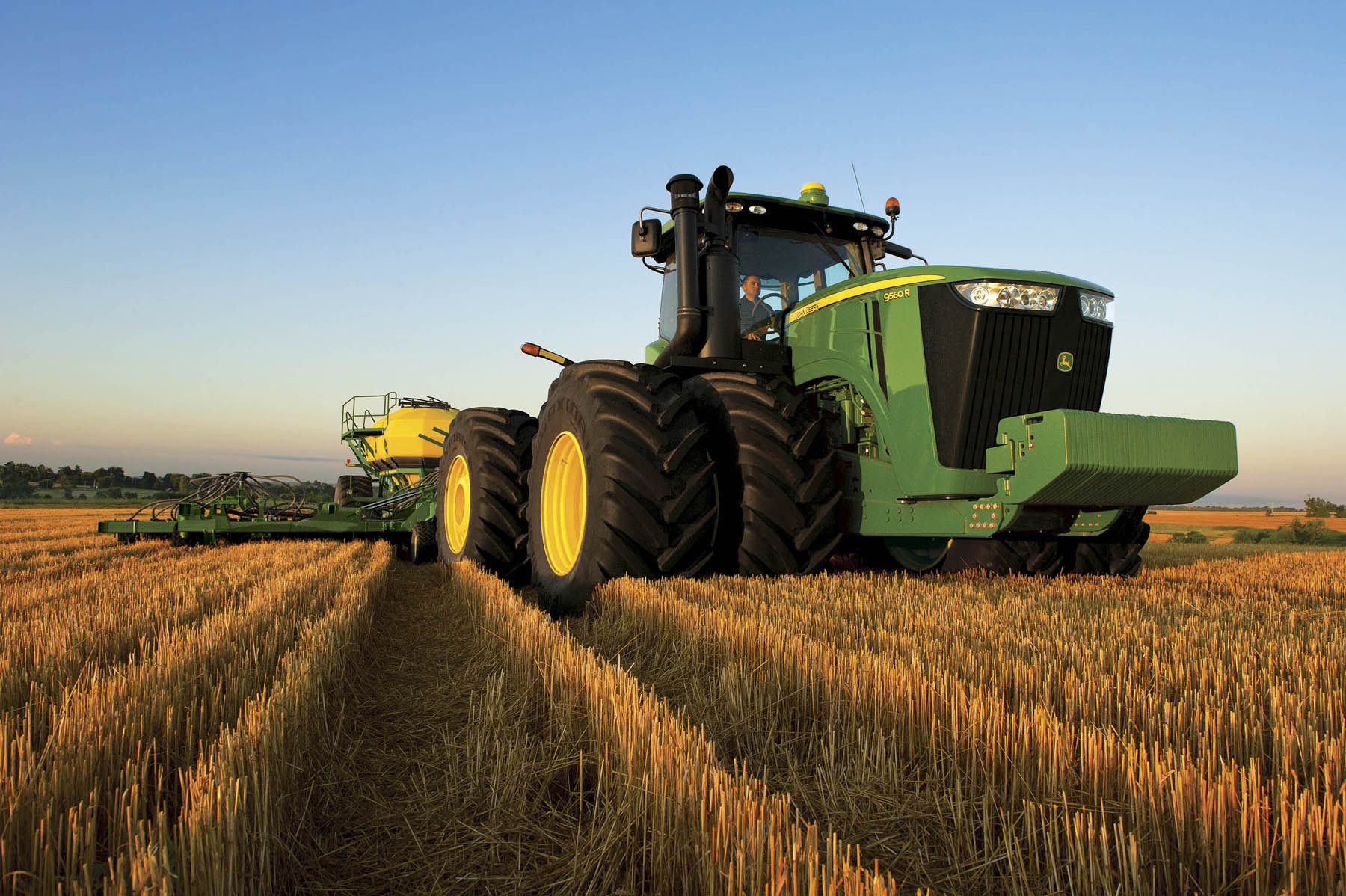 Row-Crop Tractors
These traditional large farm tractors are used to prepare fields and assist in the row crop planting process. With between 100 and 360 hp, these tractors move easily through the fields, making crop preparation and planting a bit simpler.
By 1934, John Deere created the John Deere Model A tractor, the company's first true row-crop tractor with an adjustable wheel tread. This was then followed closely by the Model B tractor. These John Deere tractor models were innovative enough to stay in production for almost 20 years. When the 1980s began, Deere focused more on fuel efficiency. The 50 Series was a big shift. This led up to the tractor technologies and designs we see in today's market.
Let's take a look at the milestones in between:
1958:

In this year, the Model 730 was introduced. This model was John Deere's largest row-crop tractor ever at that time.

1960:

When the 4010 was introduced, it became available with three different agricultural configurations in export and industrial versions.

1963:

The John Deere 4020 was introduced. The 20 Series had improved field performance as well as operator comfort. This vehicle's most innovative feature was its Power Shift transmission, which allowed for movement between gears without needing to use a clutch.

1969:

The 4520, which was the first turbo diesel tractor model, was introduced by Deere.

1971:

John Deere introduced the 4620, which was the industry's first intercooled turbo diesel model.

1972:

John Deere's Generation II tractors were introduced. They featured innovative comfort and styling, and the new innovative design improved visibility for operators.

1978

: Deere introduced the 4840. This vehicle featured a 466 cubic-inch engine as well as 180.63 horsepower, making it more powerful than the 4630 model.
John Deere 6M Series Tractors
The John Deere 6M Series tractors can take on a wide range of tasks, which include baling, commercial mowing, snow removal, and even municipal applications.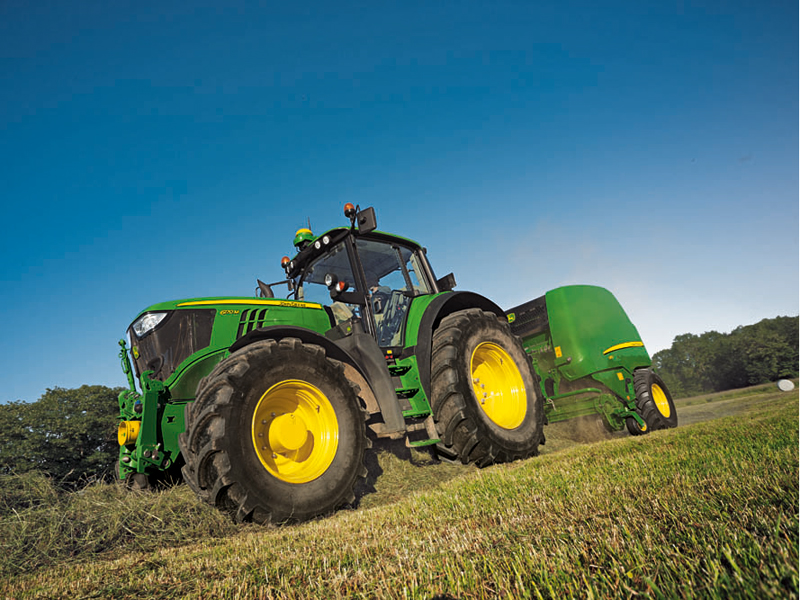 John Deere 6R Series
John Deere 6R Series Utility Tractors provide operators with improved productivity, so you can spend more time looking out, rather than looking down at the controls when your tractor is moving. This is due to features such as the CommandPRO™ Joystick, variable-ratio steering, and additional integrated technology.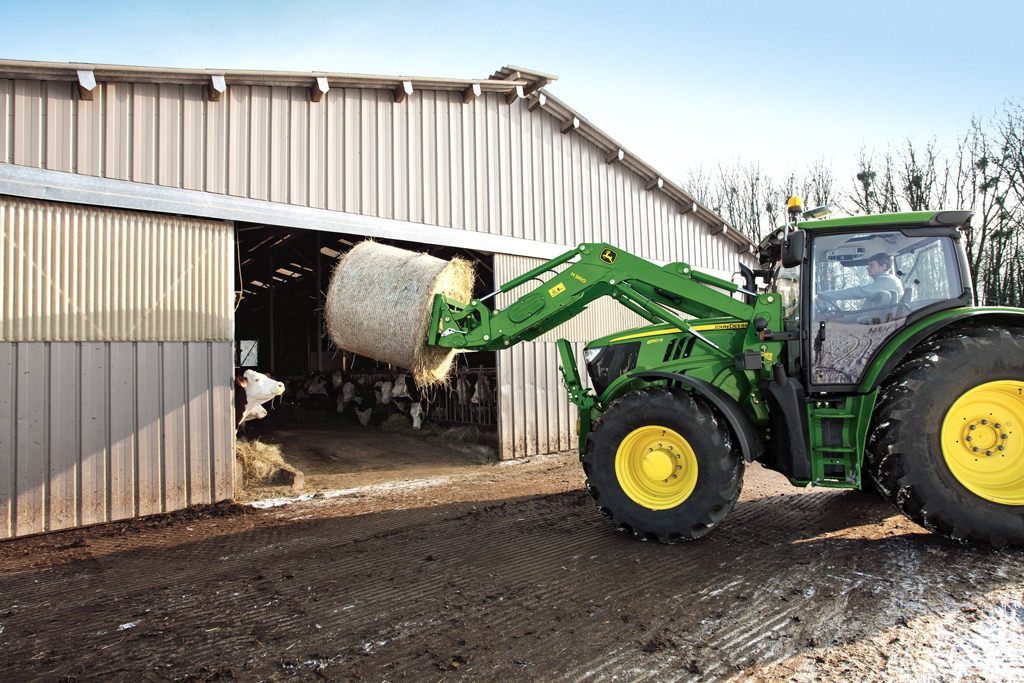 John Deere 7030 Small Frame Series
The 7030 small-frame series tractor is built for livestock and row crop farms, which require machines that are capable of completing grueling tasks. One key feature that makes it such a reliable piece of equipment is its engine. This PowerTech E engine comes standard with each 6030 and 7030 premium model. The PowerTech E engine makes it possible for tractors to maintain constant speeds despite heavy load conditions, even under rugged conditions.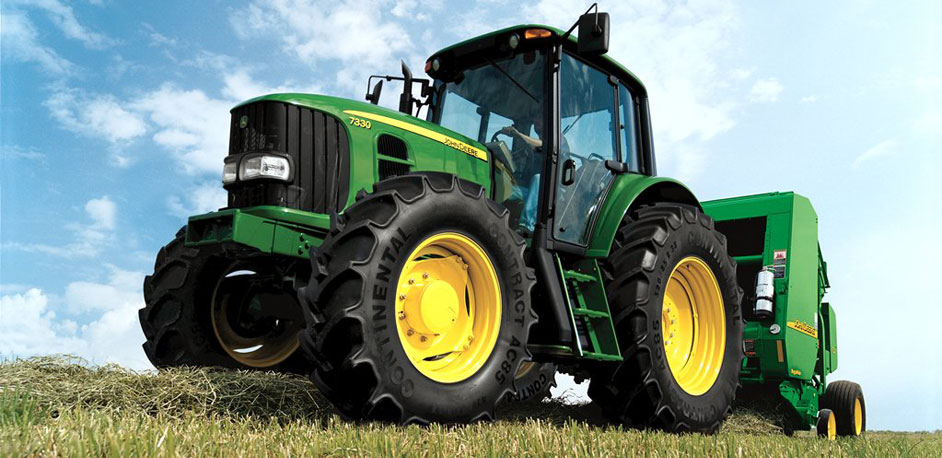 John Deere 7R Series
The John Deere 7R Series Tractors offer functionality that is needed to take on a range of row-crop, livestock, and dairy operations. They deliver a refined cab experience, integrated intelligence features, and high-power density, helping operators accomplish their tasks as efficiently as possible.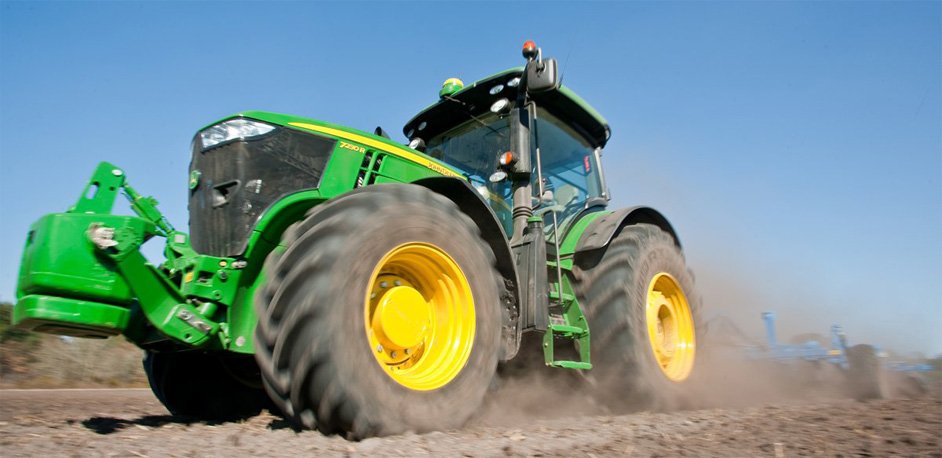 John Deere 8R Series
The 8 Series tractors are available in wheeled, two-track, and four-track configurations and provide operators with hydraulic capacities and the horsepower required to handle large planters and their implements.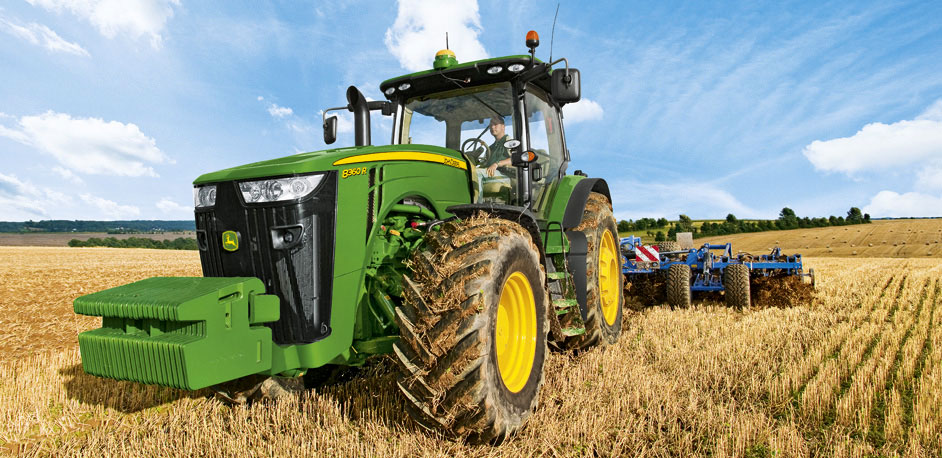 Specialty Tractors
With low profiles and narrow frames, specialty tractors, like the 6200, are perfect for maneuvering in tight places while still providing necessary power. Easily cruise under low orchards, between tight vineyard rows, or through nurseries to get the job done in a timely fashion.
John Deere 5100MH
The 5100MH provides owners with up to six SCVs, which deliver a total of 18.4 GPM hydraulic flow to pull-type attachments. Additionally, it has 23 inches of front axle space from the ground to the machine, which keeps owners confident that there will be no danger to the crop. This vehicle can be equipped with the 16/16 PowrReverser transmission, making it ideal for jobs that require frequent directional changes.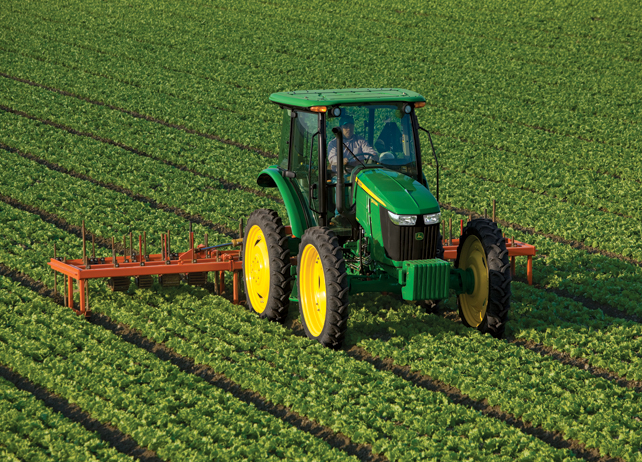 John Deere 5115 ML
The 5115ML John Deere Utility Tractor helps to improve visibility and access, with its thoughtfully designed low profile hood. Additionally, it has 115 horsepower, and also features a PowerTech engine, 16F/16R PowrReverser™ transmission and more.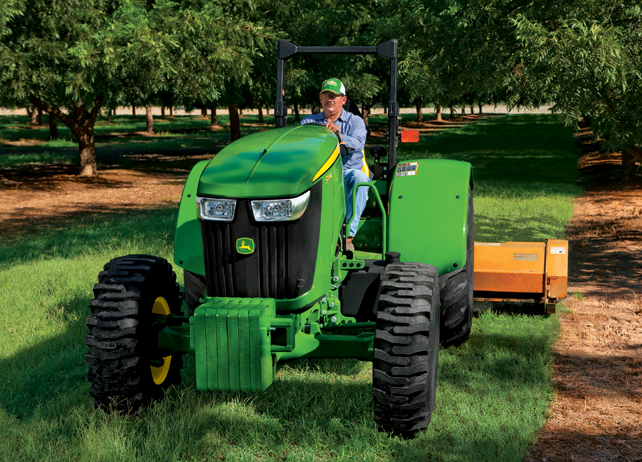 John Deere 5EN Narrow Series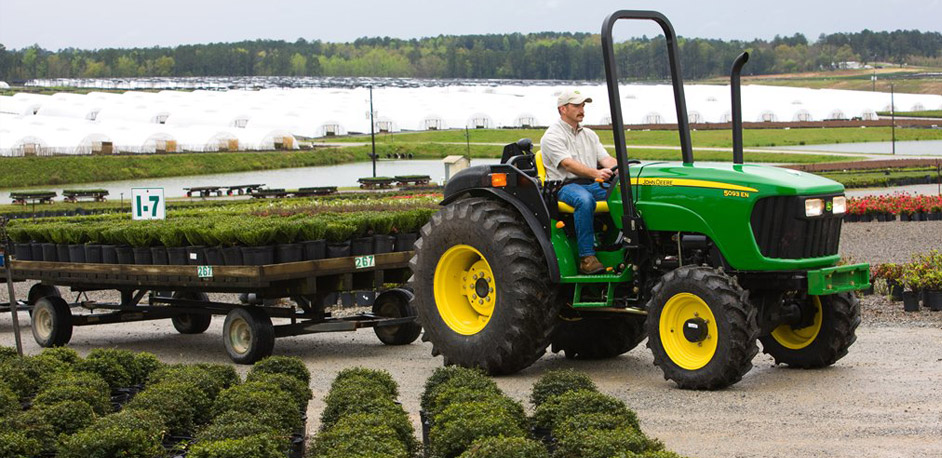 John Deere 6150RH
Producers who spend most of their days in the field looking at vegetables, tobacco, sugar cane, or crops planted on ridges should really consider investing in 6150RH Hi-Crop Tractors. This vehicle provides front axle clearance, which are perfect for raised beds or hills. It also hosts a rear drop axle that can accommodate tread settings from 60 to 88 inches.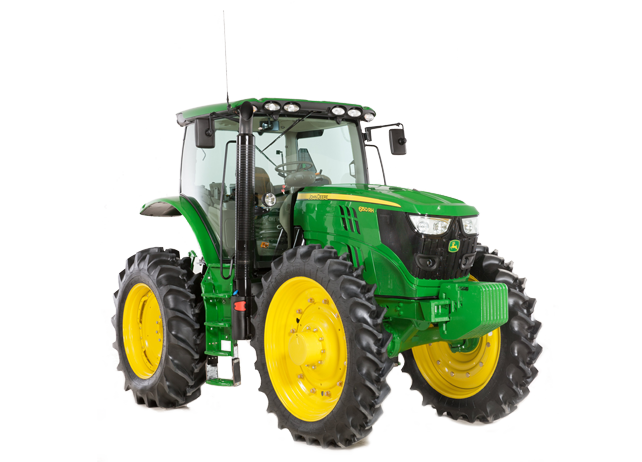 Track Tractors
Field speed can be brought to lengths with the John Deere track tractors, which provide excellent traction and many features that contribute to a comfortable, speedy ride. John Deere track tractors present valuable alternatives to row crop tractors, especially to those in parts of the country that often experience rainy conditions.
John Deere 8RT Series
John Deere's 8RT Series ranges from 310 to 360 horsepower across six different models (the 8310RT, 8320RT, 8335RT, 8345RT, 8360RT, and the 8370RT). These 8RT models include intuitive controls, integrated technology features, and exclusive AirCushion Suspension Systems.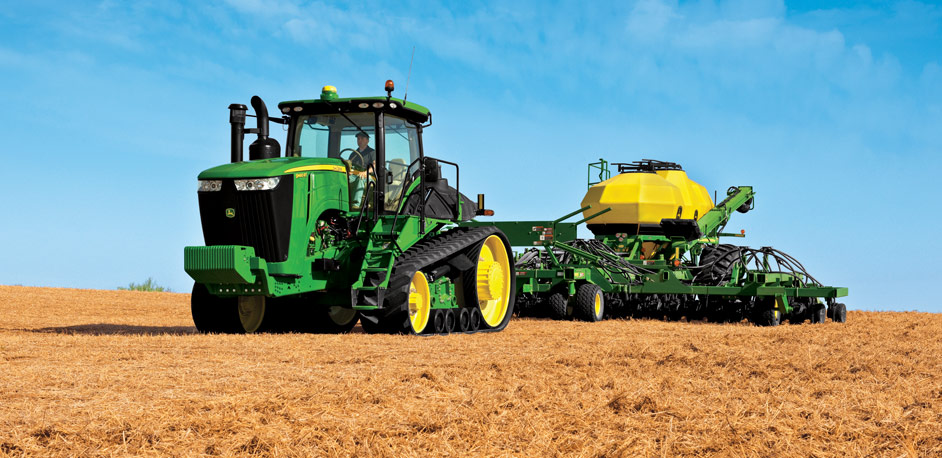 John Deere 9RT Series
The 9RT Series has similar features when compared to the 8RT Series. It offers more horsepower (460 to 560 hp) for operations which demand a bit more. With exceptional power and a large capacity, these track tractors are suited for nearly any project in any conditions.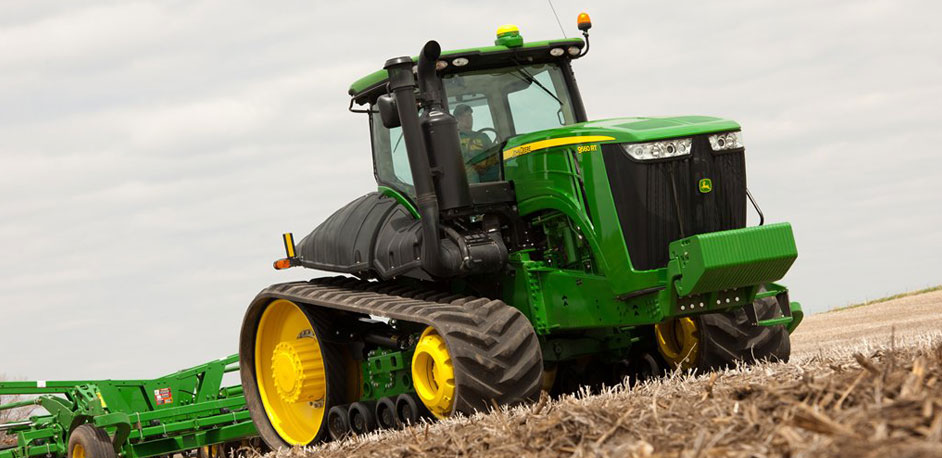 Utility Tractors
Utility tractors earn their name, as they can be used for any number of projects, including work in the field and around the house, with multiple attachment capabilities allowing the operator to create the vehicle needed for the project that stands in the way.
John Deere 5D Series Utility Tractors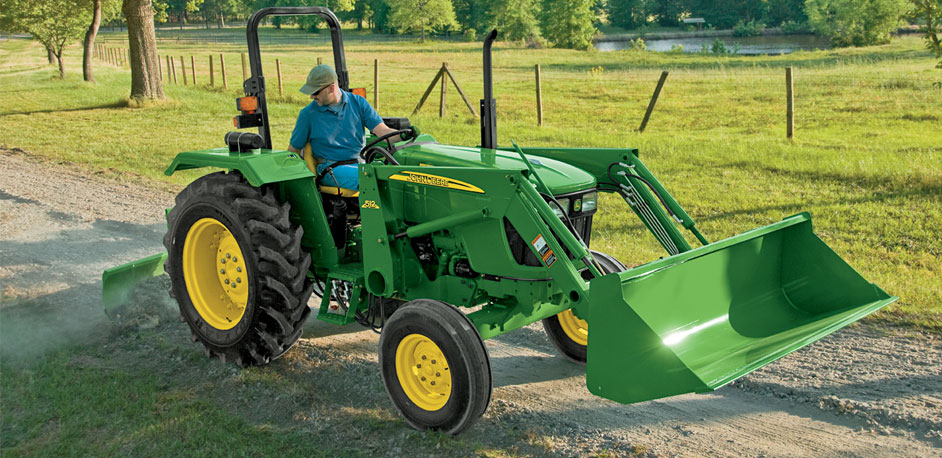 John Deere 5E Series Utility Tractors
John Deere brought together four of its new 45-to-75 horsepower 5E models to create even more utility tractor options. The 5E family now includes the 5045E, 5055E, 5065E, 5075E, 5083E, 5093E, 5425 and 5101E Tractors.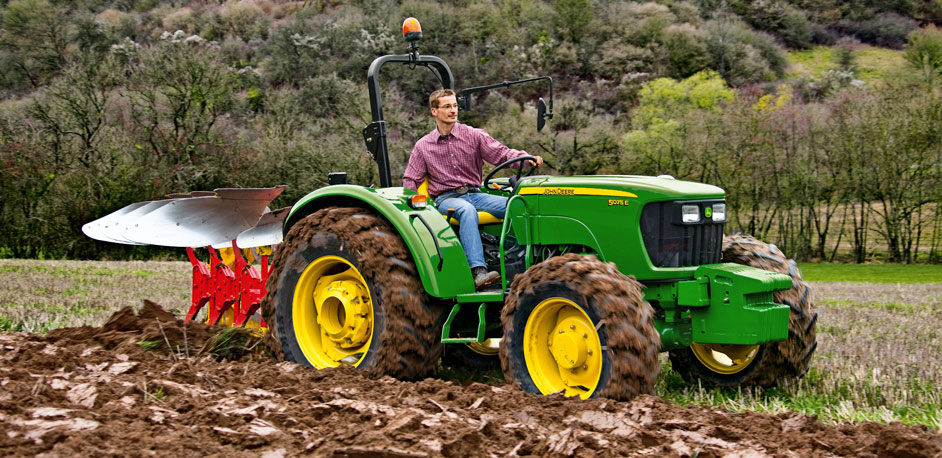 John Deere 5M Series Utility Tractors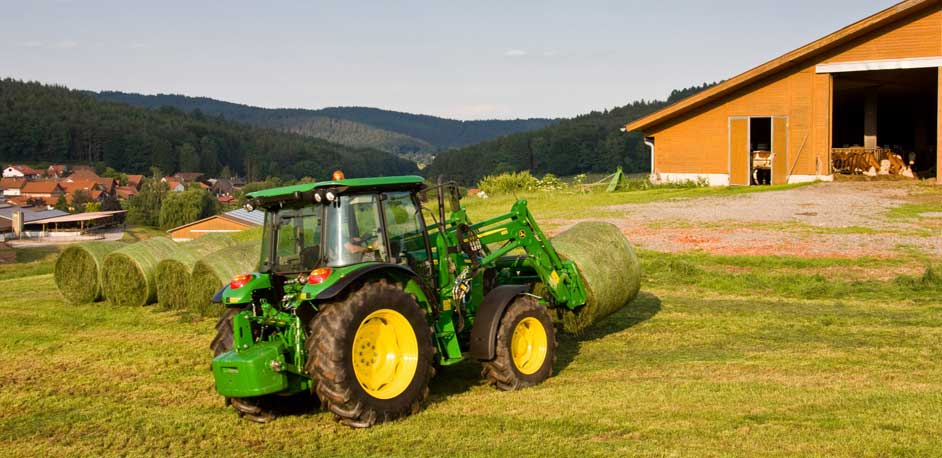 John Deere 6030 Series Utility Tractors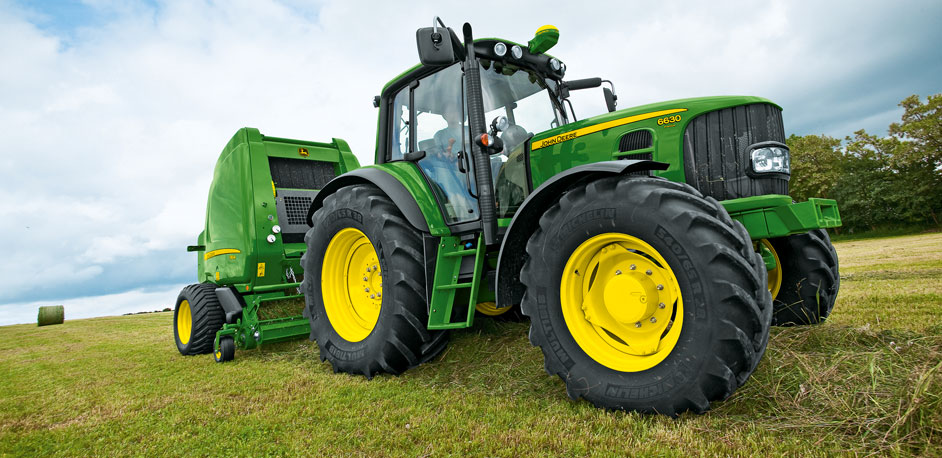 John Deere 6D Series Utility Tractors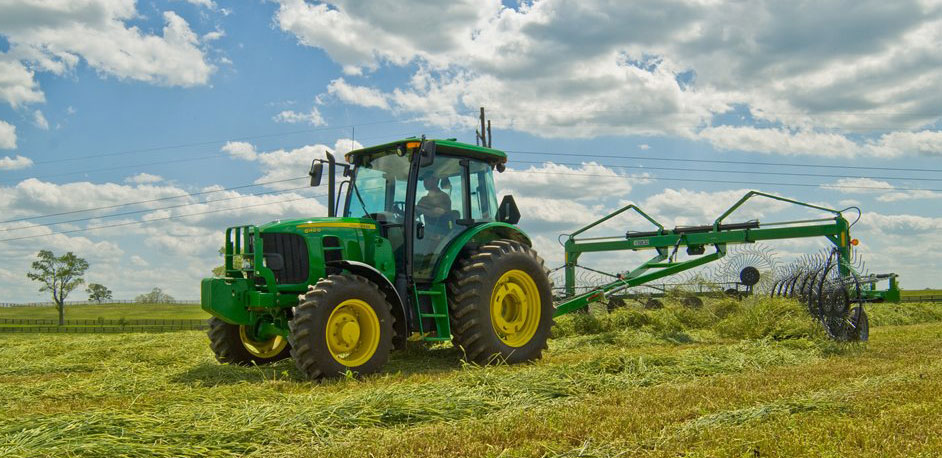 Compact Utility Tractors
Ranging from 24-66 engine hp, these tractors are perfect for loading, mowing, plowing, digging, and landscaping. Compact utility tractors can tackle a range of jobs, both in professional and residential settings. Whether you want to tackle smaller projects around your farm or overhaul your residential yard, there are multiple models and attachments that can help you do it all.
John Deere 2-Family Compact Tractors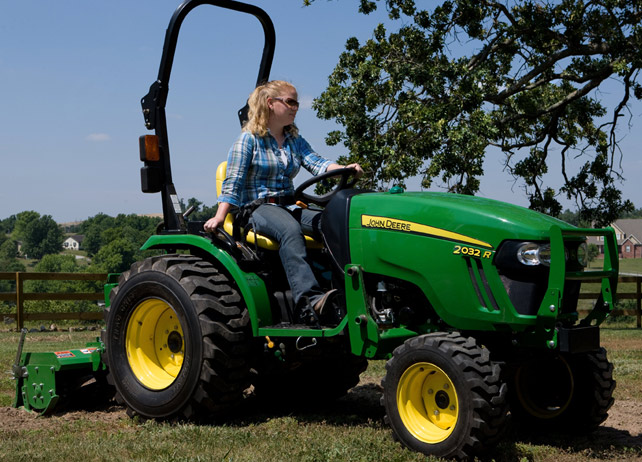 John Deere 3000 Series Tractors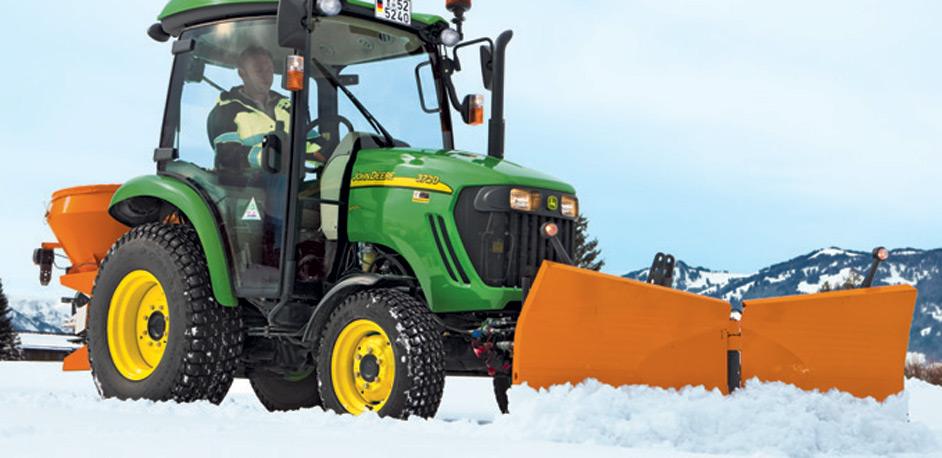 John Deere 4000 Series Tractors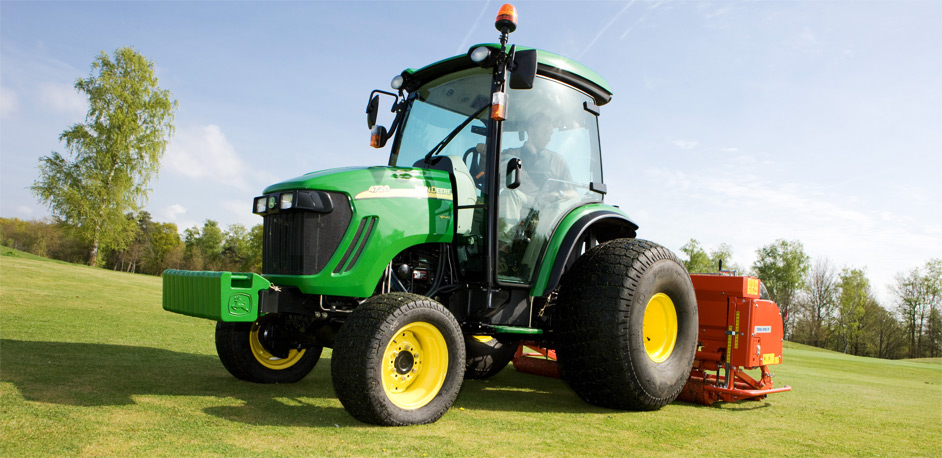 John Deere Cab Tractors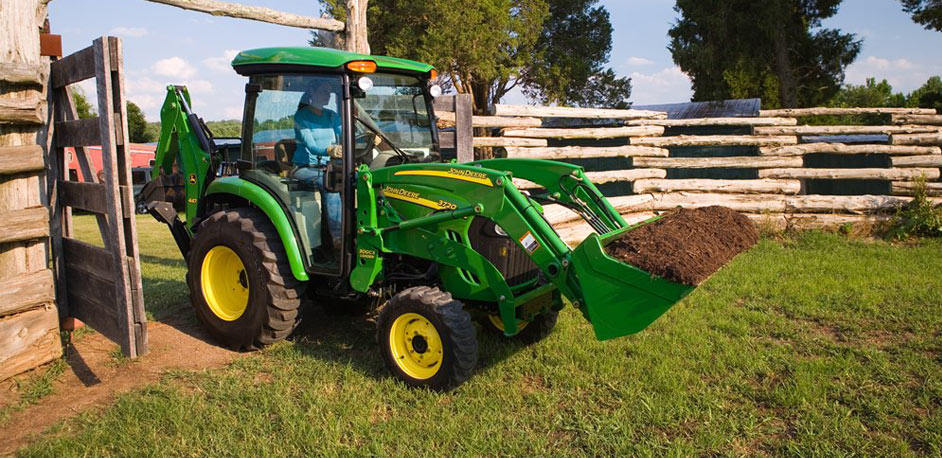 Sub-Compact Tractors
Much like the compact utility tractors, the sub-compact tractors are perfect for around the house, with a smaller frame and attachment capabilities for moving material. 1 Series sub-compact tractors are great for snow removal, lawn mowing, and more. The 1023E and 1025R models both have hydrostatic-2 range transmissions, open station cabs, and even four-wheel drive. The 1023E model has 23 horsepower, with changing attachments made simple. The 1025R mode offers 25 horsepower and has amazing capabilities in the snow. All 1 Series models have standard 26-inch tires and are stable on all kinds of terrain.
John Deere 1023E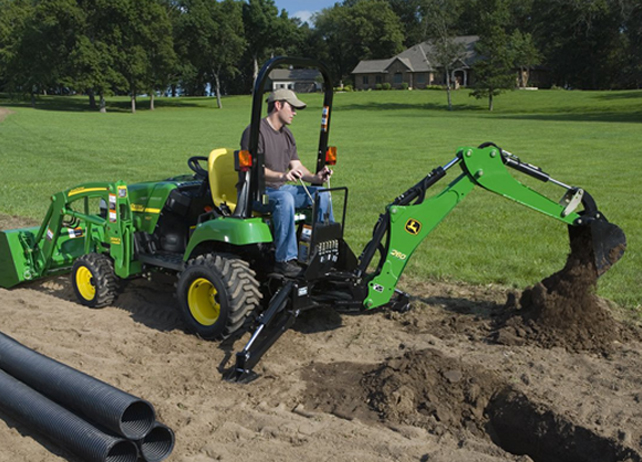 John Deere 1025R/1025R FILB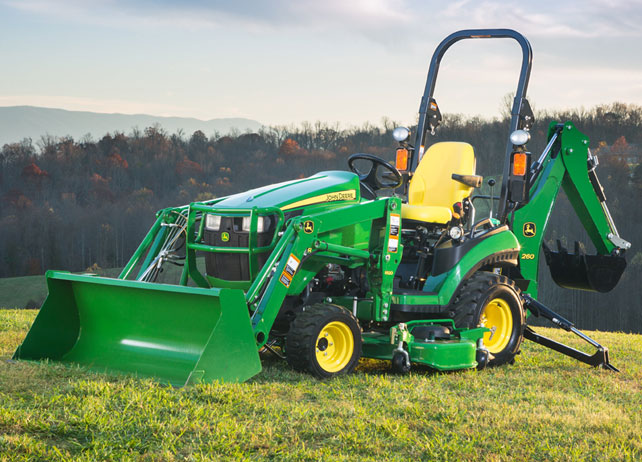 John Deere 1026R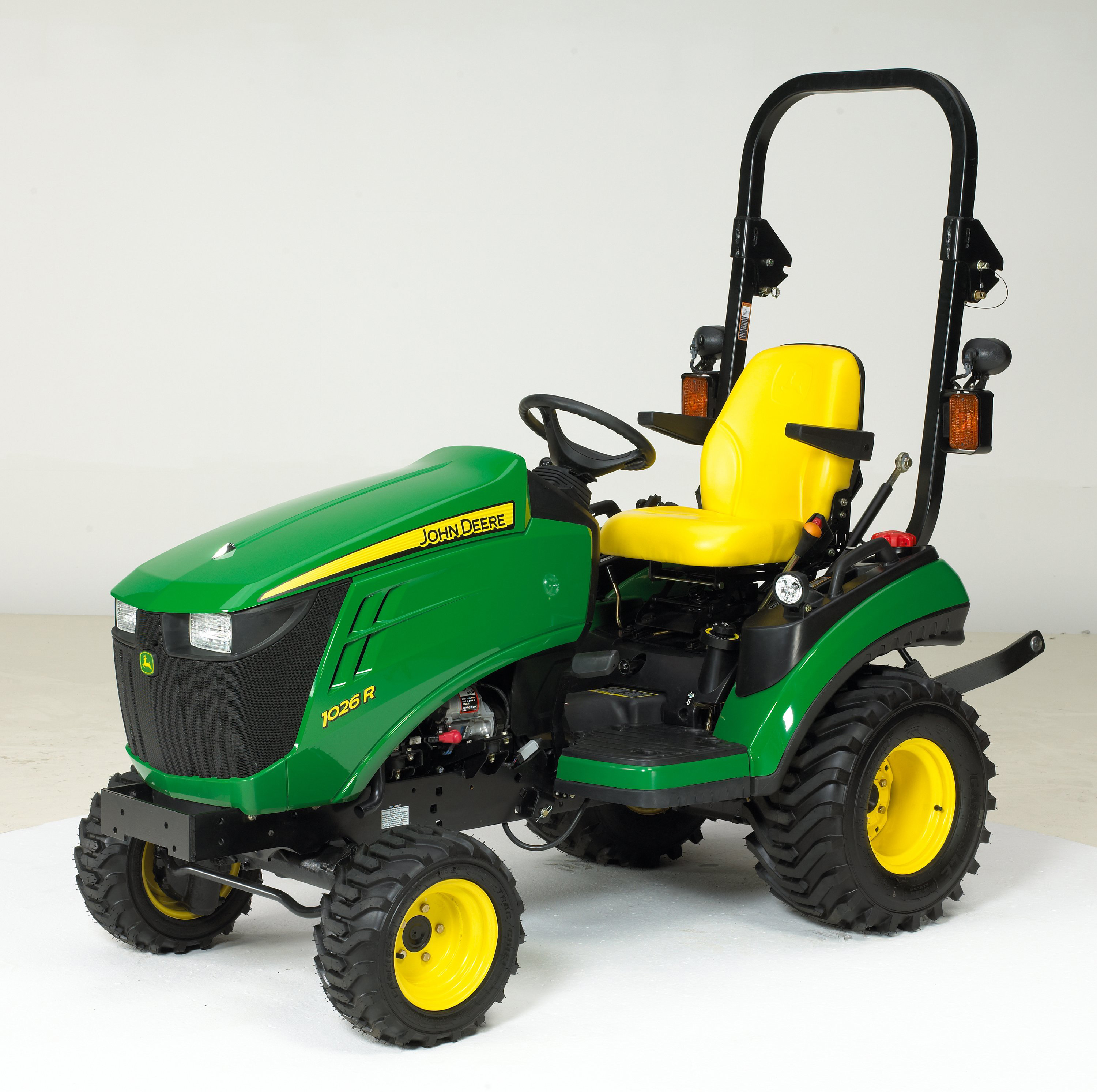 Final Thoughts
Choosing the right tractor model to meet your needs can be difficult. It's much easier to reach your decision when you can be assured that you will receive a combination of quality, power and affordability. While there are many tractor models to consider, we hope this list offered you a more visual understanding of the John Deere lineup.
If you enjoyed this post or want to read others, feel free to connect with us on Facebook, Pinterest, Twitter, or Instagram!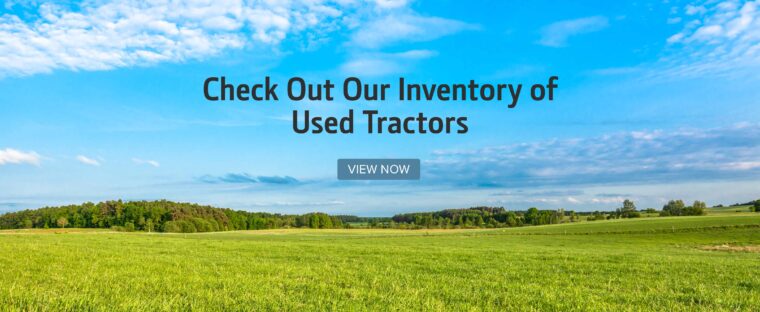 You might also like: