If you own just a few acres, but still need a piece of equipment to help make your life a little bit easier, you may want to consider a utility tractor. With so many new models available in today's market, it can be easy to overlook models from the past, like the John Deere 6200.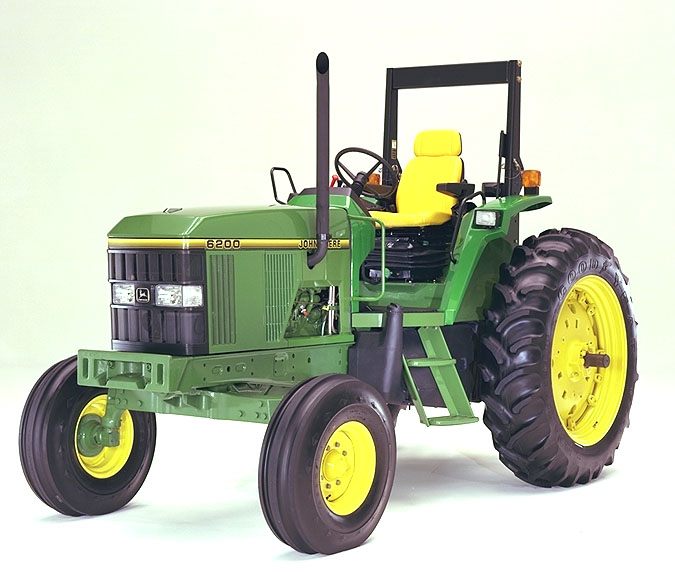 In this post, we've outline the standard and optional features of the John Deere 6200 that make it a popular choice among farmers and landowners decades after it first rolled out of the factory.
Standard Features of the John Deere 6200
Modular Frame Concept for Higher Capacity
This design offers operators the opportunity to carry higher capacities than previous models, without increasing the weight of the tractor. Under this design, the engine and transmission are separate modules and there is a greater ability to customize the tractor based on specific needs.
The John Deere 6200 Engine
The John Deere 6200 is powered by a 3.9L (239 cu. in.) turbocharged diesel engine, which provides 66 PTO hp, steep torque rise and steady power across a wide range of speeds.
Hydrostatic Power Steering for Precision
When pairing your tractor with a loader, this steering system's tilt and telescoping wheel provides precise low effort steering all day long. With hydrostatic power steering, the John Deere 6200 is a breeze to maneuver on the most rugged terrain. The steering wheel has the ability to be telescoped out for more comfortable operation of the machine.
Perma-Clutch II™ for a Long Lifespan
This hydraulically-engaged wet disk clutch calls for no maintenance or adjustments. Additionally, it ensures there is minimal wear over the lifespan of the tractor.
Pressure Flow Compensating Hydraulic System
As demand lessens, so does pump pressure and engine power requirement. This system helps conserve engine horsepower and limits heat buildup for enhanced overall performance.
Benefits of this hydraulic system can include:
Reduced load on the engine

Improved fuel efficiency

Enhanced engine cooling
These are all critical benefits during long days of planting on the field.
Hydraulic Wet Disk Brakes for Efficiency
These self-equalizing brakes provide straight-line safe stops and built-in piston retractors minimize parasitic loss for even greater efficiency. The wet-disk brakes on the power steering are actuated hydraulically and self-adjusting. The brake pedals can also be locked together for rear wheel stoppage.
Electro-Hydraulic Hitch Control
This (lower link sensing) system provides fast and accurate hitch corrections and automatically adjusts for varying draft loads and depth positioning.
John Deere SyncroPlus™ Transmission
Operators can shift on the go with this transmission (12 forward and 4 reverse speeds), making it easier than ever to match the right speed and direction with the task at hand.
Optional Features for the John Deere 6400
PowrQuad™ Transmission
For those John Deere 6200 owners/buyers that need a little more out of their transmission, this optional transmission provides powershift capability with three no-clutch shifts in each of four fully synchronized ranges (16 forward and 16 reverse speeds). The PowrQuad transmission delivers four clutch-free power shifts within each range. After operators have selected a range for their tasks, they can push a lever in order to shift up or down. All PowrQuad transmissions utilize a left-hand reverser that allows the operator to flick a lever in order to change directions. This is valuable for loader work.
Creeper Transmission
For operators that want to slow things down more than usual, the creeper transmission adds 9 forward and 3 reverse speeds to the standard SyncroPlus and 12 forward and 12 reverse speeds to the PowrQuad options.
ComfortGard™ Cab
What's better than spending a day on a John Deere 6200? Doing so in extreme comfort. The ComfortGard cab offers operators a completely controlled environment for greater comfort and protection from the elements. It is quiet and cozy, giving operators a reason to look forward to using their tractor.  A two door entry is standard on this option. The ComfortGard Cab is the ideal cab for keeping users safe from the elements while they are working in any condition.
Caster-Action™ MFWD
This is a great option for operators that need increased traction, maneuverability and efficiency for the task at hand. The 12-degree caster action angle permits optimum maneuverability (up to a 52-degree tire turn angle).
Final Thoughts
We hope this post provided some useful information as you evaluate the farm equipment market on your way to purchasing a utility tractor. If you enjoyed this post or want to read others, feel free to connect with us on Facebook, Pinterest, Twitter, or Instagram!
You might also like: