John Deere lawn tractors come in all shapes and sizes with a variety of features to choose from. If you're selecting a John Deere E100 Series lawn tractor, specifically, you can be assured that these mowers are built to last, thanks to those building the equipment in Greenville, Tennessee.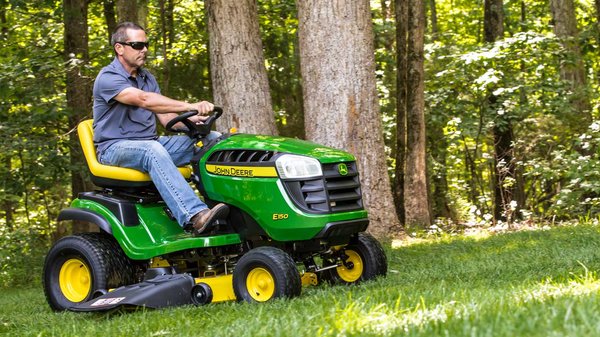 What Models Are Included in the John Deere E100 Series?
There are a variety of models to choose from in the John Deere E100 lineup. Below are details about each one that will help you make the most informed decision when selecting your model. There are a variety of models to choose from in the John Deere E100 lineup and we're going to walk you through each one so you can make the most informed decision when selecting your model.
The baseline lawn tractor in this series is the E100. This tractor is equipped with a 42-in-Edge™ Cutting System and 1/4″ height of cut increments. Special attention is given to the operator station, ensuring the comfort of the driver as well as ease of use. Further, the automatic transmission makes it easy to choose the exact travel speed for each operating condition.
The next model in the E100 series is the John Deere E110. While this model is similar to the E100, what makes it stand out is its two-pedal hydrostatic transmission with 19 hp that gives a wide range of ground speeds to choose from. The powerful engine also features full-pressure lubrication to ensure a long life.
The John Deere E120 is equipped with a 20 hp V-Twin engine for a smooth and powerful ride. If power isn't the only thing you're looking for, you'll appreciate the convenience of the John Deere Easy Change™ 30-Second Oil Change System. For driver comfort, the seatback height is increased from the standard 11″ to 15″.
If you're looking for increased horsepower, then the E130 model might be the right choice. At 22 hp, this is the most powerful 42″ mower deck tractor in the E100 series. The adjustable seat back also adds to the comfort of the driver when they're harnessing all that power while mowing.
People looking for a lawn tractor that will mow more space in less time might be interested in the John Deere E140 model. This tractor features a 48″ cutting width to reach farther and mow a wider space in a shorter amount of time with the same quality results.
The E150 model is where comfort and durability meet. With large rear wheels and a V-Twin engine, this tractor can handle even the toughest jobs. The operator station is wide and welcoming, ensuring a comfortable ride.
Premium features are an important part of the E160. The premium steering wheel offers a best-in-class ergonomic design when operating the 24 HP V-Twin Extended Life Series Engine. The deep mower deck design also features 3 blades to easily lift grass for a superior cut.
For premium operator comfort, the John Deere E170 includes a high back, adjustable seat with lumbar support. Additionally, this model is equipped with a 25 hp engine for a powerful ride.
The E180 is made to meet the needs of even the most demanding operator. The 54″ mower deck cuts with precision while the heavy-duty, two-pedal hydrostatic transmission powers through every blade rotation.
Lawn Tractors Built to Last
John Deere E100 Series lawn tractors are quality machines that were built for easy use and noticeable results. If you have any questions about John Deere or its lawn tractor equipment, contact your local John Deere dealer.
If you enjoyed this post or want to read others, feel free to connect with us on Facebook, Pinterest, Twitter, or Instagram!