There are many different types of John Deere 100 Series lawn tractors, as explored in our used lawn mower guide. In this post, we are highlighting the different features, attachments, and maintenance tips specifically for 100 Series tractors, such as the D100 and E100 models. Take a look and see how you can start using your 100 Series model to your advantage!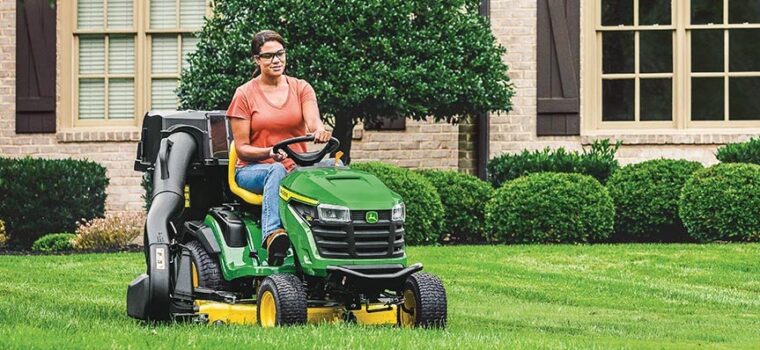 Video Gallery: Lawn Tractor Maintenance Tips for the D100 Series
D100 Series lawn tractors are made with the expected quality and care Deere customers may have from the beginning. What sets the D100 Series apart is key features such as the Edge Cutting System. These features allow operators to mulch, bag, and discharge leaves from the side of the machine. With the D100, you can experience precise mowing with a stamped deck for lifting grass so you can have an even cut, every time.
That said, owners and operators will want to take certain steps to maintain the life of their lawn tractors. This article explores essential lawn tractor maintenance tasks so you can preserve your D100 Series lawn tractor.
13 John Deere D100 Attachments to Take on the Spring
It is likely many lawn mower owners wake up on a winter morning to some rather chilly temperatures. However, it's important to remember that warm weather comes around faster than you expect. As the beginning of spring looms, John Deere D100 lawn tractor owners are eager to fire up their machines to start taking on those yard maintenance projects.
Whether you have had a John Deere D100 lawn mower for a few years, or you are looking to make a new purchase, consider adding these attachments to your D100 machine to ensure spring yard maintenance is a breeze.
John Deere Oil Change Tips for D100 Tractors and ZTrak Mowers
The John Deere D100 Series lawn mowers are mostly used to manicure lawns and leave behind picturesque final products. That said, in order for a tractor or mower to be long-lasting, it's crucial to perform the necessary regular maintenance, including oil changes. Discover some important John Deere D100 mower oil change tips in the post below.
Snow Equipment To Help You Take On The Winter
Dealing with winter can be difficult. However, there are several things landowners can do to get ahead of the weather. Having the right machinery and taking the correct precautions, for instance, can help these individuals face winter head-on. Read the article below to discover the snow equipment you may need to succeed this winter.
John Deere 100 Series Snowblower Installation for Winter Cleanup
John Deere snowblowers are popular as a 100 Series lawn mower attachment thanks to their ability to perform winter cleanup. The John Deere 44-inch 100 Series Snowblower, for example, is a versatile and easy-to-use option. Read the article below to learn how to install a John Deere 44-inch 100 Series Snow Blower and see how it can help you with the task at hand.
John Deere D140 vs. D160 Riding Mowers: Main Features & A Comparison
There are several different types of 100 Series John Deere riding mowers, including the John Deere D140 and D160 models. This means you will want to compare your options carefully before making a final decision. Find out how the John Deere D140 and D160 riding mowers stack up by checking out the post below.
Final Thoughts
With all the features and attachments the 100 Series lawn mowers have to offer, the thought of buying or even using this machine can seem daunting. With the gallery above, however, you can explore all of these aspects so that you make the most of your machine.
If you have any questions about John Deere 100 Series models, you can contact your local John Deere dealer.
If you enjoyed this post or want to read others, feel free to connect with us on Facebook, Pinterest, Twitter, or Instagram!
You might also like: