There are several John Deere riding mowers, such as the John Deere D140 and D160 models, to choose from, meaning you may want to compare your options before you make a final decision. Let's take a look at how the John Deere D140 vs. D160 riding mowers stack up in terms of features.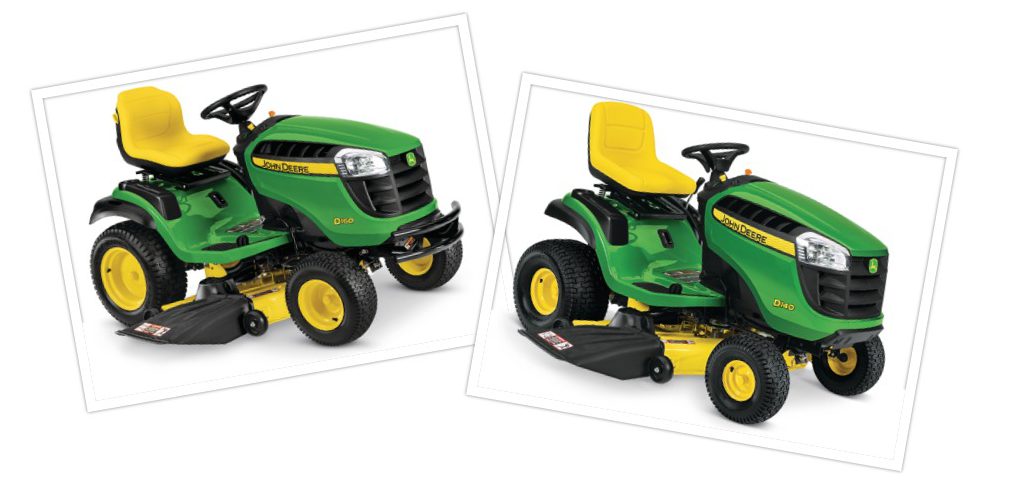 A Comparison of the John Deere D140 vs. D160 Riding Mowers
V-Twin Cylinder Design
The D160 riding mower has a 25-horsepower engine, while the D140 riding mower has a 22-horsepower engine, but both have a V-twin cylinder design. This provides more torque, lower vibration and better sound quality. Thanks to electric ignition, the engines start quickly, and they have cast-iron sleeves for longer lives.
Transmission
Both the John Deere D160 and D140 riding mowers have hydrostatic transmissions, giving operators a wide range of speeds to choose from on the go. The pedals of the mowers have a different shape and motion, making them easy to identify when the machine is in use.
Cutting
In terms of cutting, both riding mowing tractors have the Edge™ Cutting System from John Deere. They have deep-deck mower designs for clean, even cuts every time. They also have rolled outer edges for more strength and protection. A mulch cover can be used as an optional attachment.
Full-Featured Engine
Unlike the D140 riding mower, the D160 has a full-featured engine. This means that it is specifically designed to have a long life and save money over time. It has an overhead valve for cool operation, wear-resistant chrome-plated valve stems, and a premium bearing package.
Serviceability
The John Deere D140 and D160 riding mowers each have easy-open one-piece hoods that can be lifted for servicing as necessary. Service points are all within reach when the hood is up, and a service-interval decal is located inside of the hood itself for convenience.
Frame
In terms of framing, both of these mowers have a solid one-piece frame constructed out of 12-gauge, 0.11-inch steel. The full-length welded frame design is designed for maximum strength and a long life. A one-piece fender deck comes bolted to the frame.
Final Thoughts
When comparing the John Deere D140 vs. D160 riding mowers, customers will notice that there are several advantages that come with each mower. Both models have powerful engines and strong framing for the utmost durability. The Edge Cutting System is just one of the many specialties that put the mowers over the top.
For more information about either of these mower types, contact your local John Deere dealer today.
If you enjoyed this post or want to read others, feel free to connect with us on Facebook, Pinterest, Twitter, or Instagram!
You might also like: