Every property owner yearns for a great looking lawn. With the help of John Deere lawn equipment, achieving this goal is within reach. While many land owners understand what types of equipment are best-suited for various tasks and yard sizes, the mower decks that do the actual cutting may be more of a mystery.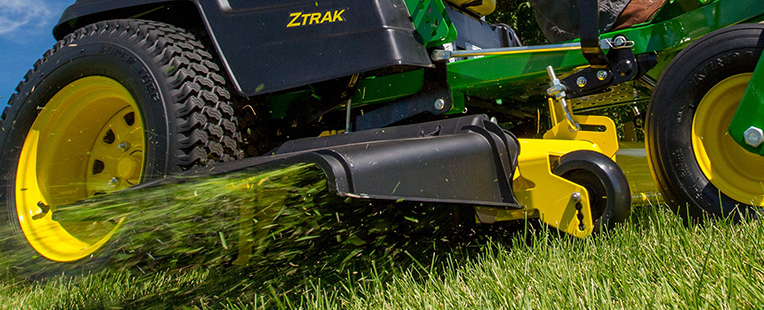 Every John Deere mower deck is solid stamped out of steel and designed in a way that sets up for a superior cut. But, what are the different mower deck options available to John Deere customers today and what models are compatible? Let's take a closer look:
Accel Deep™ Mower Deck
The Accel Deep mower deck was introduced in early March, offering lawn professionals an option that provides a clean, fast cut. The flat-top design is the staple feature of the Accel Deep options, allowing grass to flow cleanly through the deck and discharge area while keeping up speed. As a result, incoming grass will pass through without interference and recutting (a common mowing obstacle) will be minimized.
Lift-up spindle covers make servicing and cleaning the deck easy processes. This deck can be paired with the MulchControl™ Kit, which lets drivers switch between side discharge and mulching by simply flipping a lever.
Mower models compatible with the Accel Deep deck include:
Z335E
Z525E
Z535M
Z540M
X330
X350
X354
X370
X380
X384
X390
X394
X570
X580
X584
X590
X710
X730
X734
X738
X739
X750
X754
X758
High-Capacity
With this John Deere mower deck option, operators will notice a wider and higher discharge opening that delivers even clipping dispersal. The end result is a lawn with an excellent cut, regardless of the conditions the mowing was done in. This deck is also MulchControl-capable and AutoConnect™ can be used with X700 models.
Mower models compatible with the High-Capacity deck include:
Z625
Z645
Z655
Z665
Z540R
X710
X730
X734
X738
X739
X750
X754
X758
Edge™
We have all encountered a mower deck with an underside that's filled with grass clippings and other clumps of material. The Edge mower deck from John Deere's smooth and deep underside is designed to prevent against just that, allowing operators to spend more time on the mower and less time clearing material from the deck.
Mower models compatible with the Edge deck include:
Z235
Z255
Z355E
Z425
Z435
Z445
Z540M
D105
D110
D125
D130
D140
D155
D160
D170
S240
X350R
Edge™ Xtra
The Edge Xtra mower deck's most notable feature is its superior airflow throughout the deck, which allows operators to achieve an unmatched cut quality and consistent discharge regardless of the mowing conditions.
Mower models compatible with the Edge Xtra deck include:
X300
X300R
X304
X310
X320
X324
X360
X500
X530
X534
X590
X710
X730
X734
X738
X739
X750
X754
X758
We hope this post serves as a useful guide when evaluating John Deere mowers and deck options.
If you enjoyed this post or want to read others, feel free to connect with us on Facebook, Twitter or Google+!
You might also like: