When you need a mower that is easy to maneuver around a big yard, the John Deere Z525E is up to the task. This mower comes with either a 48 or 54-inch Accel Deep™ mower deck and it can operate up to 8.5 miles per hour on the ground.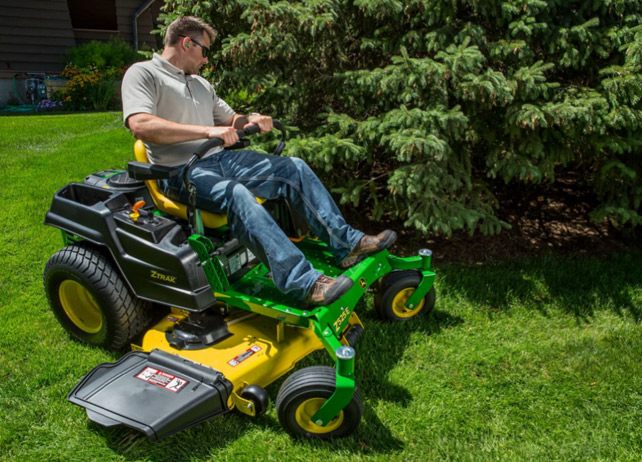 Let's take a look at the other highlights of the John Deere Z525E and how it can help you tackle all of your residential mowing needs.
Serviceability Convenience
Serviceability is a breeze with the John Deere Z525E. An interval decal provides all of the basic maintenance information you need to keep your machine running strong. The footrest area is hinged and can be easily raised to service the mower deck as well.
Long-lasting Engine
This mower has extended life series (ELS) features that ensure that the machine is operational for years to come. An overhead valve design ensures cooler operation for a longer valve life. Wear-resistant chrome-plated valve stems are made to last, and a cast-iron cylinder sleeve also makes for an extended life. The premium bearing package includes a super-finished crank pin bearing with a 50 percent smoother surface for more load capacity as well.
Operator Comfort
The John Deere Z525E was designed with operator comfort in mind. Shock absorbers help to dampen control movements for smooth operation. The controls are all color-coded for easy identification, and twin-lever motion-control levers are adjustable for even more convenience. The seat of the John Deere Z525E has a medium back with adjustable armrests as well.
Accel Deep Mower Deck
The John Deere Z525E comes with either a 48 or 54-inch Accel Deep Mower Deck that provides a clean cut every time. The deck has a stamped-steel, deep, flat-top design for optimal performance. The mower deck itself is suspended from the vehicle for a smooth, level cut. Adjustable mower wheels help smooth out the mowing job.
V-Twin Engine
This mower has a V-twin engine with a cylinder design for more torque, less vibration, and improved sound quality. Its electric ignition makes for a fast start every time, and its cast iron sleeves are meant to extend its lifespan. Overhead valves provide an ample amount of power and maximize fuel economy.
If you have any questions about the John Deere Z525E, you can contact your local John Deere dealer.
If you enjoyed this post or want to read others, feel free to connect with us on Facebook, Pinterest, or Twitter!
You might also like: