It's always nice to have tools and supplies available to make a job easier, and that's exactly what the John Deere Z655 EZtrak lawn mower does. In this post, we'll focus on 5 specific features of the John Deere Z655 that will help simplify your lawn mowing process this year.
Edge Cutting System: This mower features a high-capacity 54-in. (137-cm) mower deck with a deep-deck design, leaving the lawn with a clean cut. The deep-deck design of 5.5 in. delivers excellent airflow, which allows material to be processed quickly and efficiently, and a wider and higher discharge opening provides even clipping dispersal. For an even cutting of high grass, the front edge of the mower is raised above the blade plane and the mower can either side discharge or mulch grass clippings.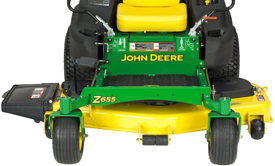 Long-Lasting V-Twin Engine Design: The Z655 has a 27 hp V-twin engine, which provides ample power for everyday yard maintenance activities. The V-twin cylinder design gives greater torque, lower vibration, and improved sound quality so you don't wake the neighbors during early morning maintenance! A long-lasting engine, the Z655 includes cast-iron cylinder sleeves, a cyclonic air-management system that removes dirt, and a full-pressure lubrication system, which all increase engine life.
Smooth Ride: Cruising through the lawn on the Z655's pneumatic caster wheels offers a smoother ride and easier steering. A shock absorber is also included to dampen the movement of the control levers so any operator can make easy, controlled turns; tire sizes are appropriately suited for the size and weight of the mower model.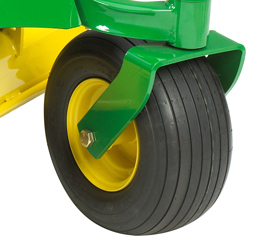 Comfort and Ease of Use: One of the staples of all John Deere EZtrak mowers, including the Z655, is the motion control levers, which make steering and maneuvering an easy operation. Motion-control levers can be adjusted to three different height settings and 15 different fore-aft settings to increase operator comfort, allowing users to have the most precise control of the machine possible. The easy-to-use control panel is conveniently located and includes an hour meter, ignition switch, PTO control, and an engine speed/choke control.
Easy Serviceability: If your mower encounters any maintenance issues, several features of the Z655 make serviceability a breeze. The entire footrest panel lifts up to enable easy access to the mower drive as well as the ability to remove grass clippings that may be on top of the mower deck. In addition, the attached Power Flow blower is mounted on a sturdy swing arm that allows for easy installation and clean-out.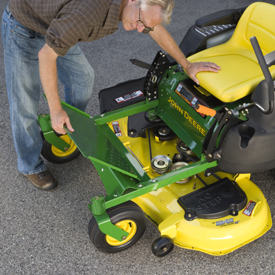 The John Deere Z655 offers many features to users that can make lawn mowing easier this season. The mower's cutting system and engine design, as well as its ease of use and serviceability, make the Z655 a popular mower for all types of residential lawns.
If you enjoyed this post read more like it on our Facebook page!
You might also like: