For a yard with complex landscaping features or challenging terrain, there is no better mower than the John Deere X500 lawn tractor to tackle these obstacles. Complete with 4WD steering and an adjustable mower deck, the JD X500 is the most versatile lawn tractor available for completing all aspects of residential lawn care.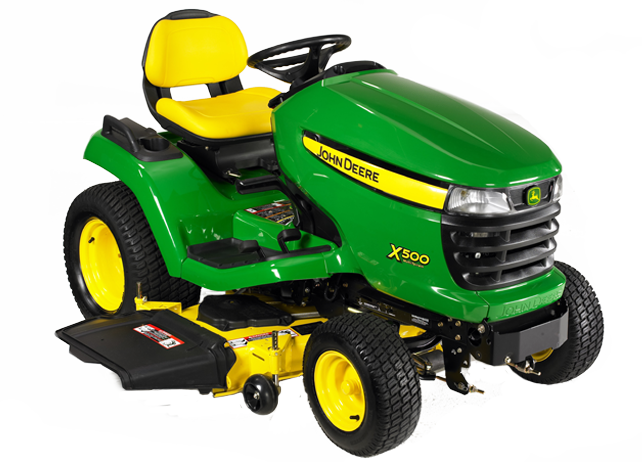 So what can you do with a John Deere X500? Here are a few things we can think of right off the bat, but, considering the power and versatility of the X500 series, this list could go on and on:
Cut grass evenly and smoothly: The underside of the mower deck is complete with three spindles that are laid out to prevent any obstructions from lawn debris. A deck-leveling gauge on-board allows the operator to ensure that the mower is level side-to-side and properly adjusted front-to-rear for the best cutting performance.
Sharp blades of the mower deck ensure an even cut that doesn't tear at the blades of grass.
The design of the deck underside evenly discharges grass clippings without building up and creating obstructions.

Navigate challenging terrain: If your yard sits on a slope or is made up of several hilly areas, it can be a grueling task to maneuver lawn equipment over it. The 4-wheel drive, adjustable mower deck, operator-powered traction pedals and precise and tight steering allow you to easily guide the X500 through the most difficult spaces of your yard.
Drive up and down slopes with constant control of speed and traction.
Make sharp turns around flower beds to cut grass without harming the garden.
Maneuver between rocks, trees, ponds and all types of landscaping features.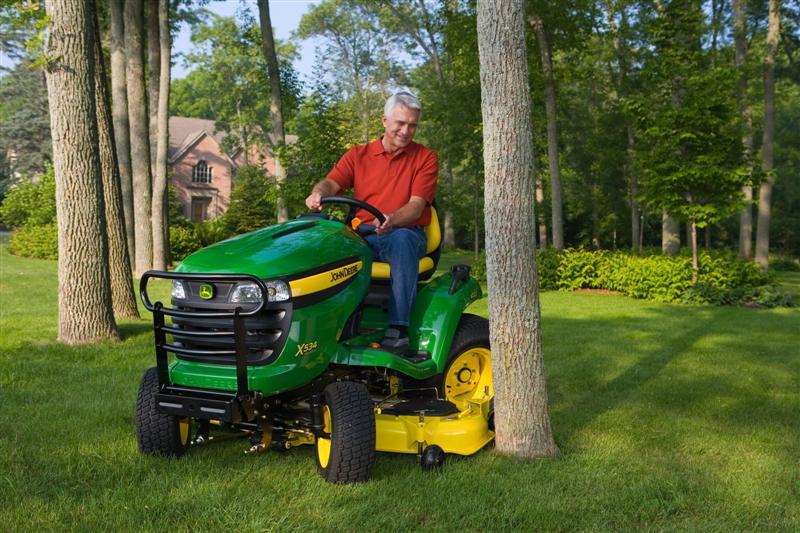 Hitch-up ground-engaging attachments: The steel frame of the John Deere X500 creates a heavy-duty exterior with the strength to support a number of Deere lawn and garden attachments.
Simplify garden tilling when you attach the 30-inch mechanical drive tiller.
By attaching any of the pull-type spreaders you will be able to seed in areas of your yard that have typically seemed out of reach.
When it's time to aerate, you can attach the spike aerator and give every stretch of your lawn the chance to benefit from the aerating process.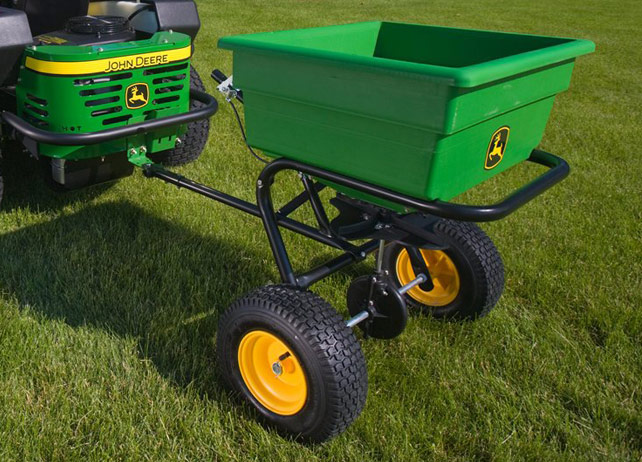 The multi-terrain capabilities of the X500 are what make it ideal for homeowners with every variety of yard layout and landscaping needs. Not only does the John Deere X500 lawn tractor offer sharp, smooth grass cutting, but its heavy duty frame makes it perfect for completing a wide range of ground-engaging tasks.
If you enjoyed the post check out more like it on our Facebook page!
 All photos courtesy of Deere.com
You might also like: