John Deere offers a variety of X500 Series lawn tractors, as we've explored in the used lawn mower guide. For this reason, we pulled together some of the most popular articles that highlight features, attachments, and more about the X500 Series tractors, such as the X500 and X590 models. Take a look and see how you can start using your X500 Series model to your advantage!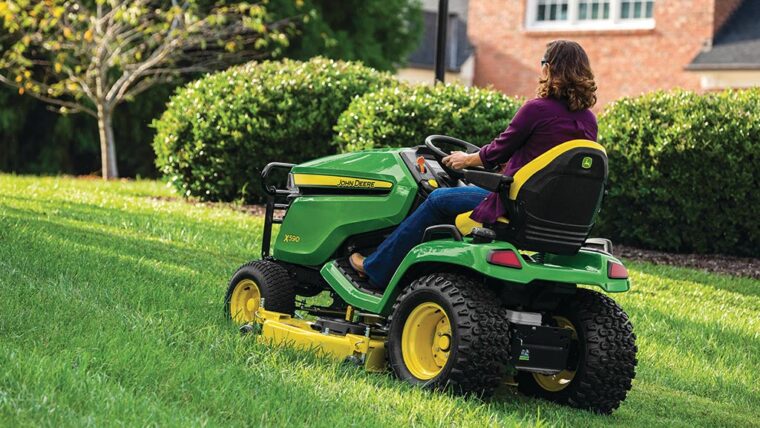 John Deere Equipment Comparison: X300 and X500 Riding Lawn Tractors
John Deere offers several different riding lawn tractors that are all designed to provide premium cuts each time. The John Deere X500, for example, helps tackle a variety of landscaping chores that may await you. While the X500 and X300 machines have abilities that are similar, they do have some differences that set them apart. In order to assist those who want to learn about the similarities and differences between the John Deere X300 and X500 lawn tractors, we've put together an article highlighting this equipment comparison – walking through some of the critical features. 
John Deere X500 Lawn Tractor: Ideal for Homeowners
For yards that have complex landscaping features or difficult terrain, there is no mower better than the John Deere X500 lawn tractor to tackle these projects. With complete 4WD steering and an adjustable mower deck, the John Deere X500 has the most versatile features available for a lawn tractor. Start completing all aspects of your residential lawn care with ease.
John Deere X500 Attachments to Prepare You for Spring
If you're excited about the spring, you might want to think about some attachments for your John Deere X500 in order to prep your mower for the upcoming season. There are many attachments that you can use with your X500 riding lawn tractor to provide more versatility. Read this article to discover a few of the attachments that will help you get ready to take on different tasks this spring.
Transforming the Mowing Experience the John Deere X590
John Deere added the X590 to its residential mowing lineup, which makes jobs easier for homeowners. Read the article to discover what comes with the John Deere X590 and how you can turn mowing into a fun weekly task.
A Quick Comparison of the John Deere X570 vs. X590
When it comes to the John Deere X500 Series lawn mowers, there are multiple different features that landowners can take advantage of, whether that be for commercial or residential purposes. Read the article below to learn about the John Deere X570 vs X590 machine models and see how these mowers stack up against each other.
John Deere Lawn Tractor Accessories and Attachments for Comfort
There are many John Deere riding lawn tractor accessories and attachments you can utilize to make your yard projects even easier. Whether you are looking to boost comfort or overall efficiency, there is most likely an attachment for you. Read the article to explore some of the John Deere lawn tractor accessories, attachments, and add-ons you may want to consider for your machine.
Final Thoughts
With all the features, attachments, and add-ons the X500 Series lawn mowers have to offer, utilizing this series of machines can help make owners less nervous. In the gallery above, you can explore all aspects of the X500 machines so that you make the most of your vehicle.
If you have any questions about John Deere X500 Series models, you can contact your local John Deere dealer.
If you enjoyed this post or want to read others, feel free to connect with us on Facebook, Pinterest, Twitter, or Instagram!
You might also like: