If you can't wait for spring, you may want to consider some John Deere X500 attachments to prep your mower for the upcoming season. There are a number of attachments you can use with your X500 mower to give it more versatility.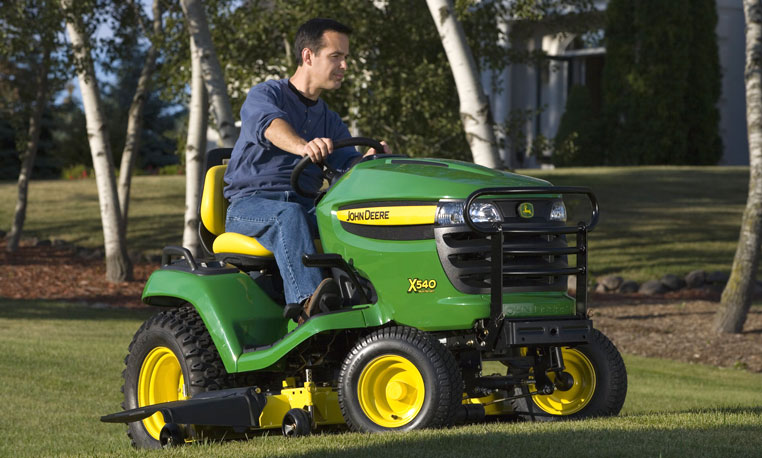 Let's take a look at a few of the attachments that will have you ready to take on a number of different tasks this spring.
Striping Kit
The lawn striping kit is perfect for mowers who want to simplify pattern mowing. The kit provides a durable, flexible, and lightweight attachment for easy use.
Material Collection System
With a material collection system, operators can make clean-up a breeze. The system works with the Power Flow blower and chute to efficiently collect clippings and debris.
Mulch Kit
The mulch kit is one of the John Deere X500 attachments that can give your mower more purpose and value in the spring. It creates individual cutting chambers for more precise grass and leaf mulching. The kit comes with a mulch plug, as well as high-performance mulching blades.
Front Weight Bracket
The front weight bracket can be used to replace the tractor's standard front bumper. It's compatible with Quik-Tatch weights, which can be used as an alternative to front-wheel weights.
Weights
Cast-iron weights can be utilized with John Deere X500 mowers to provide more traction and stability while the equipment is in use.
Lawn Sweeper
The lawn sweeper comes with premium features, such as an adjustable hitch and large wheels, and it is collapsible for storage. It can haul 17 bu. Of material, and it has a brush-height adjuster with eight different positions.
Deck Leveling Gauge
With the deck leveling gauge, operators can quickly and accurately adjust their cutting height and mower deck.
Utility Cart
This utility cart is one of the most useful John Deere X500 attachments. It's rust and dent-resistant, and it can be used to transport a wide range of materials. It has an easy dump release, and it can be moved into a steep angle for complete emptying.
Sprayer
The sprayer can be used to spray numerous materials, including liquid fertilizer, weed killer, tree spray, and de-icer. It comes with a hose and spray wand for targeting lawns and shrubs.
Tiller
The tillers that are compatible with John Deere X500 models are quiet, powerful and designed to enhance productivity. They can help operators prepare seedbeds and control weeds throughout the season.
Front Blades
The 48-inch front blades that can be used with John Deere X500 mowers are ideal for pushing snow, as well as other loose material in multiple directions. The blade surface is curved to roll material (rather than push), which requires less power.
For more information about the X500 or other mowing equipment, contact your local John Deere dealer.
If you enjoyed this post or want to read others, feel free to connect with us on Facebook, Twitter or Google+!
You might also like: