As soon as the cold weather rolls in, you're going to start thinking about lawn prep and how you can make the most of your John Deere lawn tractor attachments. As it turns out, this equipment can help you in many ways as you look to prepare your yard for the upcoming season. With the right attachments, you can ensure that your lawn looks beautiful the following spring.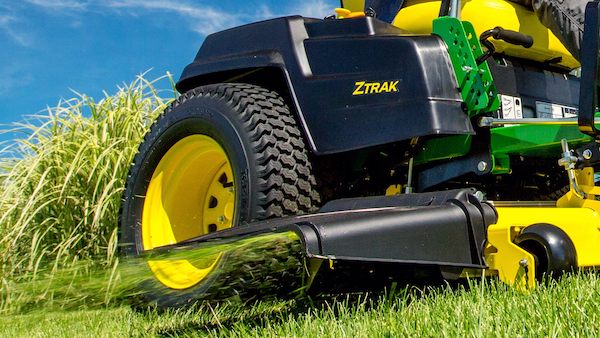 Let's take a look at some John Deere lawn tractor attachments and how they can help you with tasks out in the yard.
Bagging vs. Mulching
Collecting grass clippings serves many purposes – not only does it improve the appearance of your lawn, but it can help you maintain the health of your lawn over time as well. Although you can quickly pick up debris with John Deere Material Collections Systems, when handling mulching tasks, you may want to use the MulchControl feature on your machine instead. You can easily turn on the mulching feature with the flip of a lever, and this all-in-one system eliminates the need to use extra tools while saving time.
When it comes time to bag clippings, you can look to Deere's Material Collections Systems for ideal bagging performance, cleaner operation, and easy-to-empty bags.
EZTrak/Residential ZTrak
This machine makes mowing simple in the spring, summer, and fall and can be extremely efficient at prepping lawns for winter. It works with a sprayer, dethatcher, pull-type spin spreader, and aerator, among other attachments.
100 Series
These mowers also work with sprayers, dethatchers, pull-type spin spreaders, and aerators. Additionally, they are also compatible with the mulching kit, weights, lawn sweeper, and deck leveling gauge.
S240 Sport
This lawn mower works with the striping kit, material collection system, mulch kit, and weights, among other attachments to make prepping your lawn for winter a breeze.
X300 Select Series
The front bumper, front brush guard, light kit, and sun canopy are all compatible with the X300 Select Series, in addition to the sprayer, dethatcher, pull-type spin spreader, and aerator.
X500 Select Series
This series is compatible with a front bumper, front brush guard, armrests, and a light kit for working at dawn and dusk. Similar to other mowers, it also works with the sprayer, dethatcher, pull-type spin spreader, and aerator.
If you have any questions about preparing your lawn for winter with John Deere lawn tractor attachments, you can contact your local John Deere dealer.
If you enjoyed this post or want to read others, feel free to connect with us on Facebook, Pinterest, or Twitter!
You might also like: