Spring is officially here! Although some of us may still be waking up to chilly temperatures, there is a light at the end of the tunnel that promises warmer weather. The onset of spring signals the beginning of yard maintenance, landscaping, and planting, all of which require the power and reliability of John Deere lawn tractor attachments.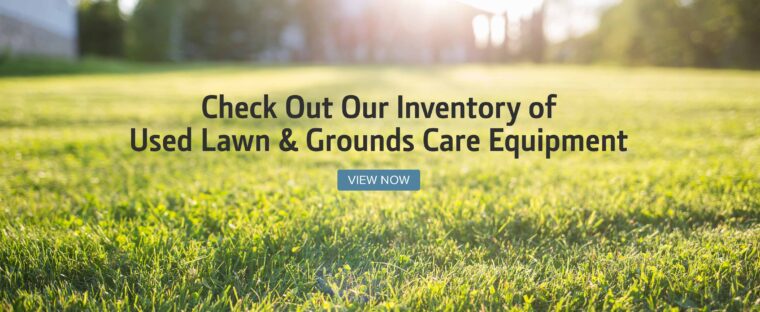 John Deere Riding Lawn Mower Attachments
John Deere designed these attachments to provide your ride-on lawn tractor with increased capabilities and versatility while taking on gardening and other yard tasks. John Deere lawn tractor attachments are also suited for a variety of residential tasks, including tillage, plowing, scraping, hauling, aerating, and mowing.
Here are 7 attachments to get excited about this season.
1. 42" Hydraulic Tiller
For preparing seedbeds and controlling weeds in a wide range of terrains, Deere has designed the 42" Hydraulic Tiller. This machine packs all kinds of power and is designed with adjustable depth to tackle all types of soil conditions.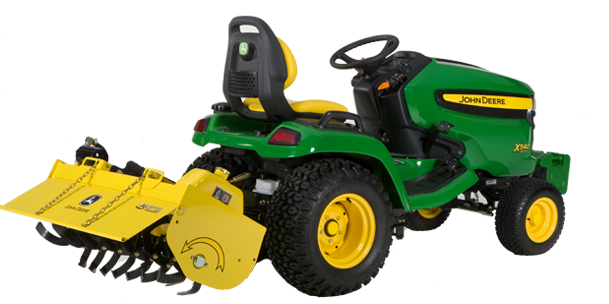 2. Category 1 3-Point Hitch Plow, Single Bottom
If you have an area that once grew grass, grains, vegetables, or other crops, this plow can bury that old crop residue. The plow digs down deep to bring fresh soil to the surface for new seedbeds and effectively buries crop residue where it won't interfere with new growth.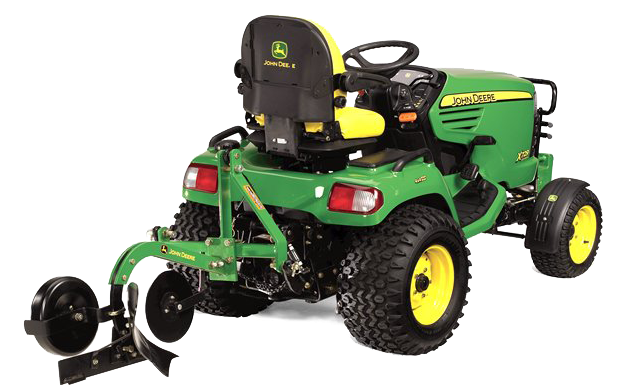 3. 48" Box Scraper
The 48" Box Scraper can take care of the tough digging and leveling yard jobs; its sharp edges cut through any type of gravel, dirt, sand, or rock with the lawn tractor in forward and reverse. In addition, the steel components are welded together for heightened strength and durability.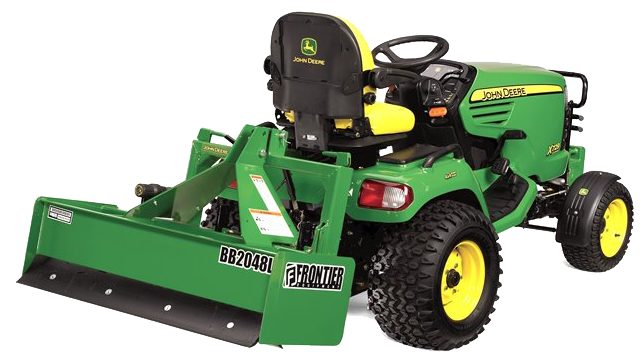 4. 17P Poly Cart
The 17P Poly Cart is dent and rust-resistant with a large load capacity for any number of materials. In fact, the large cart size reduces the number of trips you have to make and releases loads at a steep angle so that nothing is left behind in the cart.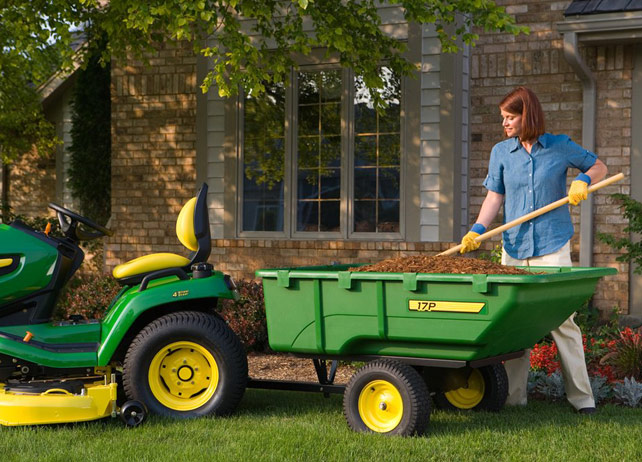 5. 125-lb. Pull-Type Spin Spreader
With a box capacity this big, you can tackle even the largest seeding and fertilization tasks. This spreader makes for an impressive piece of yard care equipment with its ability to evenly distribute materials across soil and grass. In addition, the large pneumatic tires ensure smooth driving and operation.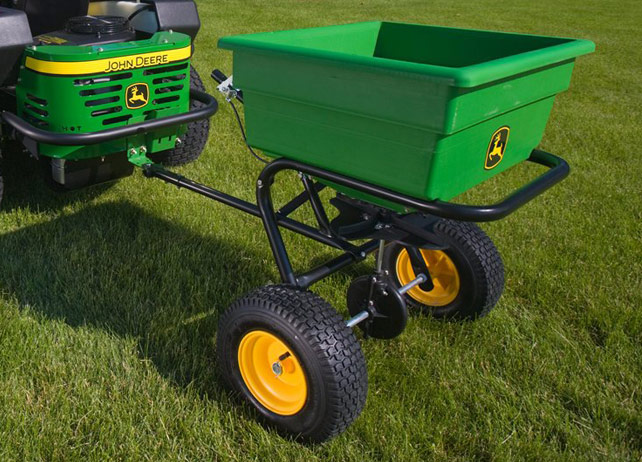 6. 48" Plug Aerator
The heavy-duty design of this John Deere lawn tractor attachment makes it effective in penetrating soil up to 3" in depth to allow for air, water, and nutrients to reach the soil. The width of the Plug Aerator makes it a productive machine that can complete all aerating jobs quickly yet efficiently.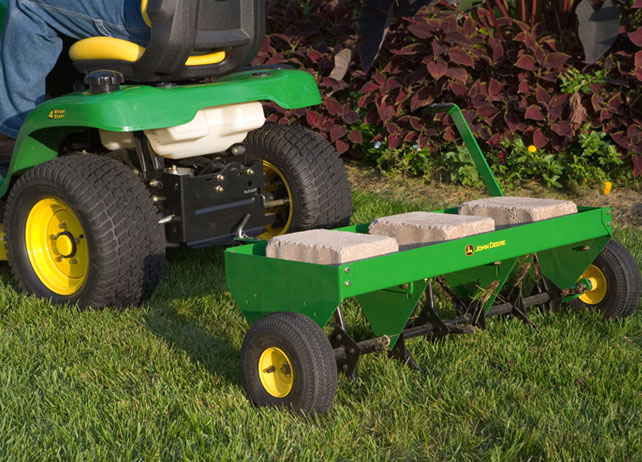 7. 3-Bag, 14-Bushel, Power Flow Bagger
When mowing a large acreage of land, it's essential to avoid emptying the bag at every turn. The 3-bag, 14-Bushel, Power Flow Bagger has a large capacity within the bags and the chute to ensure all grass and yard debris makes it into the bagger while you mow.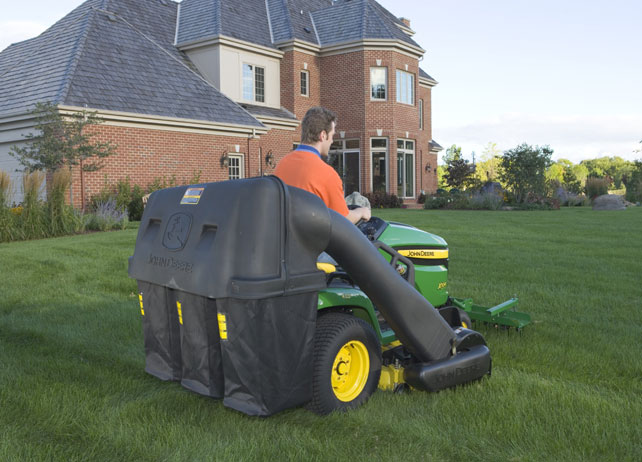 This is just a glimpse of the numerous lawn tractor attachments John Deere has made available for spring. Deere engineers strive to meet every consumer need with the products and equipment that are released each year, and the John Deere lawn tractor attachments are a perfect example of that devotion.
If you have any questions about John Deere lawn tractor attachments, you can contact your local John Deere dealer.
If you enjoyed this post or want to read others, feel free to connect with us on Facebook, Pinterest, Twitter, or Instagram!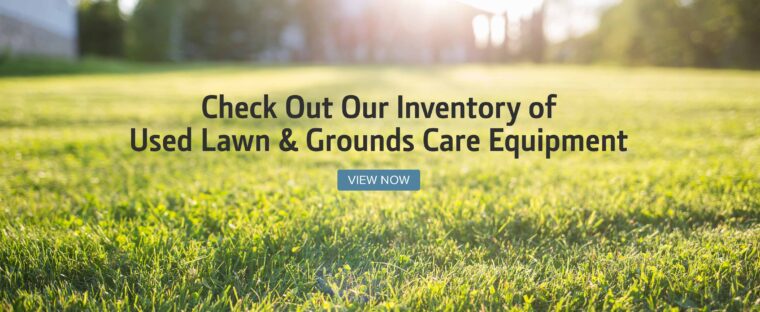 You might also like: