John Deere offers a variety of X300 Series lawn mowers, as explored in our used lawn mower guide. With this in mind, we have pulled together some article highlights related to the features, attachments, and maintenance tips for X300 Series tractors, such as the X330 and X350 models. Take a look and see how you can start using your X300 Series model to your advantage!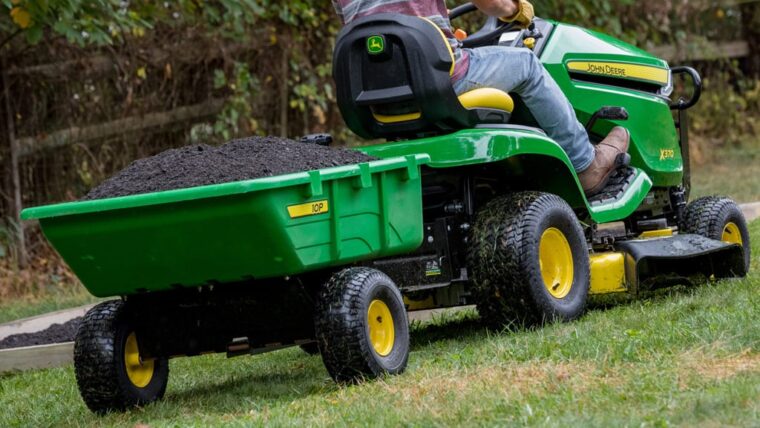 John Deere Equipment Comparison: X300 and X500 Riding Lawn Tractors
John Deere offers numerous riding lawn mowers, which are designed to deliver a premium cut every time. Take the John Deere X300 and X500 models, for example, which help owners tackle a number of landscaping chores. These machines may appear to be quite similar, however, they do have distinct differences that truly set them apart from each other.
In order to assist buyers and owners who are looking to learn more about the John Deere X300 and X500 riding lawn tractors, we've put together an equipment comparison guide that walks through some of the machines' critical features. Read the article to learn more.
John Deere X300 Attachments to Consider for Your Tractor
A perk about owning a piece of John Deere machinery is that you know there are typically multiple attachments you can utilize to enhance your investment. The John Deere X300 is no different, as it has many attachments, which range from snow blowers to extra blades.
Read this article to discover some of the attachments you can add to your tractor, including:
Two-Stage Snoblower
Blades
Material Collection Systems
Weather Enclosures
Rear Mounted Attachments
Sprayers
Tow-Behind Equipment
Tractor Shovel
Utility Carts
John Deere X300 Lawn Tractor: Give Yourself the Power to Mow
When yard maintenance is around the corner, yard owners start their search for three key elements to the perfect lawn mower: productivity, efficiency, and quality. The John Deere X300 Lawn Tractor features operator comfort, as well as a smooth mower deck engagement, tight turning radius, and more. With the John Deere X300 model, you are in control of all aspects of the vehicle; the tractor solely adjusts to your needs.
Any lawn mower that can not maneuver around hard-to-reach spaces – leading you to need to use a weed whacker – is not worth your time. The John Deere X300 lawn tractor will never leave you in this situation, because it can turn on a dime, trimming around the tightest corners, which makes it an obvious choice for tackling yard tasks. Learn more by reading the article below.
John Deere X330 vs. X350 Lawn Tractor Model Comparison
Designed for a high-quality, speedy mow, John Deere X300 Series models are a great choice for operators who are looking to comfortably deliver a nice cut to their lawn. With the effortless steering of the X300, as well as other control features, these machines are the ideal pieces of equipment so you can get around obstacles on the property and trim with precision.
The John Deere X330 and X350 models are two popular lawn tractors in the X300 Series. We have seen a number of buyers and existing customers who consistently look for information that directly compares the two. In this article, you'll find a clear-cut comparison of the John Deere X330 vs. X350 model.
MachineFinder Equipment Spotlight: The John Deere X310
If you need a mower that is able to take on a wide expanse of land, John Deere has machines that you can use to get the job done. John Deere's X300 lineup has a variety of options you can choose from, with each product being designed with durability at the forefront.
If you are looking for a mower that can handle long days in the yard, you might want to consider the John Deere X310 model, because it's designed to make mowing feel like less of a chore. Read the article below to examine the key features of the John Deere X310.
John Deere X304 vs. X324 Lawn Tractor Comparison
John Deere has created many tractors and riding lawn mowers over the years. While a lot of these models seem similar, no two are exactly the same. Considering a model from the Select Series™ X300 family may lead to the question: What is the difference between the X304 and the X324? We will help clear the air in the article below. Let's take a look at the similarities and differences when comparing a John Deere X304 vs. X324.
Garden Tractor Attachments to Help You Welcome Spring
When working with an X300 Select Series tractor, there's an array of garden tractor attachments that you can use to make your yard work easier this spring. With the right garden tractor attachments for your X300 Series, you can speed your workday up and make your lawn look amazing. Take a look at the article to discover some of the attachments you can invest in.
Final Thoughts
With all the features and attachments the X300 Series lawn mowers can have, buying or using this series of machines can make owners less nervous. With the gallery above, however, you can explore all of these aspects so that you make the most of your machine.
If you have any questions about John Deere X300 Series models, you can contact your local John Deere dealer.
If you enjoyed this post or want to read others, feel free to connect with us on Facebook, Pinterest, Twitter, or Instagram!
You might also like: