Whether you're working with a 100 Series machine or X300 Select Series tractor, there is a wide array of garden tractor attachments you can use to make your job easier this spring. With the right garden tractor attachments, you can speed up your workday and make your lawn the star of the neighborhood.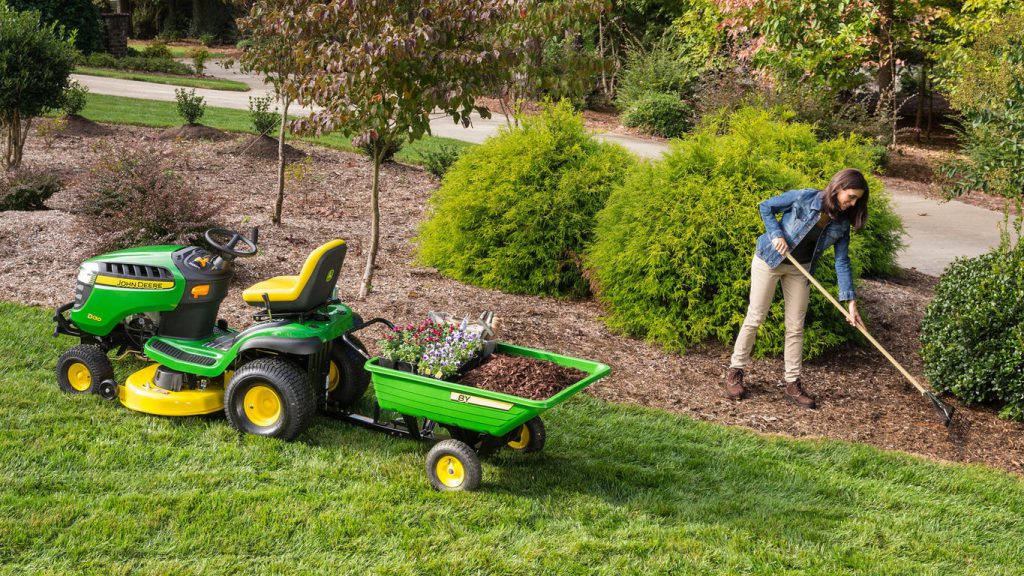 Let's take a look at some of the attachments you can invest in to make your landscaping tasks a little easier.
Utility Cart
The utility cart is rust and dent resistant, and it can be used to haul several types of materials across your yard with ease.
Integral and/or Sleeve Hitches
Integral sleeve hitches can loosen soil between planted rows and help operators remove weeds with ease.
Tractor Shovel
The tractor shovel can be used to pick up and move material in a short amount of time. The blade's opening design and lift height make it easy to completely empty the shovel as needed.
Front Mount Hitch
The front mount hitch allows you to easily hitch attachments to the front of your tractor for easy transportation.
Sprayer
With a mounted sprayer, you can easily apply everything from liquid fertilizer to weed killer in a short amount of time.
Mold Board Plow, Harrow, Cultivator
The mold board plow, harrow and cultivator can help operators cut through soil, break up chunky ground and make way for new planting.
Tiller
Several tillers can work with Deere garden tractors to simplify seedbed preparation and help with weed control.
Weight Bracket
The weight brackets for these tractors are necessary for hanging two or more Quik-Tatch™ weights.
Weights
The weights can be utilized to counterbalance aby heavy attachment. They are also ideal for providing more stability and traction on the tractor while it's in operation.
Rear PTO
The rear PTO drive can be used to drive stationary and 3-point-hitch-mounted implements.
iMatch Quick-Hitch
The iMatch™ Quick-Hitch fits on the three-point hitch and makes it simple to hook up Category 1 implements for use.
Landscape Rake
The landscape rake is ideal for clearing rock and debris while prepping the ground for a seedbed.
Box Blade, Rear Mount Blade
The rear mount blade can be used for leveling and grading, while the box blade can be utilized to move a wide array of materials. The box blade is ideal for backfilling, leveling, grading and landscaping.
Front Blades
The front blades can make mulching an easier job while using the tractor to move material.
For more information on any John Deere garden tractor attachments, contact your local John Deere dealer.
If you enjoyed this post or want to read others, feel free to connect with us on Facebook, Pinterest, or Twitter!
You might also like: