John Deere's compact utility tractors have a number of different attachments designed to help you achieve the perfect lawn. Whether you're ready to work with all of them or you just want to try out a few to get started, there is a wide selection to choose from in the product line. Let's take a look at some of the compact utility tractor attachments you can use to begin.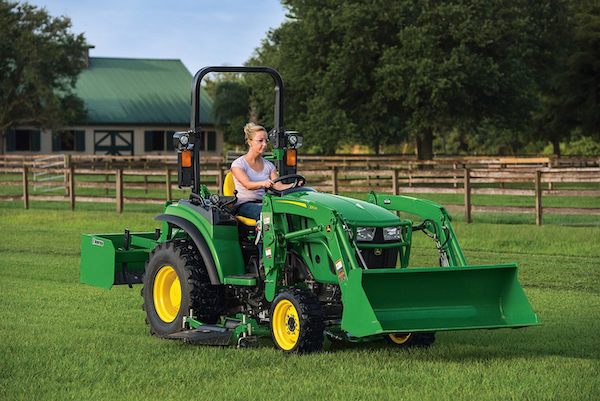 Core Aerators (Economy and Standard Duty)
With core aerators from John Deere, aerating spoons are designed to penetrate below tough soils. This means that it's easier than ever to break up soil compaction and revitalize your lawn. All models are also iMatch compatible – the iMatch quick-hitch system converts the tractor's 3-point hitch to fixed hooks and attaching points for a smooth, simple connection.
Spreaders (Broadcast and Pendular)
The spreaders from John Deere provide precision spreading for an accurate application every time. The deflector shield conversion kits for broadcast spreaders also ensure that material is only thrown where customers want it. A filter grate is included with pendular spreaders to prevent damage from hard, clumped material.
Turf Renovators (Overseeder)
The Turf Renovator (Overseeder) from Deere aerates, meters seed, and incorporates and compacts the seed to ensure successful germination each time. Flat slicing knives are used to minimize disturbance to existing turf.
Pulverizers (Standard and Heavy Duty)
With a Pulverizer from Deere, you can prepare soil of any condition with bar-type cutting teeth, which are reversible for extra life. Its steel roller with studded spikes is specially designed to penetrate even the toughest surfaces and break down clods for a fine finish.
Telescoping Draft Links Kit
With the Telescoping Draft Links Kit, customers can easily hook up a rear implement to their compact utility tractor in seconds, allowing them to get back to work out on the lawn.
Conservation Seeders
Conversion Seeders are available in multiple configurations and can be ordered to best suit the customer's needs. They can also be disengaged to perform soil aeration and dethatching.
Sprayers
With a Sprayer, customers can accurately apply formulas to their lawn in a quick and easy manner. Sprayers from Deere are designed to fit a wide variety of tractors with 3-point hitches to make applications fast and effective.
If you have any questions about John Deere's line of compact utility tractor attachments, you can contact your local John Deere dealer.
If you enjoyed this post or want to read others, feel free to connect with us on Facebook, Pinterest, or Twitter!
You might also like: