Multi-tasking can be a difficult feat once fall and spring roll around. Lawns need to be mowed, materials and leaves to be collected, and loads need to be hauled. This makes a versatile piece of equipment necessary. John Deere's 2R Series compact utility tractor models have several versatile features and can utilize multiple attachments in order to give off that "big tractor" feel while still being able to be stored safely in the garage.
What are John Deere 2 Series Compact Utility Tractors?
The 2 Series compact utility tractors are tractors that have incredible amounts of power and adaptability – taking you further and never failing in delivery. These models allow you to swap implements quickly from the comfort of your operator station while also offering horsepower that ranges from 24.2 to 36.7 HP. The 2 Series compact utility tractors can also be utilized by a wide range of users, such as homeowners, equine owners, commercial operators, and vegetable producers.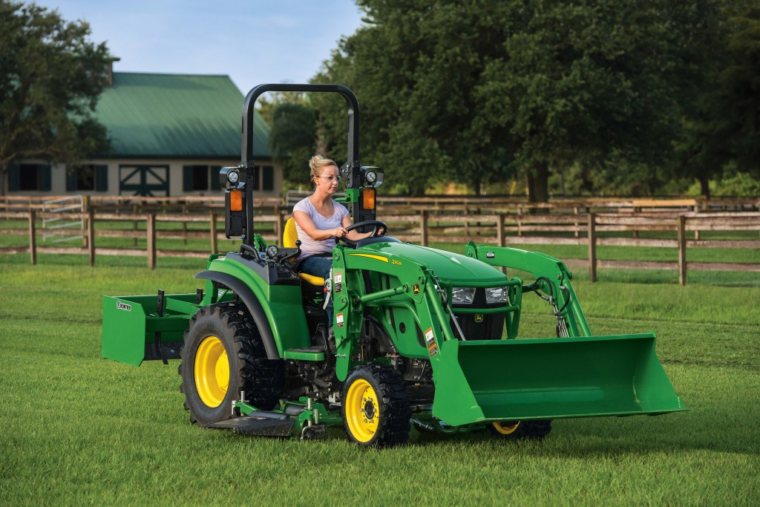 Features of the 2 Series Compact Utility Tractors
The John Deere 2 Series are compact utility tractor models that can take on a massive array of tasks in the field due to their versatility. Let's take a look at some of the features that make this a popular compact utility tractor model.
Powerful Diesel Engine
Whether operators need to load materials, mow a lawn, or haul large amounts of equipment, the power and torque of the 2 series are key components to quickly starting and completing the job in a timely manner. John Deere 2R Series models utilize diesel engines which range from 23hp to 30.5hp and also have four-wheel drive capabilities. This allows for the power you need to get through every season.
Additionally, this model utilizes direct fuel injection. This allows for the instant starting of the machine, which also leads to lower fuel consumption when jobs need to be done in freezing conditions. This feature makes the 2 series models perfect for winter.
Maneuverability & Comfort
A ride in a John Deere 2R Series model feels like you are operating a much larger machine due to the widened operator station platform as well as several other "big tractor" features, such as its versatility and foot controls. While it has the features of a "big tractor," its size is relatively nimble – making it easy to also maneuver the compact utility tractors in tight spaces.
Versatility
The 2R Series has earned its moniker as a "utility tractor" because of its overall versatility and attachment capabilities. Operators can change what they're doing in minutes, from mowing the lawn one moment to loading heavy materials the next.
Technically speaking, it's the 3-point hitch and heavy-duty axles which allow operators to carry higher and heavier loads like Material Collection Systems (MCS). Material Collection Systems can perform supreme grass and leaf collection, while the front hitch and front PTO can help equip blades or brooms quickly. This is perfect for the fall or spring when leaf collection becomes important.
TwinTouch™ Foot Controls
The TwinTouch feature allows operators to select their desired speed and direction with foot pedals. The tractor also has equal speeds when it comes to operating in reverse or driving forward. This allows compact utility tractors to make quick directional changes while improving efficiency out in the field.
Operator Station
The operator stations on the John Deere 2 series compact utility tractors are designed to give operators full control of their tractors. These controls can be found positioned directly in the cab, where everything is color-coded so you can quickly and easily identify which buttons are needed.
The seats of these models come with comfortable armrests, as well as rubberized floor mats, so that vibration is reduced inside the cab. There is also a toolbox that provides onboard storage on the machine, which can be removed and taken on the go as needed.
Enhanced Visibility
These tractor models have sloping hoods and also have working lights with an optional LED form and additional available light kits so operators can have more visibility in low-lighting conditions.
Tire Options
There are also quite a few different tire options for the 2 series models, which include the R3 Radial Tire, as well as the R3 Bias Ply Tire, and the R4 Industrial Tire. There is a tire out there for any kind of terrain possible.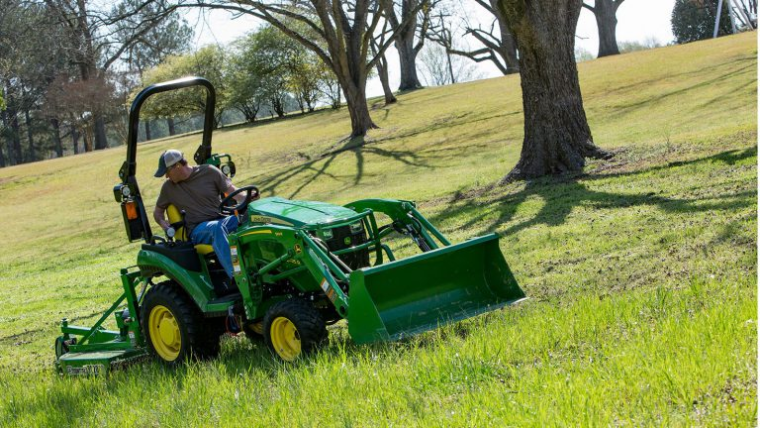 2025R
The 2025R compact utility tractor is known as a model that can handle everything from mowing to snow removal. It offers features like four-wheel drive, as well as hydrostatic transmission with cruise control, power steering capabilities, and even drive-over mower deck compatibility.
In terms of transmission, the 2025R compact utility tractor has a standard HST transmission alongside Twin Touch foot pedals which help with increased performance. The tractor has two options: raise or lower the mid-mount mower deck.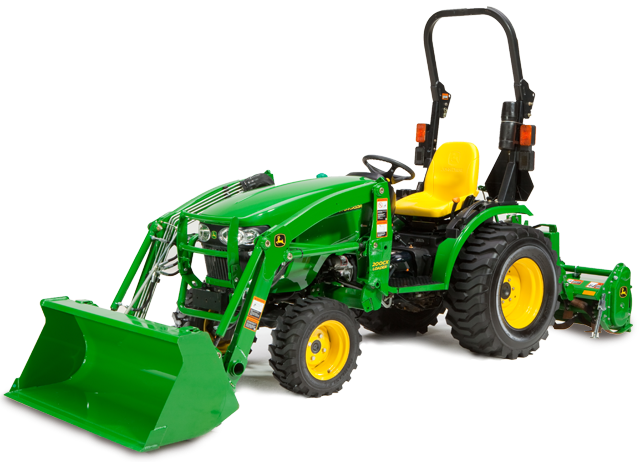 2032R
The 2032R model has a wide tractor stance as well as a longer wheelbase. This, combined with the increased tractor weight, improves the model's stability when navigating different terrains. With a premium suspension seat, as well as ergonomic controls, a tilt steering wheel, cruise control, and a thick rubber floor mat, this model provides a very comfortable operator experience, which helps to reduce operator fatigue.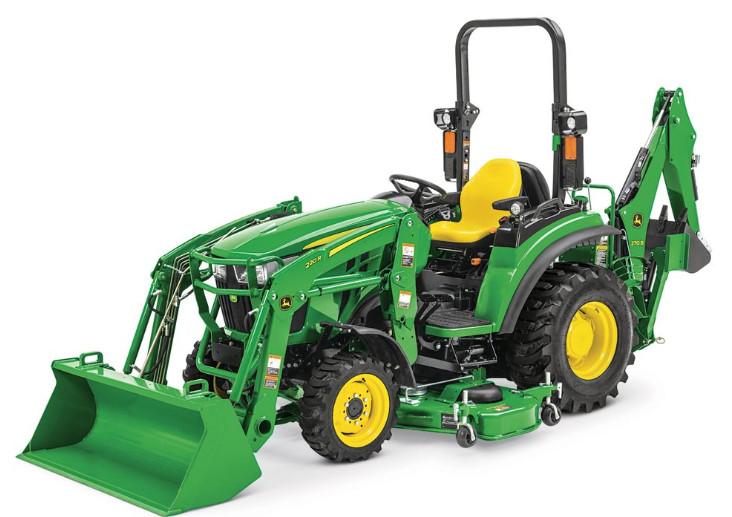 2038R
The 2038R large-chassis model of the 2 Series compact utility tractors was designed with a new body that has better stability while bringing a 38-hp engine to the table. This helps to provide operators with different options so they can take on projects of any size. Since the model has a wider stance as well as an extended wheelbase, it is easier for the machines to stay on balance, even when the terrain is rough.
2 Series Compact Utility Tractor Attachments
Attachments can make or break a piece of machinery, as they can improve the versatility of the model. Let's take a look at some of the attachments that can be used with the 2 Series compact utility tractors.
Root Grapples
Root grapples are attachments that can help with lifting, stacking, loading, or unloading heavy-duty materials. They can be quickly and easily attached to the 2 series compact utility tractors. They also have replaceable tips which can help increase the implement's wear life. This means that operators will get an ample amount of use out of them before they need to consider a new implement.
Weights
There are two different weights that can be added to the John Deere 2 series compact utility tractors for more efficiency. The Quik-Tatch Weight, which is 42 pounds, can be added with the M128726 rod and spring clips. Additionally, certain compact utility tractors can use a 60-pound rear-wheel weight.
Engine Additions
There are some engine options operators will want to consider specific to the 2025R model. An engine block heater adapter lets the engine start faster and smoother when the weather is cool. The accompanying engine coolant heater kit comes with all the items operators need to ensure chilly temperatures are not an issue.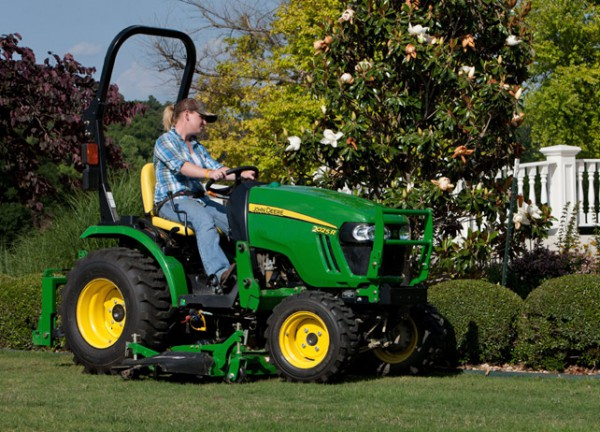 Hydraulics
There are multiple different hydraulic John Deere 2 series attachments that are available for use. The power-beyond kit is used to access pressurized hydraulic oil, which is at the rear of the tractor and is used for other operating attachments. Additionally, the rear hydraulic outlet kit is compatible with compact utility tractors.
Lighting
The John Deere 2 series models are compatible with multiple versions of lighting attachments. The warning light brush guard kit, as well as the work light brush guard kit, can be utilized with these machines. Alternatively, the forward lighting kits and the auxiliary rear work kits can be utilized for production without daylight.
Hood Guard
Hood guards protect the front of the John Deere 2 series and stay in place when the machine is in use. Since it has a bolt-on design, it also remains in place when the loader is removed from the tractor. The guard can also be tilted forward in order to open the hood.
Fender Extension Kit
The fender extension kit was created in order to help operators work on rough, wet terrains. The kit helps to extend the fender's tire coverage, which provides more protection from the elements in inclement weather.
iMatch™ Hitch
The iMatch Hitch is an attachment for the 2 series that you may want to utilize if you intend on using 3-point hitch implements. Since the uniform hitch points work to reduce the amount of effort that is needed to add 3-point hitch implements, it can make any project easier.
Final Thoughts
When you're looking for a compact utility tractor, John Deere has you covered. With the extensive line of compact utility tractors, including the 2 series, you'll have a wide array to choose from, whether you're looking for power, versatility, or something else.
If you have any questions about John Deere 2 series compact utility tractors, you can contact your local John Deere dealer.
If you enjoyed this post or want to read others, feel free to connect with us on Facebook, Pinterest, Twitter, or Instagram!
You might also like: