The 32 horsepower John Deere 2032R can tackle a wide range of jobs, in part due to its numerous accessories. This compact utility tractor works with a number of different tires, weights, and a rear hitch, just to name some of the accessories that are compatible with the model.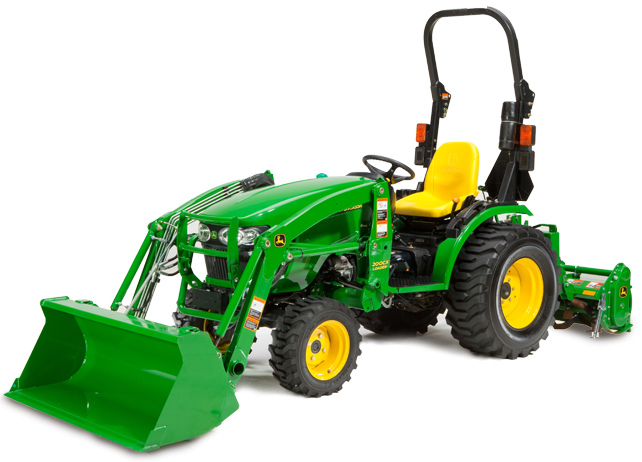 Let's take a closer look at the John Deere 2032R attachments you may want to invest in for your needs.
iMatch™ Hitch
The iMatch Hitch is one of the John Deere 2032R attachments you may want if you intend on using 3-point hitch implements. The uniform hitch points reduce the amount of effort needed to add 3-point hitch implements.
Weights
There are several weights that can work with the 2032R. A 60-pound rear wheel weight can be added for more traction and stability, and up to three of them (per wheel) can be used at a time. The Quik-Tatch 42-pound weight can also be used with the 2032R. It can be added to counterbalance a heavy front or rear attachment, providing more stability on rugged terrain.
Hood Guard
The hood guard protects the front of the John Deere 2032R and stays in place while the machine is in use. Because it has a bolt-on design, it will also remain in place as the loader is removed from the tractor. The guard can be tilted forward to open the hood as necessary.
Spark Arrester Screen
The spark arrester screen for the 2032R is designed to meet the law in the state of California requiring the use of a spark arresting muffler in certain conditions. With the device, operators can ensure that their machine does not emit flammable debris, which may be combustible.
Fender Extension Kit
The fender extension kit is designed to help operators work on rough, wet terrain. The kit extends the fender's tire coverage, providing more protection from the elements in inclement weather.
LED Work Light Kit
The LED Work Light Kit is one of the John Deere 2032R attachments operators will want if they work after hours or early in the morning. It provides more illumination in dimly lit environments, extending the workday and enhancing productivity. The kit can be mounted to the warning light brush guard kit as well, for even more visibility.
If you have any questions about John Deere 2032R or other tractors, contact your local John Deere dealer.
If you enjoyed this post or want to read others, feel free to connect with us on Facebook, Twitter or Google+!
You might also like: