When you need a tractor that can take on a wide array of conditions out in the field, you know it's time to turn to John Deere. One option you may want to consider for the tasks at hand is the John Deere 2038R. This tractor is specially designed with an eThrottle feature, a high-torque diesel engine and an easy-to-use hydrostatic transmission.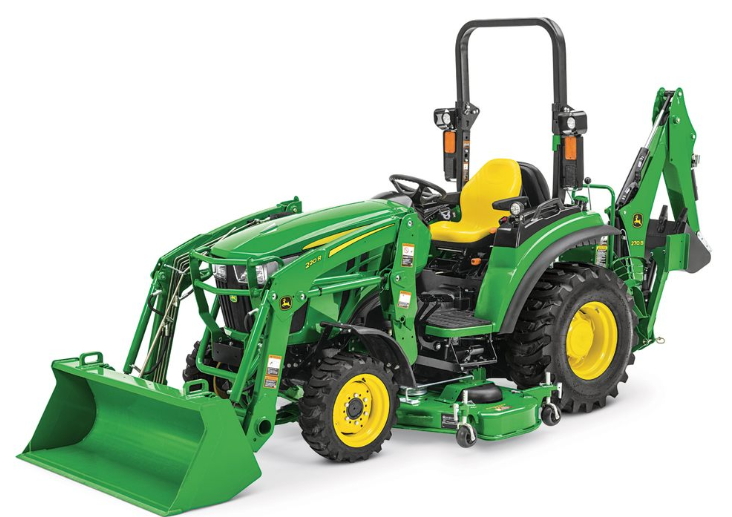 Let's take a look at some of the highlights of the John Deere 2038R and how it can help you ultimately boost productivity.
eThrottle
This feature is designed to make the John Deere 2038R operate more quietly and require less fuel. When eThrottle is engaged, the engine rpm and transmission speed increase as the Twin Touch pedals are depressed. To enable eThrottle, all customers have to do is press a switch located on the right side of the front console. Once it is engaged, engine speed will increase or decrease in unison.
Operator Station
The operator station of the John Deere 2038R has been specially designed for maximum comfort and more visibility. It comes with color-coded controls for easy identification and operation. The sloping hood design improves visibility, and there is a rubberized floor mat design to reduce vibration and noise. For added convenience, there is a cup holder, multiple storage compartments, and a 12-volt outlet.
Hydrostatic Transmission
The hydrostatic transmission of the John Deere 2038R is meant to increase productivity on the job. The two-range transmission is incorporated in a die-cast aluminum transmission case. Fluid under pressure transmits engine power to the drive wheels via a closed loop pump and motor arrangement. Infinite ground speeds also give customers a wide array of options on the job.
Optional iMatch Quick-Hitch Feature
Customers can opt for the iMatch™ Quick-Hitch feature, which allows for the easy hookup of Category 1 implements designed to meet ASABE Category 1 standard S278.6 for quick-attach hitches.
High-Torque Diesel Engine
The high-torque diesel engine of the John Deere 2038R operates with three cylinders and provides a gross horsepower of 30.7. It utilizes the latest technologies to optimize fuel economy, improve control and accuracy, and reduce environmental impact. The electric control unit provides optimal fuel control and accuracy on the job.
If you have any questions about the John Deere 2038R or other equipment, you can contact your local John Deere dealer.
If you enjoyed this post or want to read others, feel free to connect with us on Facebook, Pinterest, or Twitter!
You might also like: