The John Deere 2025R is a compact utility tractor that can take on a wide array of tasks out in the field thanks to the versatility that it offers to customers. With a powerful Final Tier 4-compliant engine and a comfortable, convenient operator station, the John Deere 2025R is fit for any task that operators may face.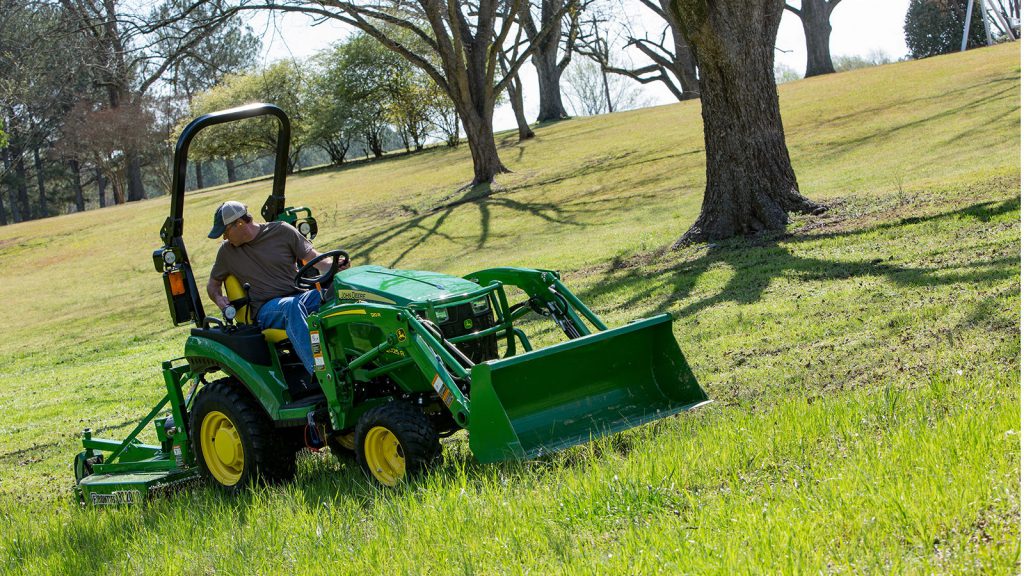 Let's take a look at some of the features built into this compact utility tractor and how they work together to help you on the job.
TwinTouch™ Foot Controls
The TwinTouch foot controls of the John Deere 2025R allow operators to select the speed and direction of the tractor with little effort. Auto-Throttle allows users to increase or decrease the engine speed with a touch of the pedals. Additionally, the tractor has equal speeds for operating in reverse or driving forward. In turn, this allows for quick directional changes and more efficiency out in the field.
AutoConnect™ Mower Deck
The AutoConnect mid-mount mower deck can be used with the John Deere 2025R. It features a Height of Cut System, meaning operators can easily adjust the mower deck by pressing a button to cater to the terrain. The deck itself can be mounted or removed within a matter of minutes.
Operator Station
The operator station of the John Deere 2025R is designed to help operators gain full control of the tractor with ease. The controls are positioned within the cab, and everything is color-coded for quick and easy identification. Additionally, the seat of the 2025R comes with armrests and full-seat suspension for maximum comfort. In combination with the rubberized floor mats, vibration is substantially reduced inside of the cab for less operator fatigue. A toolbox provides onboard storage on the machine and it can be removed and taken on the go as necessary.
Enhanced Visibility
Visibility isn't a problem for owners of the John Deere 2025R. The tractor has a sloping hood and it comes with work lights in an optional LED form for more visibility in low-lighting conditions.
Tire Options
There are multiple tire options for the 2025R, including the R3 Radial Tire, R3 Bias Ply Tire, and R4 Industrial Tire. Depending on the terrain and working conditions, there is a tire out there for whatever the job may entail.
If you have any questions about the John Deere 2025R or its updates, contact your local John Deere dealer.
If you enjoyed this post or want to read others, feel free to connect with us on Facebook, Pinterest, or Twitter!
You might also like: