If you need a compact utility tractor to tackle all of the tasks on your list throughout the workday, you may want to consider the John Deere 3033R. This tractor is specifically designed to handle everything from building to tilling. Its premium features and heavy duty frame ensure that you're always working efficiently.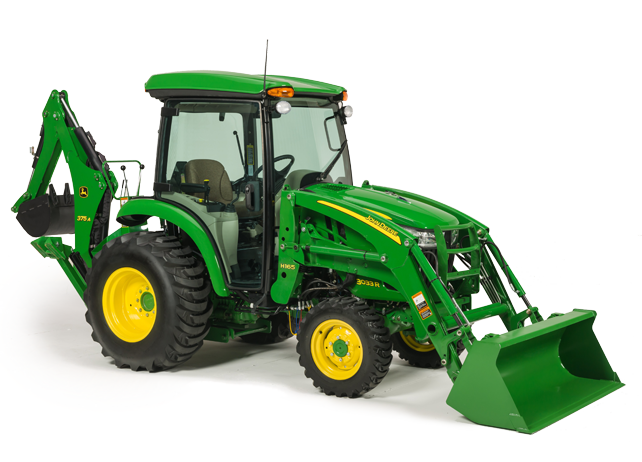 Let's take a look at the key highlights of the John Deere 3033R.
Diesel Engine
This compact utility tractor has a Yanmar® diesel engine with three cylinders and a high torque reserve. Its engine is specifically designed to reduce exhaust emissions and noise levels during operation. It also meets all current Environmental Protection Agency emission requirements for Final Tier 4 emission standards. Gross engine horsepower is 31.8 for the John Deere 3033R.
iMatch™ Quick-Hitch
The iMatch Quick-Hitch on this compact utility tractor removes all of the typical challenges of installing attachments. This hitch is specifically guaranteed to fit all Category 1 implements. In turn, operators spend less time hooking up attachments and more time utilizing them out on the job.
Easy Serviceability
The tractor was designed with serviceability in mind. It has a functional, attractive appearance that is similar to larger agricultural tractors from John Deere. Its integrated maintenance position on the front grill means that operators have easy access to the battery when maintenance is needed. Its hybrid exhaust is located in the base, which gives users enhanced visibility and safety on the job. The tractor itself has onboard self-diagnostic capabilities that are also compatible with the Service ADVISOR™ system for troubleshooting.
PowrReverser™ Transmission
This forward-to-reverse transmission allows for clutchless shuttle shifting between directions with a single lever. The PowrReverser transmission has two multi-disk clutch packs that are hydraulically actuated when the lever itself is shifted. In turn, operators can quickly maneuver their machine in a variety of directions as necessary.
Safety Features
The John Deere 3033R was built with safety in mind. Its operator presence system means that the machine knows when there is a physical body in the seat for equipment use. The rollover protective structure also enhances safety, and ROPS reflective strips make for more visibility in dimly lit conditions. The transmission can be placed in neutral, and the parking brake gives users the opportunity to run the rear PTO without concern. In addition, the tractor comes with a slow moving vehicle sign, and it has taillights specifically designed for road transport.
For more information about the John Deere 3033R or other utility tractors, contact you local John Deere dealer.
If you enjoyed this post or want to read others, feel free to connect with us on Facebook, Twitter or Google+!
You might also like: