Since entering the agricultural industry in 1837 with the invention of the steel plow, John Deere has strived towards making the lives of its customers easier. This has meant offering a variety of equipment that covers a wide range of industries and use cases, from construction to forestry to residential needs. Knowing that customers' priorities are constantly shifting, John Deere has worked to deliver the versatility these individuals need in the equipment it manufactures. This is where the company's range of compact utility tractors comes into play.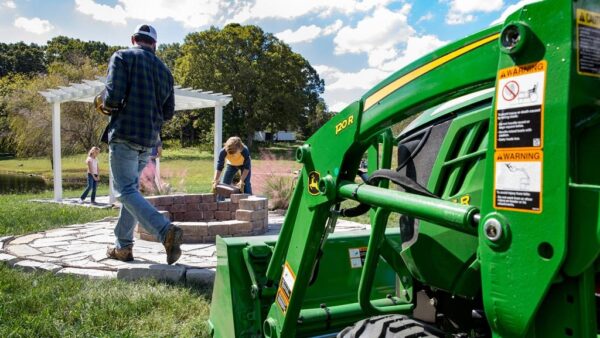 What Is a Compact Utility Tractor?
A compact utility tractor is a piece of equipment that is considered to be indispensable by many, from small farmers to homeowners. These tractors are built for versatility as well as convenience, allowing operators to complete a range of jobs with ease, including lawn mowing, soil work, and hauling materials. While they are smaller than typical farm tractors, as their name suggests, compact tractors are still capable of taking on similar tasks thanks to the inclusion of power take-offs (PTOs), hydraulics, and three-point hitches. Together, these design features ensure that operators can easily maximize the capability of their machine with a variety of tools and attachments.
While John Deere originally entered the tractor business with the intention of manufacturing equipment specifically for farmers, the company has since broadened its approach, helping everybody from producers to residential gardeners. So, when these same individuals are faced with a smaller job that still requires a good amount of power, they know they can rely on one of John Deere's compact utility tractor models to get the job done.
Choosing the Right Compact Tractor for Your Operation
John Deere compact utility tractors are specifically designed to help operators knock items off their chore list in as little time as possible. That said, as is the case with any piece of equipment, there are certain factors that one should take into consideration before purchasing one of these machines. When weighing your options, ask yourself the following questions:
How Much Power Is Required?
When considering this specific aspect, go with a tractor that has a little bit more power than you think you will actually need. Keep in mind that a tractor without enough power won't be able to help you accomplish all of your desired chores, while a tractor with way too much power will simply waste fuel. 
Be sure to not only think about the horsepower of a tractor, but also its power take-off (PTO). This is the measurement used to describe the rotating shaft in the back of the machine that is responsible for transferring power from the engine to the implements that will be used for any given task. Typically, a tractor's PTO will be 15% less than its horsepower.  
What Type of Transmission Do I Need?
There are a few different gear-driven manual transmissions available – these are considered to be the most efficient and reliable options for operators:
Non-synchronized transmissions, which require stopping and clutching between gear changes, are well-suited for lawn mowing, plowing, or other tasks where speed changes will be limited. 
Partially-synchronized transmissions, which allow operators to clutch and shift between speeds without stopping the tractor, are easy to operate over a broad range of conditions.
Fully-synchronized manual transmissions, which allow operators to clutch and shift speeds on the go, are great for tasks like cutting or baling hay, lawn mowing, loader work, and many specialty applications. 
John Deere also offers hydrostatic transmissions that are best-suited for less-experienced tractor operators as they use hydraulic pressure, rather than gears, to propel the tractor. They also typically feature pedals or levers to control the direction of the machine. 
Operators that are planning to use a loader should consider the PowrReverser option. This features an orange lever to the left of the steering wheel that allows operators to change direction, moving forward and in reverse without stopping or clutching.
Do I Need a Two-Wheel or a Four-Wheel-Drive?
If your tractor will mainly be used for light-duty mowing, standard two-wheel-drive may be the best option. If your tractor will be used for more heavy-duty chores across bumpy ground, a four-wheel-drive should be considered for the purpose of extra traction and power.
What Types of Implements Will I Be Using?
One of the best things about John Deere compact utility tractors is their versatility. These tractors can be equipped with a wide range of attachments, from mowers to backhoes, to help check off every item on their chore list with ease.
When deciding on a tractor, it is important to first identify the types of attachments you plan on using before evaluating hydraulic capacity – the hydraulic system is responsible for everything from power steering and brakes to loaders and other attachments. These systems are typically available in two forms: open-center and closed-center. The open-center continually circulates hydraulic fluid, resulting in faster response times when the hydraulic implement is lifted. The closed-center system, on the other hand, remains idle unless it's called upon to power an attachment. 
What Do I Want From a Comfort Standpoint?
Think about how much time you plan to spend using your tractor, then think about the level of comfort you will require to get through the day. When thinking about factors like comfort and convenience, consider four key components: seat comfort, location of controls, operator station (open or closed cab), and visibility. Ultimately, the only real way to make sure a tractor meets your requirements is to climb in and do a test-drive before making a final decision. 
How Long Can I Spend Maintaining My Tractor?   
Nobody can get away with not taking care of their machine, which is exactly why maintenance is another important factor to consider before purchasing a compact utility tractor. Make sure you understand not only how you will need to maintain the machine but also how often you should run routine maintenance checks.
What is the Best John Deere Compact Tractor?
When you're on a hunt for a compact tractor, you know that John Deere has you covered. With its extensive line of compact tractors, manufactured in Augusta, Georgia, you'll have a wide array of options to choose from, whether you're looking for strength, versatility, or all of the above.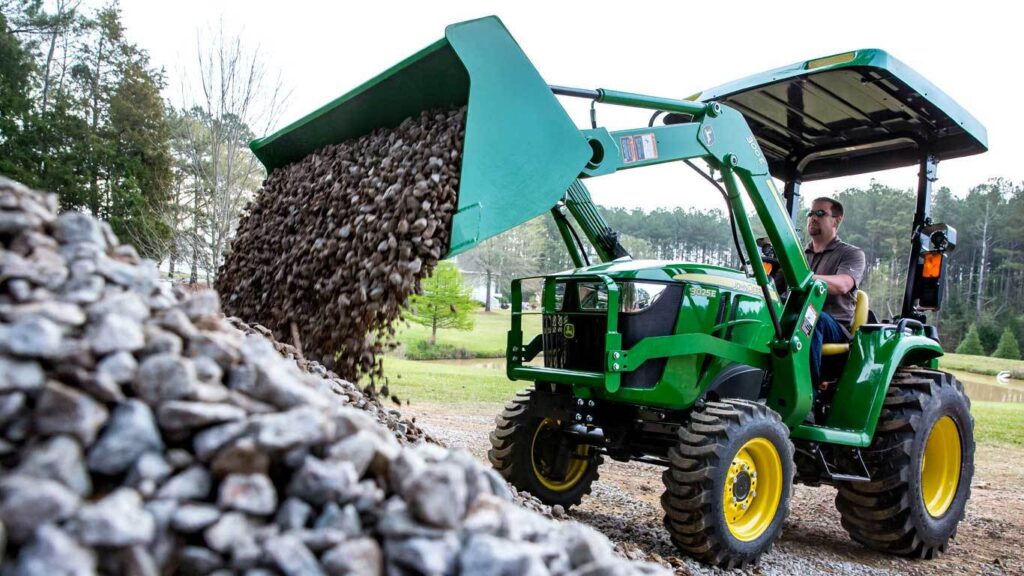 Considering the number of options and factors that operators must think about, we have put together a comparison chart of John Deere compact utility tractors, broken down by series and model, to help you cut down that laundry list of chores. 
1 Series Sub-Compact Tractors
The John Deere 1 Series sub-compact tractors are perfect for a range of tasks, including lawn mowing, cutting through terrain, tilling, gardening and leveling, and snow removal. These tractors feature hydrostatic-2 range transmission, four-wheel-drive, and open station cabs.
Below are specifications for current models within this series, including the 1023E and the 1025R.

2R Series Compact Utility Tractors
John Deere's 2R Series compact utility tractor models deliver top-notch power for even the toughest jobs, offering horsepower that ranges from 24.2 to 36.7 HP. Homeowners, equine owners, commercial operators, and vegetable producers can all benefit from these tractors, each of which comes with standard four-wheel-drive and a hydrostatic transmission that features TwinTouch™ forward and reverse pedals for ease of use. 
Below are specifications for current models within this series, including the 2025R, 2032R, and 2038R.

3 Series Compact Utility Tractors
Featuring horsepower between 24.7 and 45.3 HP, John Deere's 3 Series compact utility tractors are perfect for jobs that require cutting through rough terrain, tilling, grading and leveling, snow removal, and digging. This lineup features the 3D tractors (great for wagon hauling), 3E tractors (designed for farm and landscaping tasks), and 3R tractors (perfect for more heavy-duty tasks). The versatility of these machines is further amplified by the inclusion of a Category 1 three-point hitch for a variety of attachments, meaning the possibilities are endless.  
Below are specifications for current models within this series, including the 3025D, 3035D, 3043D, 3025E, 3032E, 3038E, 3033R, 3039R, 3046R.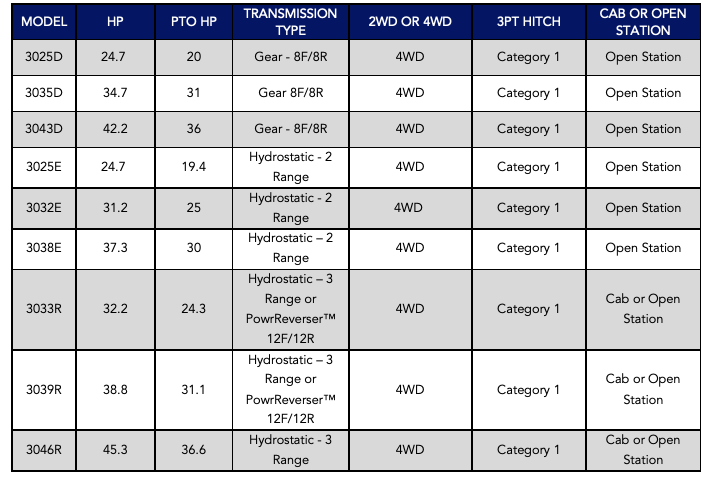 4 Series Compact Tractors
Each model within the 4 Series compact tractor lineup from John Deere has four-wheel-drive and a hydrostatic 3F/3R PowrReverser™ 12F/12R transmission, enabling maximum power while on the job. Additionally, thanks to features like diesel engines, open stations, and Category 1 three-point hitches for attachments, these tractors are perfect for landscaping jobs, farm and equine-related operations, and recreational tasks.
Below are specifications for current models within this series, including the 4044M, 4052M, 4052M Heavy Duty, 4066M, 4066M Heavy Duty, 4044R, 4052R, and 4066R.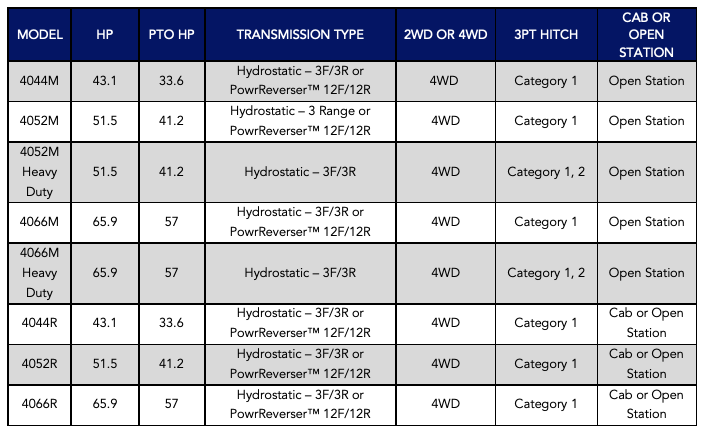 John Deere Compact Tractor Implements
John Deere compact utility tractors are designed to accomplish a variety of tasks, so why not amplify that versatility with a range of implements and attachments? Whether you have a specific task in mind or simply want to have the option just in case, there is a wide selection to choose from in the product line. 
This includes the following: 
Backhoes
Bale spears
Bale unrollers
Box blades
Core aerators
Disc mowers
Disk harrows
Flail mowers
Food plot seeders
Front blades
iMatch AutoHitch
Loader attachments
Loaders
Manure spreaders
Material collection systems
Overseeders
Posthole diggers
Power rakes
Pulverizers
Rakes
Rear blades
Rotary brooms
Rotary cutters
Rotary mid-mount mowers
Rotary rakes
Sicklebar mowers
Skid steer attachments
Snow blowers
Snow pushes
Spreaders
Tedders
Tillers
Wheel rakes
Cut Down Your Chore List with Ease
When operators need to take on a specific task, they know they can rely on John Deere to help them get the job done right. With the company's lineup of compact utility tractors, checking items off the to-do list has never been easier. While great pieces of equipment on their own, these John Deere tractors are only made more helpful and versatile with a wide range of attachments and implements that are designed for ease of use and efficiency.
If you have any questions about John Deere compact utility tractors, you can contact your local John Deere dealer.
If you enjoyed this post or want to read others, feel free to connect with us on Facebook, Pinterest, or Twitter!
You might also like: