Compact tractors are designed to tackle a variety of jobs, both in a professional and residential setting. Whether you are looking to tackle small projects around the farm or overhaul your residential yard, there are models and John Deere compact tractor attachments to help you do it all.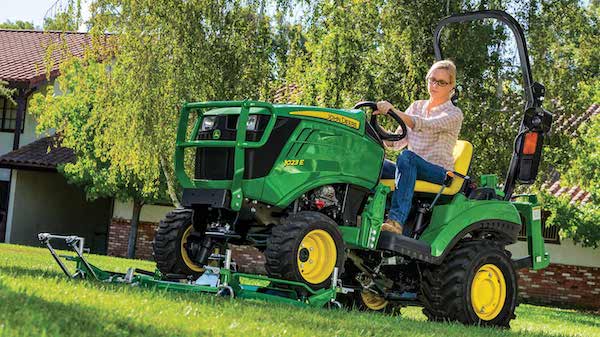 Let's take a closer look at the uses of compact tractors, models, and attachments for these vehicles.
History of Used Compact Tractors & Their Attachments
As the tractor business began bustling, John Deere entered the industry in 1918 and has been working to offer their customers top-of-the-line equipment ever since. Here's a look back at a timeline of some of the most well-known tractor models that have contributed to this industry.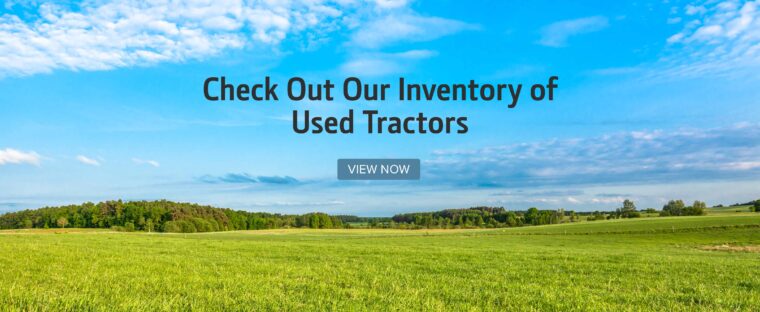 1954:

A new line of tractor models were built from scratch, leading to the creation of the John Deere

1010

, 2010, 3010, and

4010

models. This lineup featured different elements that were never before seen, such as hydraulic power brakes and even closed-center hydraulics for rapid power.

1960 – 1962:

The success of the 4010 tractor models led to the development of the

John Deere 4020

, which ­later became the best-selling John Deere tractor model.

1963 – 1972:

These years were all about the 4020. While it was a game-changer in terms of safety features, the John Deere 4020 also provided operators with extreme comfort while in the cab. These updated features included deluxe seats and accessible hydraulic controls, which replaced cumbersome levers at the front of cabs.
Compact Tractor Attachments
John Deere used compact tractor attachments can help you achieve the perfect lawn. Whether you are ready to begin working with all of these attachments or just want to try out a few, there is a large selection to choose from within the product line. These attachments can not only help you aerate and prepare your lawn, but also maintain it year-round.
Core Aerators
With core aerator tractor attachments from John Deere, you can penetrate below tough soils and puncture heavy thatch. This makes it easier to break up soil compaction, ultimately revitalizing your lawn. Whether you're a landscaper or homeowner, you should consider using a core aerator.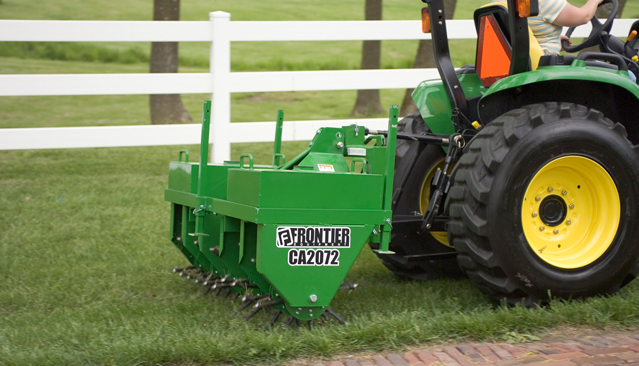 Spreaders
Spreaders are compact tractor attachments that can help you to widely and evenly spread seed and fertilize, while also providing precision spreading for accurate application every time. With pendular spreaders, there is a filter grate, which helps to prevent damage from hard, clumped material. Large hoppers will also allow you to continue spreading seeds and fertilizer for a longer period of time.
Pulverizers
With a pulverizer tractor attachment, you will be able to prepare any kind of soil with the attachment's bar-type cutting teeth, which happen to be reversible for extra life. The steel roller is studded with spikes, meaning it is specially designed to penetrate the toughest surfaces, and break down clods for a fine finish.
Conservation Seeder & Sprayer Attachments
Seeders can be disengaged to perform soil aeration and dethatching. Another item that may be helpful to prepare a large-scale seedbed is a rotary tiller. On the other hand, you can also attach an overseeder to your machine to aerate the soil further and add seeds all in one step. If a lot of your yard or fieldwork will be done in wet conditions or on clay, you will want to consider adding a scraper bar. After seeding is complete, a sprayer can be used to accurately apply formulas to lawns quickly. They are designed to fit a variety of compact tractors with 3-point hitches, making applications fast and effective.
Overseeders
The overseeder compact tractor attachment aerates, meters, and incorporates seed while compacting the seed to ensure successful germination each and every time. The attachments slicing knives are flat and used to minimize disturbance to the existing turf.
Box & Rear Blades
Hooking up a box blade to your compact tractor as an attachment allows the vehicle to shape, level, or grade terrain with relative ease. Rear blades, on the other hand, make it possible to handle all gardening, landscaping, and other maintenance chores with speed. Adjustments can be made to the attachment's blade angle so you can do the best job possible at any task.
Disk Harrows
Disk harrows help you do tillage work on large gardens or small fields, while also leveling and preparing yards for new seed or sod. When you're finished using a disk harrow attachment, all you need to do is spray it down to keep it clean.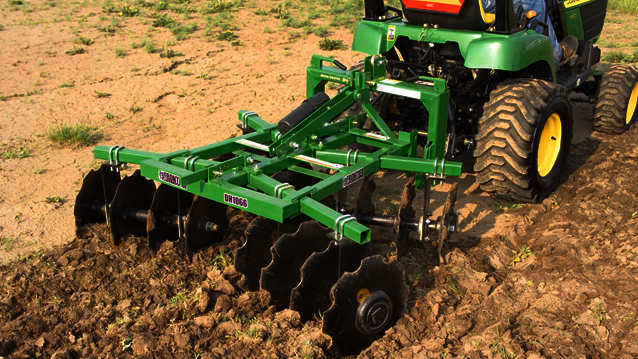 Loaders
Loader attachments for compact tractors can easily be added to a compact tractor in order to help get to the bottom of any project. This attachment is fast and easy to remove or mount. The loader joystick also makes it very easy to operate.
Rotary Cutters
Rotary cutters allow for fast, efficient mowing, thanks to their cutting width. The cutters can go as low as 1.5 inches or as high as 9 inches, depending on the length you are looking to leave behind.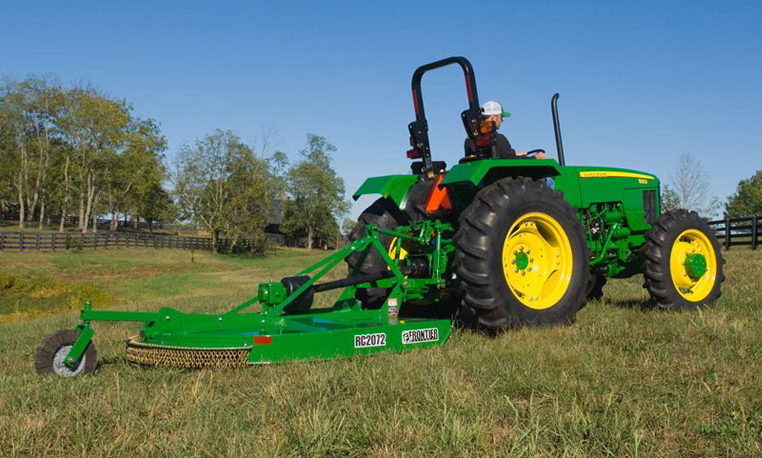 Common Compact Tractor Models
Compact tractors have made a significant impact on the industry. A few select models have also risen to the top in terms of usability, versatility, durability, and efficiency. Amongst these common compact tractors are the 1, 2, 3, and 4 Series.
1 Series Sub-Compact Tractors
The 1 Series sub–compact tractors are great to use for everything from snow removal to lawn mowing. The 1023E and 1025R models have hydrostatic-2 range transmission, open station cabs, and four-wheel drive. The 1023E has 23 horsepower, and changing attachments is simple. The 1025R, on the other hand, offers 25 horsepower and is amazing for snow removal. All 1 Series models come with standard 26-inch tires for stability on all kinds of terrain.
2 Series Compact Tractors
The 2 Series compact tractor offers horsepower that ranges from 24.2 to 36.7 HP, so it is able to take on even the toughest jobs. Homeowners, commercial operators, landscapers, and vegetable producers can benefit from these machines for a variety of reasons. The 2025R, 2032R, and 2038R all have four-wheel drive and hydrostatic transmissions. The operator stations have ergonomic layouts and spacious designs for those who are consistently using the vehicles.
3 Series Compact Tractors
The 3 Series compact tractors are also designed to pack a punch. This lineup includes 3D tractors (great for wagon hauling), 3E tractors (designed for farm work), and 3R tractors (which are great for heavy-duty tasks). The 3025D, 3035D, and 3043D are great models for cutting rough terrain, tilling the soil, grading and leveling, digging, and snow removal. The 3025E, 3032E, and 3038E are designed for versatility – helping cut down to-do lists as efficiently as possible. Lastly, the 3033R, 3039R, and 3046R can easily take on rough terrain or tough weather conditions thanks to their standard four-wheel drive and differential lock.
4 Series Compact Tractors
4 Series compact tractors have four-wheel drive and a hydrostatic 3F/3R PowrReverser™ 12F/12R transmission, meaning that power is never an issue on the job. They also feature a variety of models, such as the 4044M, 4052M, 4052M Heavy Duty, 4066M, 4066M Heavy Duty, 4044R, 4052R, and 4066R. All of these options have Category 1 three-point hitch for attachments, diesel engines, and open stations, so the 4 Series is perfect for landscaping jobs, farm work, horse farms, and even recreational tasks.
Key Features of John Deere Compact Tractors
John Deere compact tractors include a few key features, which differentiate them from other machines. These features help to not only make your job easier, but more productive and efficient.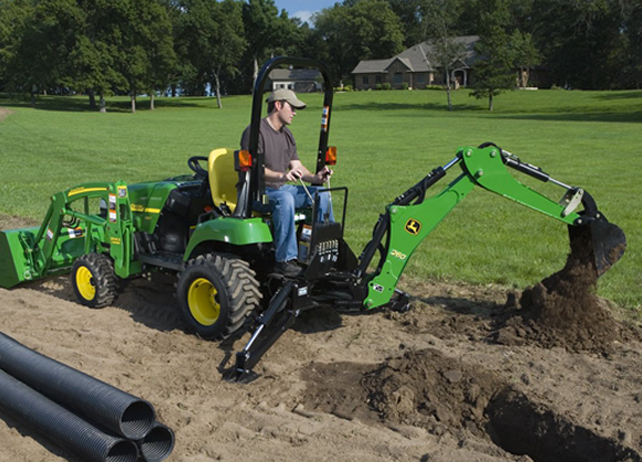 Fast and Easy Implement Changeover:

One of the largest concerns for users involves the difficulty of attaching and removing tractor implements. The iMatch Quick-Hitch, available for the 1025R Sub-Compact Tractor, addresses this concern by making implement removal a breeze.

Four-Wheel Drive & Power Steering for Easy Operation:

The combination of 4 wheel drive and power steering allows operators to swiftly maneuver their vehicle, making it more productive. The power steering requires less effort, especially when mowing around hurdles or has an attachment on the front.

Open Operator's Station for Comfort and Convenience:

Newer operator stations were designed to create more comfortable and convenient experiences on the field. They can also improve visibility for drivers.

Diesel Engine:

Engines provide the power and capability needed to get things done, whether that be on a farm or a yard. Isolated style engines provide reduced vibration and noises for the operator, which results in a smooth and quiet riding experience.
Implement Compounding:

There are many benefits to mounting more than one implement, including eliminating labor-intensive implement changeover. Versatility is crucial when tackling tasks and this ensures your job is done in a timely fashion.

Twin-Touch Foot Controls:

In order to meet the needs of jobs, where productivity is a must, Twin-Touch foot controls allow operators to select the speed as well as the direction of travel with the touch of a toe. Large foot pedals also allow operators to feel more comfortable, providing convenient operation of tractors.
What to Consider When Buying a Used Tractor?
Buying used compact tractors makes sense, especially depending on the situation and what you need out of the machine. Used tractors that are well-maintained can provide close-to-new conditions at a much less expensive cost. These vehicles are perfect for those looking to add to their fleet or even make their first equipment purchase.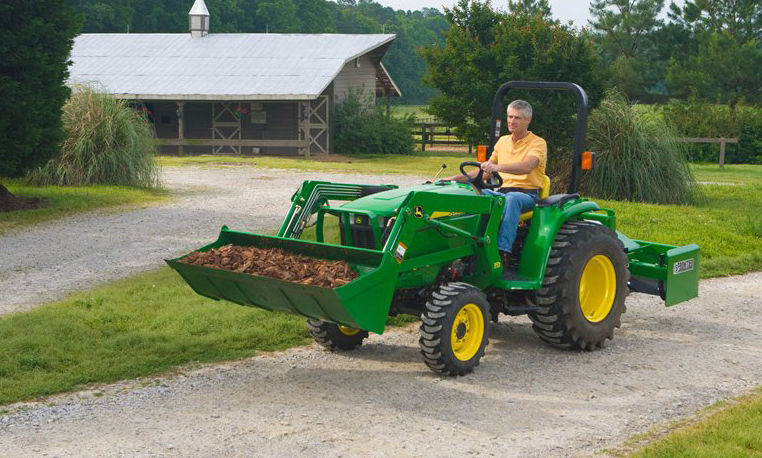 Buying a Tractor is Not the Same as Buying a Car
When making a decision on purchasing a used tractor, many people typically draw comparisons to the car buying process, but this might not be the best way to go about it. While both of the processes share similarities, there are also some fundamental differences between the two.
One example of a major difference is that the typical automobile stays on the road for around 10-15 years, while tractors, on the other hand, can last indefinitely if maintained meticulously. You might not look for 30 or 40-year-old automobiles, but a tractor of the same age may fit within your price range, and also meet your needs.
Identify Your Needs
Used tractor buyers who have a bit of experience will already know this, but for those looking to purchase their very first tractor, it is important to note that there are multiple different types to choose from, especially in today's market. Before you make any decisions, it is a great idea to narrow down the category which best suits your particular needs.
Consider Price Range
An important item to consider in any major purchase is fully understanding and deciding on your price range. Quality used tractors are available for even the tightest budgets. Choosing a figure and standing by the decision helps you narrow the options even further so you can focus your scrutiny on the most relevant used tractors.
Gather Background & Details
Once you have narrowed your list down to several used compact tractor models that fit your intended use and budget, it's time to dig in and do some additional research. You will want to find out all of the nuances of the models you are looking at – everything from tractor capabilities, their history of use, and what kind of maintenance/repairs were done in the past.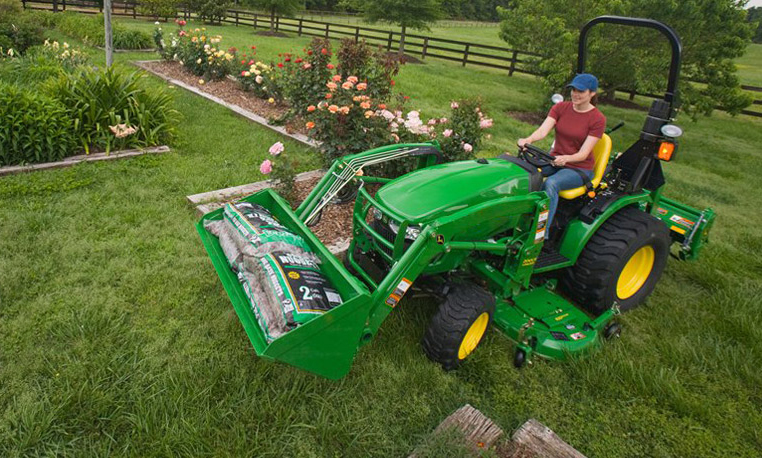 Close the Deal
Once you more or less have decided on a particular used compact tractor, it is always a good idea to double-check how the sales transaction will be handled. Will financing with attractive terms be a part of your purchase? Will a form of transportation be provided by the seller, or will you have to arrange transport? Is there an extended warranty available?
Lastly, the availability of parts and service if anything goes wrong with the vehicle is a crucial factor, as well. This can be a bit difficult, especially with older, or less popular vehicles.
Final Thoughts
John Deere has many different kinds of compact tractors and attachments that can be used year-round. Those machines, in coordination with some of the attachments and tips mentioned above, can help you get any job, large or small, done to the best of your ability.
If you have any questions about John Deere equipment, you can contact your local John Deere dealer.
If you enjoyed this post or want to read others, feel free to connect with us on Facebook, Pinterest, Twitter, or Instagram!
You might also like: