The John Deere 3320 has a 32.8 hp three-cylinder engine and can be paired with eHydro™ or PowrReverser™ transmission (PRT), making it a popular choice of equipment for commercial, residential, and agricultural workers. The 3320 can be used for tilling, snow blowing, small hay work, loading, and more, but none of this would be possible without attachments options.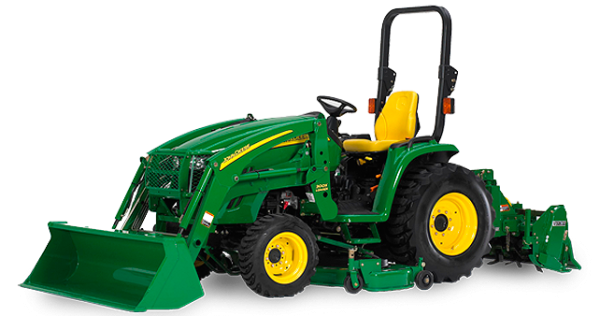 Here's a list of some John Deere 3320 attachments that can be easily added to the equipment to simplify jobs of any kind.
Front Quik-Tatch™ Weights
These specialized weights can be added to the front-weight bracket (standard on the 3320) to counterbalance any attachments that are added to the back of the tractor.
Forward-Lighting Kit
Perfect for long days or early mornings, the forward-lighting kit will illuminate the dark and allow for work to continue. The kit's lights attach directly to the brush guards, which are located on the ROPS. The kit comes standard with two lights.
Rear-Work Light Kit
The back of utility tractors need illumination too when working in the dark. This kit is comprised of a single light and can only be added to open-station tractors.
ROPS Warning-Light Brush Guards
It isn't rare to encounter tree limbs when doing utility tractor work. However, these limbs should not do damage to your equipment. John Deere offers brush guards to protect turn signal and warning lights from damage that can occur while working near limbs. The guards can only be added to open-operator station (OOS) tractors.
Canopy and Umbrella
Inclement weather can seemingly come out of nowhere. To remain on task regardless of what Mother Nature brings forth, 3320 owners should consider adding a canopy or umbrella to their tractor. Both attachments mount to the ROPS.
Mid-Mower Lift Cylinder Bracket
This attachment is mandatory for 3320 owners that want to attach a mid-mount mower to their model.
Vertical Exhaust Kit
Operators that will be doing work that requires high exhaust usage (like snow blowing) should consider adding the vertical exhaust kit to their tractor. This is also a good option for utility tractor owners that want to keep exhaust away from sensitive vegetation.
Hood Guard
This styled hood guard can be added to 3320 models to protect the front of the tractor from damage. Its bolt-on design allows it to stay in place when a loader is removed.
Fender Kits
John Deere 3320 owners can add fenders to protect against any mud or debris that may be thrown from the tires up towards the operator station.
Air-Ride Suspension Kit
This kit is designed to keep operators comfortable regardless of the terrain being taken on by providing extra vertical and horizontal suspension. The suspension will also minimize the amount of lower frequency vibration that can be felt when running the equipment.
Transmission Oil Heater
This is a must-add attachment for operators that will be doing work in cold climates. It heats hydraulic fluid to help the tractor turn on in very cold conditions (below 0°F).
Automotive Cruise Control
Operators can accelerate, decelerate, and resume set speeds by adding the cruise control kit to their 3320 tractor.
While compact utility tractors are workhorses all on their own, they can be enhanced even further when accompanied by attachments. Think about adding any of these John Deere 3320 attachments to your tractor to bring productivity to new levels.
If you enjoyed this post or want to read others, feel free to connect with us on Facebook, Twitter or Google+!
You might also like: