Those looking to purchase a John Deere tractor in the mid-chassis compact utility tractor market often times look for a piece of equipment that is high-quality, powerful, easy-to-use and cost-efficient. Each of these value can be attributed to the John Deere 3320.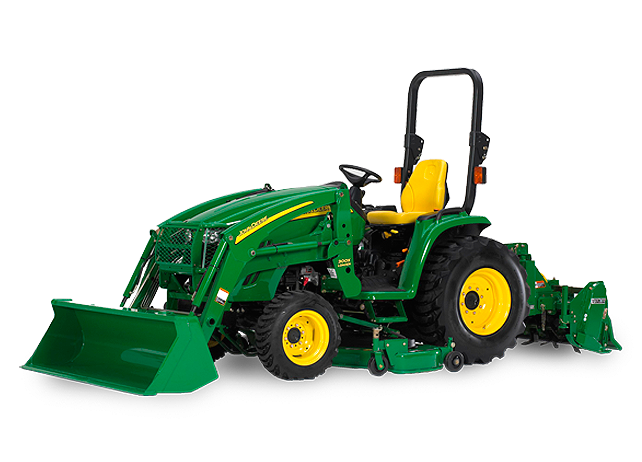 Serving as the ideal tractor for residential, commercial, governmental and agricultural users, the 3320 wraps convenience and power into one model, enabling 365 days of production. Let's take a look at some of the 3320's key features that make it a popular selection among those looking for a compact utility tractor.
Attractive Styling
The 3320 can be a bit deceptive to those that pass it by. At first glance, it may appear to be a shrunken down version of a larger agricultural tractor, sharing many of the same appearance features as bigger Deere models thanks to the bold styling. Some of the benefits of this styling include family tractor identification, one-piece hood design, wraparound-style halogen headlights, bold graphics, improved tilt steering, and an aggressively sloped hood design that offers a softer, smoother look and improved visibility. The tilt-up, one-piece hood provides operator's with easy access to the engine for simple serviceability.
Powerful Diesel Engine
The John Deere 3320 is powered by a 32.8 gross hp Yanmar three-cylinder engine that is designed to provide ample power for heavy loads. The lower levels of exhaust emissions and reduced noise level are two features that meet the EPA's emission requirements for Interim Tier 4 standards,
Two Transmission Options
Before purchasing a new or used 3320, customers have the opportunity to choose between two types of transmission; PowrReverser and eHydro.
Deere's PowrReverser transmission uses a hydraulically-shifted forward-to-reverse transmission which allows for clutchless shuttle shifting between forward and reverse with one lever for quick and easy use. The PowrReverser includes 12 forward and 12 reverse speeds and a reverser lever (located on the left side of the console), allowing operators to make fast shuttle shifts for improved loader operation.
If customers choose to go a different route with transmission, they also have the option of purchasing a 3320 with three-range electronic hydrostatic (eHydro) transmission. This transmission is a good choice for those jobs where productivity is a must, such as loader or mower applications. Twin Touch foot pedals allow the operator to select both direction of travel and speed with the touch of their toe. Some key features of the eHydro transmission include infinite ground speeds, allowing the operator to match the tractor's speed to that demanded by the job, no clutching for fast and easy direction changes and cruise control.
Operator Station Convenience
Thanks to conveniently placed clutch and brake pedals, as well as repositioned operator controls, the 3320's operator station provides a clean and flat design, offering plenty of legroom. Larger grab handles make it easier to get on and off the tractor and a tilt steering wheel design allows for additional space when entering or exit the tractor. All controls aboard the operator station are shape and color-coded for easier identification and operation.
Hopefully this post has provided those interested in purchasing a John Deere 3320 with all the information they need to make an informed decision. If you enjoyed this post or want to read others, feel free to connect with us on Facebook or Google+!
You might also like: