Each spring, utility tractor owners power up their equipment and prepare to take on a wide variety of chores and projects.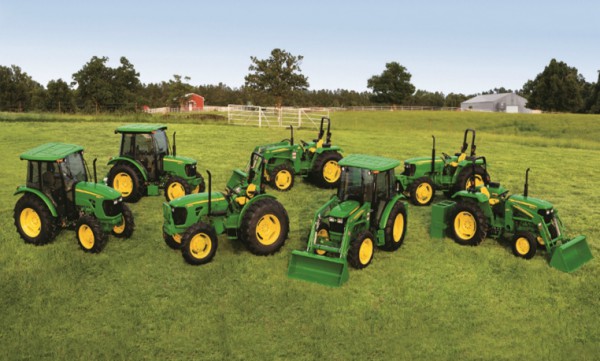 Large-property owners and commercial contractors looking to take on digging projects may want to consider adding a John Deere 48 Backhoe to their fleet, as it's designed to provide easy and convenient operation, top-notch digging force and depth, and excellent productivity.
Let's take a closer look at some of the key areas and specifications of the John Deere 48 Backhoe attachment.
Operator Station
The backhoe's walk-through operator's area and large footrest make it easy to get on and off while improving comfort. A perforated floor design keeps the area clean as dirt and debris drop through, and the console's low-profile design makes it easy to view the entire digging area. Two levers are located on the console to control the bucket, swing dipperstick, and boom lift. The backhoe's seat can be adjusted both horizontally and vertically, allowing operators to select a position that's right for them.
Subframe
The 48 Backhoe's Quik-Tatch mounting bar quickly and easily mounts to 5 Series tractors. The mount's design limits movement (vertically and side-to-side) that can sometimes be found in 3-point hitch mounts for backhoes. The mount also protects the chassis of the tractor by tying the backhoe and tractor together as one.
Boom and Dipper
The enclosed boom and dipper design provides added strength so operators can take on large loads that might be placed on the backhoes.
Bushings and Lock Pins
The 48 Backhoe comes with replaceable and greaseable bushings for key pivot points that are designed to increase longevity. Double-lock pins ensure the equipment maintains anti-pin rotation at key points as well.
Stabilizer Pads
Flip-over stabilizer pads are made from cast ductile iron and allow operators to quickly and easily convert between street and field usage. The pads pivot to follow the terrain.
Buckets
There's a variety of bucket options available to fit a multitude of jobs. The 48 Backhoe can be equipped with 12-in., 18-in., 24-in., and 36-in. buckets, as well as heavy-duty bucket options that are available on the 49 Backhoe.
Tractor Compatibility
The John Deere 48 Backhoe is compatible with the following tractor models:
5045E
5055E
5065E
5075E
5103
5203
5303
5403
5105
5205
4720
4520
4320
4120
4710
4610
4510
4410
4310
4700
4600
4500
4400
4300
3720
3520
3320
3120
Final Thoughts
The John Deere 48 Backhoe is a useful piece of equipment for utility tractor operators looking to get more of out their digging projects.
For more information on the John Deere 48 Backhoe or other attachments, contact your local John Deere dealer or visit Deere.com.
If you enjoyed this post or want to read others, feel free to connect with us on Facebook, Twitter or Google+!