Mid-2017 1023E and 1025R tractor owners have a new backhoe option at their disposal thanks to the introduction of the John Deere 260B. Built upon the concept and design of previous models, the 260B has been created to improve power and productivity that operators need to tackle a variety of projects around the property.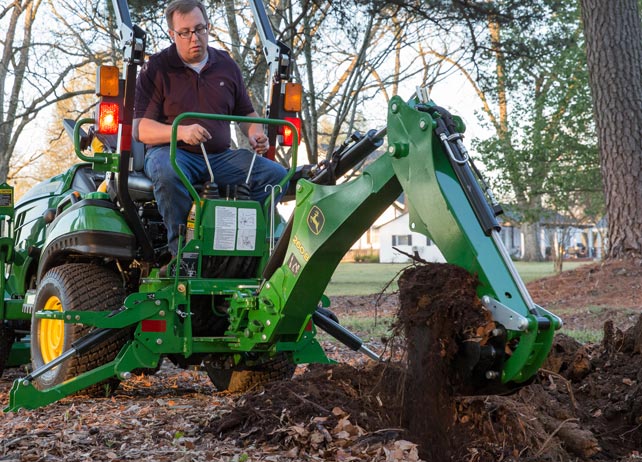 In this post, we will take a closer look at some of the key features and benefits that the John Deere 260B backhoe has to offer.
Comfort
When climbing aboard the 260B, operators will notice the high-back seat that provides improved comfort for those long days on the job. The 3-point stance can be maintained when getting on and off the backhoe by leveraging the ROPS and console grab handles. A boarding step is mounted to the stabilizer arm, making entry and exit a breeze. The operator platform is covered with non-slip grips and all the controls can easily be reached from the platform.
Enclosed Boom and Dipper
The boom and dipper are made with added strength to handle all the loads that can be generated. The dipper, boom, and bucket cylinders are run externally, providing easy service access if needed.
The boom measures 6.5 inches at the base and the dipper measures 5.5 inches at its widest point. The continuous boom structure offers a much more rigid and strong structure when compared to competitor backhoes.
Heavy-Duty Bucket Options
John Deere 260B backhoe operators can select from 8, 12, and 16-inch digging width bucket options. Each option features replaceable digging teeth that are great for digging rocks, concrete, or tree roots. The 12 and 16-inch models have three teeth on them, while the 8-inch option has two.
Easy-to-Service Cylinders
All of the backhoe's cylinders are fully serviceable and can be taken apart and rebuilt should any issues arise. This feature will save operators money in the event of damage to the cylinder while working. The internal seals are the same that are used on some of Deere's larger backhoe options.
Easy Installation
This backhoe model is designed so it can be removed from the tractor in less than five minutes without tools. Instructions for installing and removing the backhoe can be found on the rear of the attachment.
Final Thoughts
The next time you're considering an investment in a backhoe for your tractor, you may want to think about the 260B as an option. If you have questions or want more information about the John Deere 260B backhoe, contact your local John Deere dealer today.
If you enjoyed this post or want to read others, feel free to connect with us on Facebook, Twitter or Google+!
You might also like: