John Deere's skid steers and compact track loaders are used by operators to take on a variety of projects every day, and with the addition of available backhoe attachments, even more can be accomplished.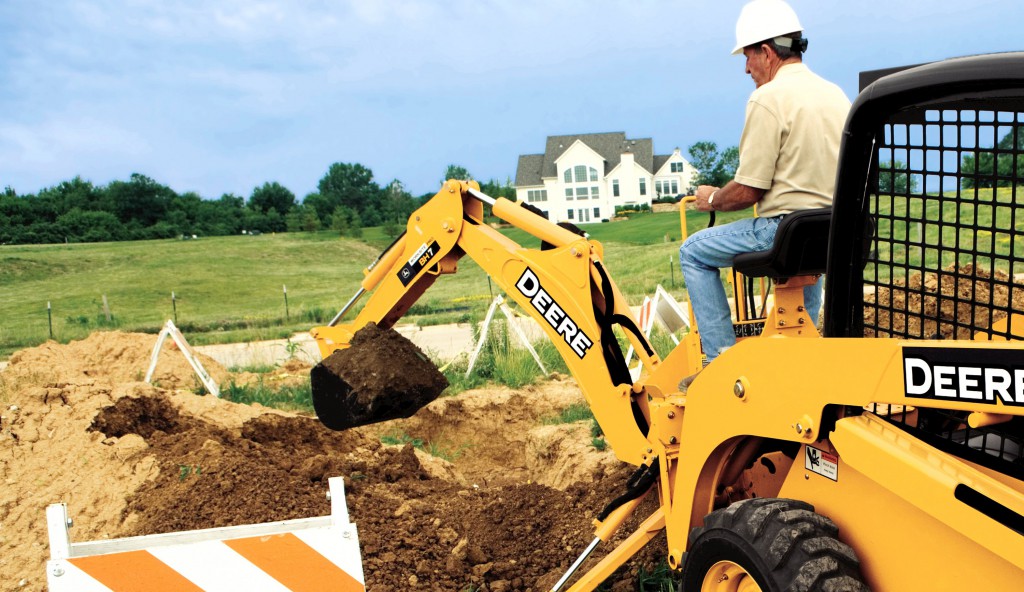 Deere offers four Worksite Pro™ backhoes for skid steers and compact track loaders that can dig down as far as 134 inches. Let's take a closer look.
Models
The John Deere BH7 Backhoe has a 7-foot digging depth and is compatible with small and medium framed units. For those that own medium and large framed units, there is the BH8 (8-foot digging depth), BH9 (9-foot digging depth) and BH11 (11-foot digging depth).
Installment
Each of these backhoe models are easily hooked up to the skid steer or CTL as long as there is a backhoe mounting kit installed on the front of the machine. Standard hydraulic flow couplers are used to power the attachments.
Activation
To activate the backhoe hydraulics, the operator simply activates the auxiliary hydraulics from within the cab of the machine and presses the auxiliary hydraulics override switch. The operator will then have 15 seconds to remove their seat belt and leave the seat of the cab. If this is not done within 15 seconds, the switch will have to be pressed again.
Using the Backhoes
John Deere backhoe attachments have stabilizers with a wide stance that give operators peace of mind when doing work. When using the attachments, operators will have a clear view of the bucket. All backhoes come equipped with low-effort two-lever controls. The ISO industry-standard control pattern is familiar to most operators.
Keep in mind that while the BH7 model can't support other bucket types, the BH8, BH9, and BH11 are interchangeable.
The optional quick coupler on the larger models is also utilized on the 27 and 35 series compact excavators for even more interchangeability. The BH7 is compatible with the smaller 17 series compact excavators.
Benefits
With their digging depths stretching from seven to 11 feet, these John Deere backhoe attachments are great options for those looking to do utility work in tight spaces. However, don't let their small size fool you. Each model is built with the industry's largest diameter cylinders to provide superior breakout force.
When finished with use, operators can simply lock the boom with a lever for easy transport from the jobsite.
Final Thoughts
By adding any of these John Deere backhoe attachments to skid steers and compact track loaders, operators will be able to dig their way to success in small spaces.
If you enjoyed this post or want to read others, feel free to connect with us on Facebook, Twitter or Google+!
You might also like: