John Deere has just announced that it is revealing a slew of new backhoe attachments for customers handling light construction, agriculture, landscaping, or utility work. The BH9B, BH10B, and BH11B can all be used with the John Deere G-Series skid steers and compact track loaders, and they are available now.
"With the growing need for work in compact spaces, these new backhoe attachments provide contractors, landscapers and agricultural material handlers with the power and variety to tackle any job efficiently and swiftly," said Jason Simmons, attachments engineering supervisor, John Deere Construction & Forestry. "The new lineup of backhoe attachments is designed to provide power with improved hydraulics and sleek design to operators working across different job sites and applications."
Let's take a look at some of the features of these attachments, as well as how John Deere G-Series skid steers and compact track loaders can help you out in the field.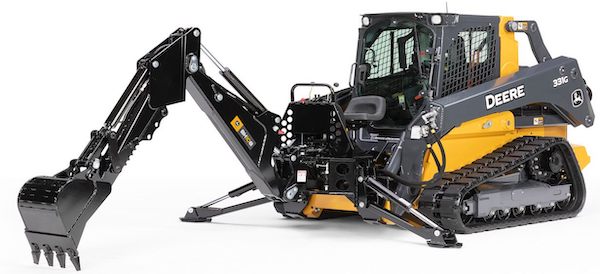 Working in Tight Spaces
These backhoe attachments were designed with space in mind, meaning they are ideal when you don't have a lot of room to work with – they offer swing speed control and 180-degree capabilities to maximize efficiency while improving stability.
Workspace Visibility
Visibility does not have to be a concern when you're working with the BH9B, BH10B or BH11B. Each of these attachments has a low-profile design, so operators have the utmost visibility while on the job.
Smooth Operation
Operation is smoother than ever for customers, as cushioned cylinders are available to provide sleek operations and limit all shock loads during use.
Precise Control
Customers have the utmost control while working with these backhoe attachments: a two-lever control of boom or swing (left lever) and dippersick or bucket (right lever) make for precise control and movement.
Maximum Dig Depths
The BH9B has a maximum dig depth of 110 inches, while the BH10B has a maximum dig depth of 116 inches. For a little more, you can try the BH11BB, which has a maximum dig depth of 133 inches for all of your needs.
Dual-lock Arms
The dual lock arms of the backhoe quickly and easily latch onto the machine mainframe. Boom- and swing-lock levers ensure secure transport.
If you have any questions about John Deere backhoes or attachments, you can contact your local John Deere dealer.
If you enjoyed this post or want to read others, feel free to connect with us on Facebook, Pinterest, or Twitter!
You might also like: