A rotary tiller is an implement that utilizes its set of curved tines that are attached to a rotating shaft to dig into soil and turn it into a seedbed that's ready for planting.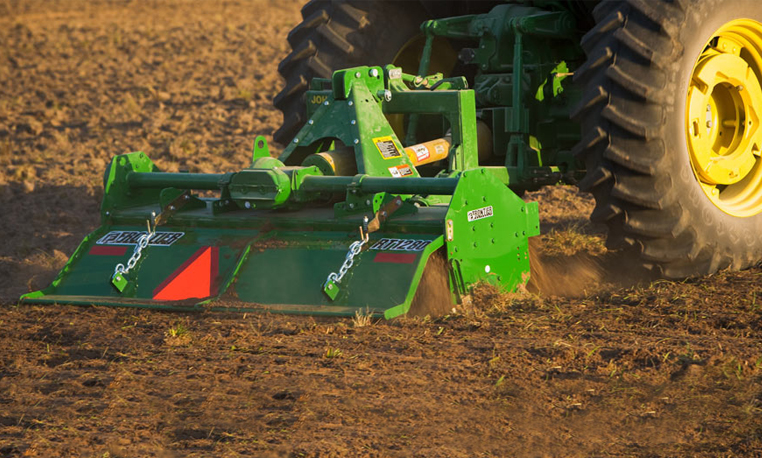 A tractor-mounted rotary tiller is a great tool for breaking down soil in an existing garden or turning a piece of land into a new garden space.
Now that we understand what a rotary tiller is, let's take a look at some of the things to learn and remember when it comes to gardening with one.
Adjusting the Working Depth
The working depth of a rotary tiller can be increased or decreased by adjusting the skid shoes. Typically, larger tillers come with a deeper maximum cutting depth. When working with a rotary tiller in a large vegetable garden, operators should try to not cut much deeper than 6 inches down.
Considering Working Width
When looking to purchase a rotary tiller, operators should always keep the width of their tractor's rear tires in mind. The tiller should be at least as wide as the rear tractor tire base, otherwise, some parts of the garden may go un-tilled. When tilling the garden, operators should be sure to overlap with each pass.
Using a Rotary Tiller in a New Garden
When creating a new garden, operators should first plow the soil in the fall and let it sit through the winter. Then, in the spring, a rotary tiller should be used to go through the soil multiple times, or until the soil is turned about 4 to 6 inches deep and there are no large soil clods left behind. It's important for operators to start slowly and not go too deep – tilling too fast will likely leave un-tilled portions of soil behind.
Adjusting the Tailgate
The tailgate on rotary tillers can be adjusted to match the soil type the operator wishes to leave behind. A more open tailgate allows larger clods to come out and will leave behind a coarse soil.
Final Thoughts
Operators should be sure to always consult their Operator's Manual before using the rotary tiller. Visit this page or contact your local John Deere dealer for more information about Frontier rotary tillers or other gardening equipment.
If you enjoyed this post or want to read others, feel free to connect with us on Facebook, Twitter or Google+!