Just because your pasture has seen better days doesn't mean you can't revitalize it with the right equipment. John Deere has a number of machines that are specially designed to help with pasture management, and the overseeder is one of them. With the Frontier Overseeder, you can bright any pasture back to life, regardless of its condition. Let's take a look at how the equipment can help you restore your pasture and get back to work.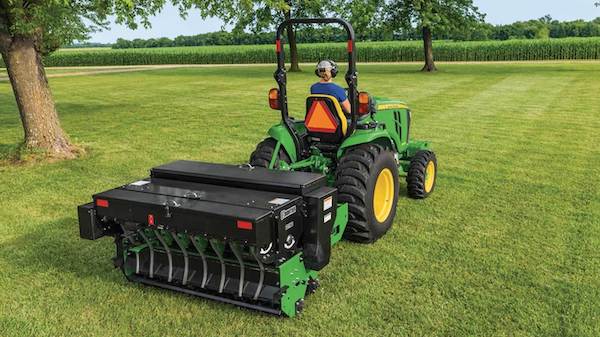 With a Frontier Overseeder, you can choose between a pair of angle-adjustable spiked front rollers or front disks to prepare your soil for seeding.
This piece of equipment has three seed boxes that can be set to operate individually or all together, depending on your needs.
Each seed box can handle a different type of seed. There is one for large seeds, another for small seeds, and one for long, fluffy seeds.
The notched disks of the overseeder are designed to cut into the soil just a bit to help retain any moisture that may arrive.
The calibration tray system can be used to adjust the seed cups for the desired seeding rate. The calibration tray can be utilized with the overseeder in the stationary position or pulled over a short distance to the seedbed.
The rear drive roller is designed to firm and press soil that is kicked up by the front tillage tool. This creates a more uniform seedbed with loose soil necessary for ensuring proper seed germination.
Customers can opt for a scraper bar, specifically on the GS11 Series Overseeder. This is especially helpful while working with clay or in wet conditions.
The GS11 Series Overseeder, in particular, has rear cultipacker rings that compact and level the turf. This increases the chances of more successful germination.
To learn more about how a Frontier Overseeder can help you restore your own pasture, check out this video below.
If you have any questions about the Frontier Overseeder or any other piece of John Deere equipment, you can contact your local John Deere dealer.
If you enjoyed this post or want to read others, feel free to connect with us on Facebook, Pinterest, or Twitter!
You might also like: