To tackle even more tasks on the job site, John Deere has rolled out three new products as a part of its Frontier equipment lineup: the SA20F Skid Steer Carrier Adapter, RT30 Gear-Driven Rotary Tillers, and GS10L Ground-Driven Overseeder.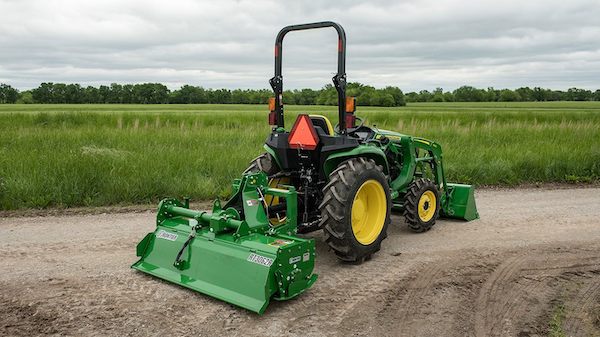 "The new Frontier SA20F Skid Steer Carrier Adapter is compatible with John Deere 100, 200 and 300E Compact Utility Tractor Loaders and enables you to utilize industry-standard skid steer attachments on a compact utility tractor," said Scott Geier, John Deere manager sales and marketing for partnered products. "The SA20F gives your existing tractor and loader added versatility to do more without the hassle and expense of upgrading your inventory of skid steer attachments and helps keep your input costs low."
The RT30 Gear-Driven Rotary Tillers are compatible with the John Deere 1, 2, 3, 4 and 5 Family Tractors. They feature nine rotary flanges with six tempered boron steel C blades. Finally, the GS10L Ground-Driven Overseeder is built for both residential and commercial use and comes with an industry exclusive calibration tray.
"Customers can use this overseeder to aerate lawns, break up soil clods and to create a nice, uniform seedbed. Thanks to a variety of ground-engaging options, customers get more accurate seed placement and improved seed-to-soil contact for enhanced seed germination and stand establishment. It's a flexible implement that can be an important part of property maintenance such as primary seeding and overseeding," Geier said.
Let's take a closer look at each new addition to the Frontier equipment lineup and what they offer Deere customers.
SA20F Skid Steer Carrier Adapter
This product can be attached or detached in less than 50 seconds, and the adapter itself is easy to maintain over time. Once attached and locked into place, it's immediately ready for use.
RT30 Gear-Driven Rotary Tillers
These rotary tillers are gear-driven and available in forward or reverse rotating tines. They are also iMatch and/or quick hitch compatible for simple use. The cold-formed transmission cover ensures the protection of the transmission components, preventing damage as a result of moisture and mud.
GS10L Ground-Driven Overseeder
This ground-driven overseeder has a built-in seed dispersal rate chart and calibration. It also comes with two seedbox options that can be used for the cool season and legumes.
If you have any questions about the Frontier Equipment lineup, you can contact your local John Deere dealer.
If you enjoyed this post or want to read others, feel free to connect with us on Facebook, Pinterest, or Twitter!
You might also like: