Since John Deere himself introduced the steel plow in 1837, the company has not slowed down in its quest to deliver its customers top-of-the-line equipment that is designed to make their lives easier. From combines to lawn tractors and everything in between, John Deere knows that quality equipment is the key to success in both small-scale and commercial operations. However, throughout the years, John Deere has not only proven itself to be a leader in innovation, but also one in sustainability and philanthropy. And despite the year posing several challenges, 2020 was no exception in this strive towards excellence. 

John Deere Announcements from Throughout the Year
Throughout 2020, John Deere has proven time and again that its customers come first. Whether the company was developing new equipment or launching creative initiatives, it did so with the level of quality and tenacity that customers around the world have come to expect. Let's take a closer look at the latest events that have helped contribute to the global success of John Deere. 
John Deere Technology and Equipment Releases 
John Deere is known for its ability to design equipment that changes the way its customers work. By both updating legacy equipment and introducing new pieces of machinery and technology on a regular basis, the company has been able to cement its high standing across industries. Because of this, customers have come to expect new releases that will undoubtedly make their lives easier. Whether somebody is tackling yard work or large-scale construction jobs, Deere recognizes that everybody deserves to have reliable machinery on their side.
Below are just some of the new releases from John Deere that left customers wanting to try the equipment out for themselves.  
John Deere Triplex Mowers
At the start of 2020, John Deere announced that it would be rolling out three new triplex mowers in the spring; this included the 2400 PrecisionCut™, 2550 PrecisionCut, and the 2550 E-Cut™ Hybrid mowers. These machines, which were specifically designed for golf course maintenance, would feature offset cutting units and right-hand Command Arm-mounted controls for ease of use throughout the workday.
John Deere AutoTrac Controller 300
Customers who want the benefits of AutoTrac™ guidance with their machine were excited to learn in March 2020 that John Deere would be introducing its new AutoTrac Controller 300 offering. This after-market steering kit would not impact operator ergonomics, nor would it require steering wheel modifications. Instead, it would be customizable to different types, ages, and brands of ag machines, all while providing the benefits of AutoTrac precision guidance. In addition to these customizable features, the initial announcement also noted that this kit would be simple to install and calibrate, and that owner maintenance would be a breeze, putting a nice bow on an already exciting prospect. 
John Deere X Series
In June 2020, John Deere announced that it would be adding two new models of X Series Combines to its 2021 harvesting lineup to meet the needs of large-scale producers. The new X9 1000 and X9 1100 Combines would not only increase harvesting performance but also simplify tasks during the workday thanks to their ability to thresh, separate, and clean more bushels per hour, regardless of the conditions. This means less downtime and more productivity for customers everywhere. 
Want to learn more about how farmers can benefit from these machines? Watch the video below!
John Deere Revamps Lineup of Combine Headers
On the heels of the announcement of the X Series Combines came updates to John Deere's lineup of combine headers. By revamping this lineup, Deere would add several new offerings, including HDR Rigid Cutterbar Drapers, RDF HydraFlex™ Drapers, CR and CF Corn Heads, and a BP15 Belt Pickup. In the initial announcement, it was noted that each attachment would be compatible with John Deere X Series and most S Series and T Series Combines, thereby ensuring enhanced productivity for a wide range of customers. 
Mechanical Self-Leveling Loader (MSL) for Small Tractors 
July 2020 brought about the launch of the John Deere Mechanical Self-Leveling Loader (MSL) option for small tractors. These new loaders – compatible with John Deere 1E, 1R, 2R, and 3E compact utility tractors – were designed to help operators maintain a level bucket or pallet position from the bottom of a lift to the top. Thanks to this feature, customers benefit from increased stability and reduce the chance of materials falling back toward the tractor. 
Updates Announced for John Deere 7R, 8R Tractors
In Summer 2020, John Deere also announced that it would be making several updates to its lineup of 7R and 8R Tractors with the goal of providing operators with everything they need in terms of maneuverability and power for the tasks on their to-do lists. But the good news did not stop there – Deere also announced that it would welcome the 7R 350 Tractor to round out its lineup of 7R Series Tractors. By introducing this tractor, John Deere would be giving customers the opportunity to enhance their productivity, comfort, and overall capabilities out in the field. 
John Deere Expands Lineup of Frontier Equipment 
In an effort to accommodate those customers seeking more versatile Frontier equipment, John Deere announced the expansion of its lineup to include new loader carrier adapters, tractor-mounted sprayers, and pallet fork grapples. As with other pieces of John Deere equipment, these offerings would deliver a range of benefits for customers. The Frontier Loader Carrier Adapters, for example, are the perfect option for property owners or non-commercial ag users who use skid-steer style attachments and want the ability to change them in less than a minute. The Pallet Fork Grapples can be attached to compact or utility tractors to move piles that are not normally easy to grab with a pallet fork, such as brush or firewood. Finally, the Frontier LS20 Series Sprayer is great for mid- to large-sized property owners who want to reduce the amount of time it takes to apply chemicals and fertilizer. 
John Deere Unveils Updates to Z900 Commercial ZTrak™ Lineup
In October 2020, John Deere revealed new updates to its Z900 Series Commercial ZTrak™ lineup in an attempt to provide even more options to those customers looking to boost their productivity. In addition to featuring new deck options and three new attachment offerings, it was announced that all Z900 M and R Series Mowers would come with spoked rims and cast iron spindles. Furthermore, Deere announced that its Z900 machines would have quick-release belt covers to simplify machine maintenance, and the Z950M specifically would feature an optional 54-inch Mulch on Demand™ Mower Deck.
John Deere Introduces Three New Snow Blower Models
To cater to customers looking for more snow removal options, John Deere welcomed three new single-motor, high-flow snow blower models in 2020: the SB72D, SB78D, and SB84D Snow Blowers. These models are all compatible with John Deere compact wheel loaders, skid steers, and compact track loaders, and incorporate a range of features to make snow removal as simple as possible. In addition to the inclusion of hydraulically-operated poly-lined chutes and deflectors, these John Deere snow blowers also feature reinforced wrappers, two auger options, and adjustable skid shoes to improve performance and durability. 
John Deere AutoPath for More Accurate Row Guidance
In November 2020, John Deere announced the introduction of AutoPath™, a technology designed to help customers accurately document each row of crops in their fields throughout the planting season. By utilizing data from the first pass in the field, AutoPath delivers precise row guidance for all subsequent field passes, regardless of the type of machine or width of the equipment. This precision ag application is included in the John Deere Generation 4 Automation Bundle and is also available for either the 4640 Universal Display or the 4600 CommandCenter™ Integrated Display.
Driving Change Through New Initiatives  
In addition to its new equipment and technology offerings, John Deere also announced several new initiatives in 2020, many of which centered on helping others. By taking a step back and understanding the needs of the public, Deere has been able to support communities in more ways than one. These initiatives include – but are not limited to – the following.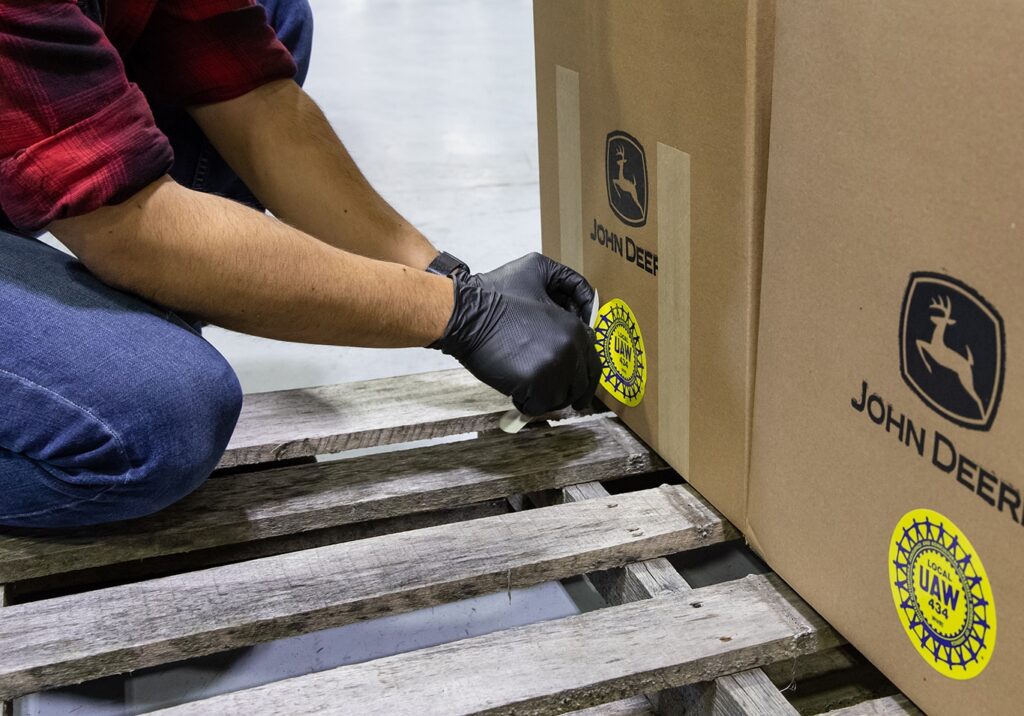 John Deere Produces Face Shields for Healthcare Workers
Back in April 2020, John Deere announced that it had begun producing protective face shields at the John Deere Seeding Group in Moline, IL, a factory typically used to manufacture planting equipment and precision ag solutions. Initially, Deere started off by producing 25,000 face shields and planned to create an additional 200,000 to meet the immediate needs of healthcare workers across local communities. In addition to developing face shields, John Deere also made PPE donations to healthcare facilities and launched a COVID-19 innovations site with the goal of sharing open-source specifications for related products.
John Deere Virtual Pavilion for Professional Landscape Contractors
In late 2020, John Deere debuted a new digital experience specifically for professional landscapers: The John Deere Virtual Pavilion. Through this new offering, customers can enjoy a 360-degree interactive product gallery that showcases the full range of John Deere commercial landscaping equipment they can take advantage of for their own purposes. Once customers enter the Virtual Pavilion, they can discover key features, equipment specs, and videos for various products. Within the gallery, they will also find seven different product categories, each providing in-depth views and exclusive content about different pieces of equipment.
John Deere Announces Virtual Benefit for Farm Rescue
At the end of October 2020, John Deere announced that it would be hosting a virtual country music benefit in December titled, "The Farm Must Go On by John Deere." This event would benefit Farm Rescue, a nonprofit dedicated to helping farmers living with major illnesses and injuries or enduring the impact of natural disasters. And to drive further excitement for this event and raise more funds for Farm Rescue, Deere also announced that it would host a contest centered on giving fans of the performing artists the opportunity to win a virtual meet and greet. Through this initiative, John Deere was able to help fund the Farm Rescue volunteer workforce with food and lodging, as well as help fuel the vehicles and machinery of producers across the country.
Awards and Recognitions for Excellence 
For over a century, John Deere has been dedicated to creating the next big thing across industries, from agriculture to construction. And this hard work has not gone unnoticed, with organizations, associations, and customers alike all recognizing Deere for its contributions. Below are some examples that illustrate the recognitions that John Deere has received this past year. 
John Deere Earns Several AE50 Awards for Innovation
In early 2020, it was announced that several pieces of John Deere equipment have been given the AE50 Award from the American Society of Agricultural and Biological Engineers (ASABE). Each of these models and technology systems were honored with an AE50 Award for their innovative designs, significant engineering advancement, and impact on their respective markets. This included the:
John Deere 2700 and 2750 PrecisionCut™ and E-Cut™ Hybrid Triplex Mowers

John Deere LS475 Liquid System and N500C Series Air Drill

John Deere M and R Series Commercial Walk-Behind Mowers

John Deere Tractor Quik-Knect™ System
John Deere Celebrates 50 Years of Being in the Skid Steer Loader Business
Back in February 2020, John Deere commemorated the 50-year anniversary of the JD24 Loader by displaying a restored version of the machine at CONEXPO-CON/AGG 2020 in Las Vegas, Nevada. When it debuted in 1970, the JD24 boasted 37 horsepower, came with a four-wheel-drive, and also included a multi-disc transmission clutch on each wheel for a smooth ride. The low-profile design of this John Deere skid steer loader improved visibility for operators and thanks to its even weight distribution, maneuverability was never an issue. 
John Deere 8R Tractors Recognized for Innovativeness and Sustainability
More recently, John Deere announced that its 8R Tractors earned three awards for their impact on the agriculture industry. This included the Red Dot Design Award, the 2020 iF Design Award (Discipline: Product), and a Sustainability Award from the Business Intelligence Group. Through these recognitions, John Deere further solidified its standing as a leader of innovation and functionality offerings within the agriculture industry.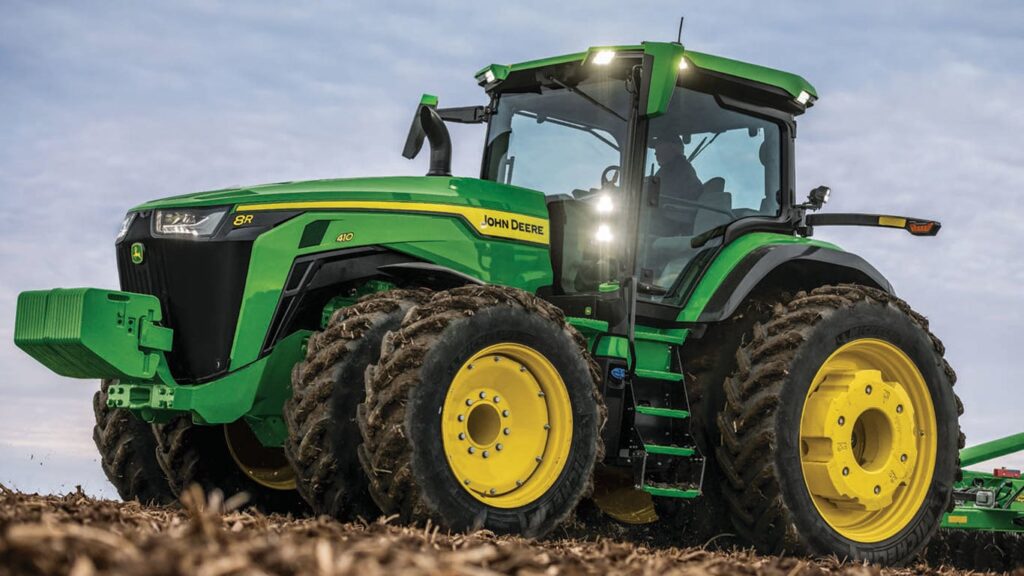 John Deere 944K Hybrid Wheel Loader Records One Million Field Hours
In October 2020, John Deere revealed that its 944K Hybrid Wheel Loader officially logged one million operating hours out in the field since being launched in 2015, highlighting its quality and reliability in even the most demanding conditions. This achievement was possible thanks to the inclusion of a 536-horsepower Final Tier 4 engine that delivers a large amount of torque and responsiveness while maintaining a sufficient boom and bucket speed. Furthermore, this machine offers fuel-saving capabilities and incorporates additional features to provide long-term performance, including brushless AC generators and motors, water-cooled brake resistors, and solid-state power electronics.
Final Thoughts
Throughout 2020, John Deere made several announcements that reinforced not only its sense of innovation, but also one of sustainability and philanthropy. By thinking about their customers every step of the way, the company was able to offer a lending hand to those who needed it most, whether it was in the form of equipment, donations, or general support.
You might also like: