John Deere is all about delivering excellence through the equipment it produces. Now, its 8R Tractors are gaining the recognition they deserve for the features that make them the right choice for Deere customers across the country. Recently, Deere announced that its 8R Tractors won three awards for the role they play in the agricultural industry: The Red Dot Design Award; the 2020 iF Design Award (Discipline: Product); and a Sustainability Award from the Business Intelligence Group.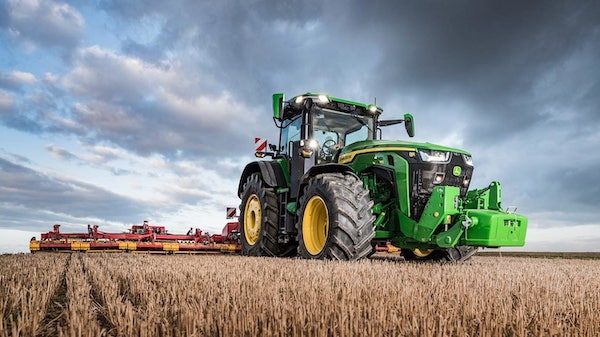 Red Dot Award (Product Design)
Every year, the Red Dot Award for product design is bestowed upon the year's top products, and Deere was fortunate enough to win top honors for its 8R Tractor models. The award is typically given to recipients based on several criteria, ranging from functionality to innovation.
"The 8R tractors have a striking external appearance that is an expression of their performance and efficiency," the jury for the Red Dot Award said. "The interior is well thought out in terms of ergonomics."
2020 iF Design Award (Discipline: Product)
The John Deere 8R Tractors, which are built with precision robotics and feature advanced self-driving capabilities, were also honored with the 2020 iF Design Award. According to iF, these pieces of equipment have transformed the way farmers do business and address the challenges of today's agricultural industry.
"The new John Deere 8Rs are not your average tractors," the organization stated. "They are mobile computational platforms, engineered to help resolve some of the biggest challenges farmers face today."
Sustainability Product of the Year
The 8RX Tractor received the honor of "Sustainability Product of the Year" from the Business Intelligence Group; John Deere also landed on the organization's list of the "56 Names in Sustainability You Should Know in 2020." These honors are typically given to companies that have made sustainability an integrated part of their business practice.
"This is a great honor as it reflects our ongoing efforts to elevate sustainability in the solutions we deliver to our customers," said Jahmy Hindman, chief technology officer of Deere & Company. "Our smarter equipment continues to assist farmers to be more profitable and sustainable by producing more with less, whether that is fewer passes in the field with less soil disturbance or less application of herbicide, pesticide, and fertilizer."
If you have any questions about the 8R Tractors from John Deere, you can contact your local John Deere dealer.
If you enjoyed this post or want to read others, feel free to connect with us on Facebook, Pinterest, or Twitter!
You might also like: