There are several pieces of John Deere equipment that can help you with a wide array of landscaping tasks, whether you're mowing the lawn or tilling a new garden. Now, the company has revealed new updates to its Z900 Series Commercial ZTrak™ lineup for 2021 to provide even more options to its customers looking to boost their productivity.
"It is important for us to provide our customers with the performance, durability, and reliability that they expect from a John Deere machine," said Ruben Peña, product manager, John Deere. "With these updates, we are further enhancing our outstanding ZTrak lineup, while also adding new options and offerings to meet the needs of our customers. These updates allow us to provide our customers with improved solutions that are designed to maximize job site efficiency."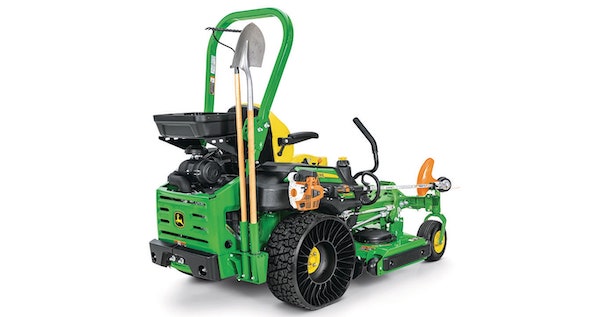 Let's take a look at some of the updates to the Z900 Series and how they can potentially help you with your largest mowing projects.
Spoked Rims
All Z900 M and R Series Mowers now come with spoked rims, along with cast iron spindles on all mower deck sizes. Z900 equipment also has quick-release belt covers to simplify machine maintenance.
ComfortGlide™ Suspension
With ComfortGlide Suspension on the John Deere Z900 line, utilizing these machines is not only productive but comfortable along the way. The suspension is designed to keep operators cozy all day long.
New Attachments
The John Deere Z900 line is introducing three new attachments: a string trimmer rack, cargo tray, and tool carrier. The string trimmer mount allows users to keep handheld string trimmers on the machine for easy access. The cargo tray gives customers the option of storing up to 20 pounds of small, handheld items, while the tool carrier holds standard yard tools in place, such as rakes and shovels.
Self-Sharpening Mower Blades
Self-sharpening mower blades are options for ZTrak Zero-Turn mowers that have 60-inch decks. This allows for a perfect cut every time and ultimately reduces the amount of time that is spent on maintenance.
MICHELIN®X® TWEEL® TURF Airless Radial Tires
MICHELIN®X® TWEEL® TURF Airless Radial Tires mean no more flats, downtime, patch kits, or replacement tires for customers. These tires have a wear life that is three times that of a pneumatic.
If you have any questions about the Z900 Series, you can contact your local John Deere dealer.
If you enjoyed this post or want to read others, feel free to connect with us on Facebook, Pinterest, or Twitter!
You might also like: