What's unique about the John Deere X Series Combines? The technology behind the machine. This equipment has been known to help improve convenience, performance, and reliability for farmers all over the world.
What are the John Deere X Series Combines?
When it comes to threshing, separating, and cleaning more bushels per hour, large-scale producers know that reliable machinery is the key to success out in the field. Originally announced in 2020, John Deere has announced that it will welcome two new X Series Combines to its 2021 harvesting lineup. The new X9 1000 and X9 1100 Combines not only increase harvesting performance but also simplify everyday tasks during the workday.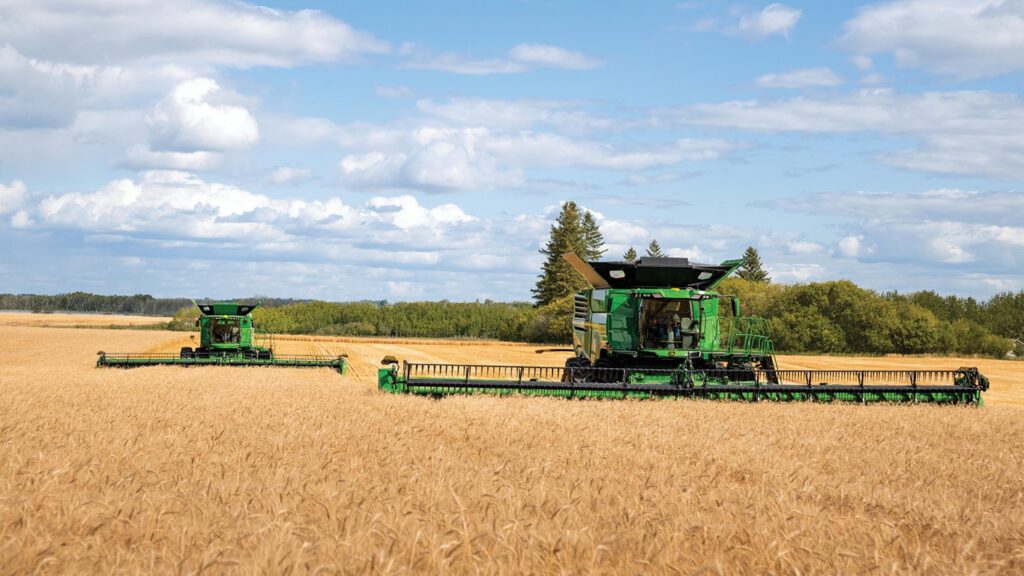 The Benefits of the John Deere X Series Combines
Let's take a closer look at the capabilities and design features that make these new John Deere X Series Combines perfect for those jobs that require maximum efficiency, even when conditions are less than ideal.
Artificial Intelligence
John Deere X Series Combines are known for their use of AI and computer vision, as well as in-field machine-to-machine communication, integrated sensors, and self-driving capabilities. This helps to boost productivity out in the field for farmers.
ActiveVision Camera Technology
Farmers can see the inside of their combine's grain tank and observe their tailings with ActiveVision. This allows them to keep an eye on their harvested grain, right down to the single kernel.
Self-Monitoring Capabilities
The X Series Combines can monitor themselves, which gives farmers the opportunity to manage concerns remotely. This helps to minimize downtime and support the overall bottom line for producers.
Increased Harvest Capacity
The John Deere X Series Combines allow farmers to harvest faster without risking grain loss or quality. All machines can thresh, separate, and clean more bushels per hour regardless of unpredictable conditions.
With their dual separators, both the X9 1000 and X9 1100 have an increased threshing area of 45% and separating area of 80%, ensuring better performance when working with high-volume crops. The outside dimensions are still about the same as the S790, making tight turns and narrow transport a breeze. The new cleaning shoe featured on the X Series models also offers 36% more cleaning area to effectively place clean grain in the tank in the most difficult harvesting conditions.
X Series Efficiency
The X9 1000 and X9 1100 both have efficient 13.6-liter engines that can provide up to a 45% increase in harvesting capacity while only using 11% more horsepower than the S790. With seamless speed control, they also offer 30% more torque on the job. The simplified belt-drive system uses larger pulleys and longer belts to stand up to everyday wear and tear. Together, the belts, transmission, residue system, and rotors all use approximately 20% less fuel than comparable models.
Versatility of the X Series Combines
The integrated StarFire™ Receiver and JDLink™ Connect make operation simple for producers, and Combine Advisor™ and ActiveVision™ Cameras automatically maintain combine settings across the board. Tracks deliver improved floatation and allow for transport speeds up to 25 miles per hour. Finally, the 4600 CommandCenter™ Display ensures quick and easy equipment management from inside of the cab.
The X Series Combines are available on wheels or tracks. To learn more about the capabilities of the new John Deere X Series Combines, watch the video below:
If you have any questions about the X Series Combines, you can contact your local John Deere dealer.
If you enjoyed this post or want to read others, feel free to connect with us on Facebook, Pinterest, Twitter, or Instagram!
You might also like: