With more than 50 years of history in producing riding mowers, John Deere has introduced hundreds of models that have played a significant role in the evolution of our lawn and garden equipment today. When looking at a John Deere riding mower, many questions arise like – What year was it produced? How did the technology evolve? Is there a larger model available? Which one is right for me?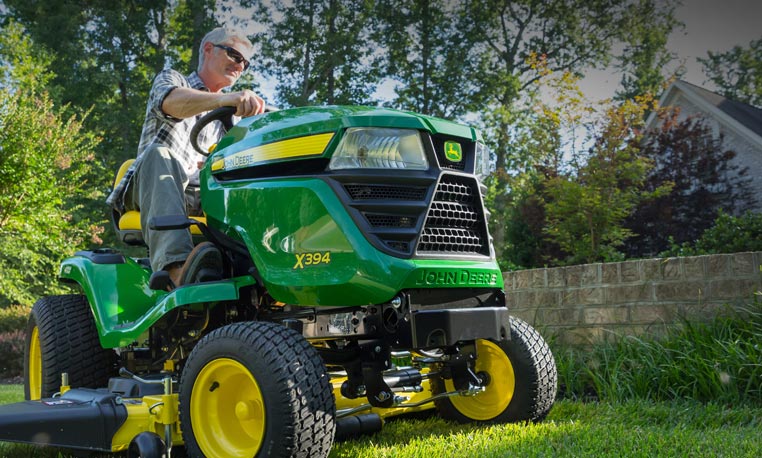 It would certainly be difficult to address all of these questions for every riding mower model that has ever existed. However, we wanted to put together this series to help you get a better understanding of the history behind John Deere riding mowers.
In this post, we'll look at the evolution of the John Deere riding mower from the 1960's to present time. Enjoy!
John Deere Riding Mowers in the 1960s
The 1960s was an exciting decade for John Deere as it laid the groundwork for years of success to come. From the creation of the original model 110 to the introduction of the model 140, there is no denying that the foundation for the history of John Deere riding mowers was a strong one.
Where It All Began
In 1963, John Deere first broke into the lawn tractor market by introducing the model 110. The John Deere 110 had a 4-stroke petrol-fueled engine with 7 horsepower.
At the time, lawn mowing was becoming a much more popular leisure activity. This prompted John Deere to dive into the marketplace by offering many similar features and implements that the bigger farming tractors incorporated. The 110 was a big hit, likely because of the impressive design and futuristic features.
Urbanization
After proving success with the model 110 mower, John Deere introduced the model 60 shortly after. This was particularly designed with more urban customers in mind – those who had less land and didn't necessarily need the larger model 110.
The John Deere 60 was useful for customers who needed to conquer their lawn work with a versatile machine, as this model offered a variety of attachments, including:
Snow blade
Snow thrower
Model 80 dump cart
Pull behind sprayer
Taking Things a Step Further
Continuing on the success of the 110, Deere decided to launch a larger model that carried a similar style only with a bigger motor and wider deck. For customers who needed a machine for larger jobs than the 110 and 60 were capable of, the 112 was perfect.
Shortly after, Deere also introduced a small machine that offered a ton of power – the model 140. With 14 horsepower (compared to the 110, which offered 7 horsepower), the 140 was far ahead of its time.
For a complete list of riding mowers by model, year and serial number, check out the chart below.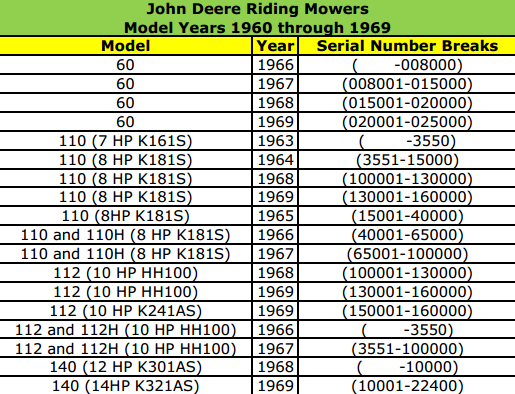 John Deere Riding Mowers in the 1970s
Despite having produced lawn tractors for nearly a decade by the time the 1970s rolled around, John Deere did not take this time to sit and rest. Instead, the 1970s were a time of advancement, resulting in 3 new series of mowers that were designed to go beyond expectations.
A Giant Leap Forward
Although a few existing models that were originally introduced in the 1960s were upgraded in the early 1970s, Deere took on some major advancements in 1975 when the 200, 300 and 400 Series riding mowers hit the market. These machines provided customers with new and exciting features, which we'll dive into below.
200 Series
This series included some similar features to the John Deere 110 and 112, like the V-belt Variator Drive and mechanical clutch PTO. However, the new design gave customers engine options between 8-16 horsepower, a rubber Iso-mounted, a fully-shrouded engine with a low tone muffler system, and a new style hood and grill. The design of the 200 Series mowers took on the styling of full-sized Deere agriculture tractors with a back-sloped brow.
300 Series
The 300 Series was a hydrostatic model that was upgraded to a 16 horsepower Kohler K-Series engine. Most upgrades to this machine were made to the body, as it took on more of a square hood design with integral headlights, engine side panels, and a black instrument panel. One of the biggest changes included the engine being moved from under the hood to under the rear fender pan.
400 Series
Following the trend of design improvements, similar to the 300 Series, Deere continued making more visible advancements with the 400 Series. This included the wheelbase on the 400 becoming 6 inches longer than the 140, a track that was 7 inches wider, and the weight of the machine being 250 lbs more. Along with the size and style of this machine being updated, Deere also added power steering, which was a complete game changer at the time.
Check out the chart below for a complete list of riding mower by model, year and serial number.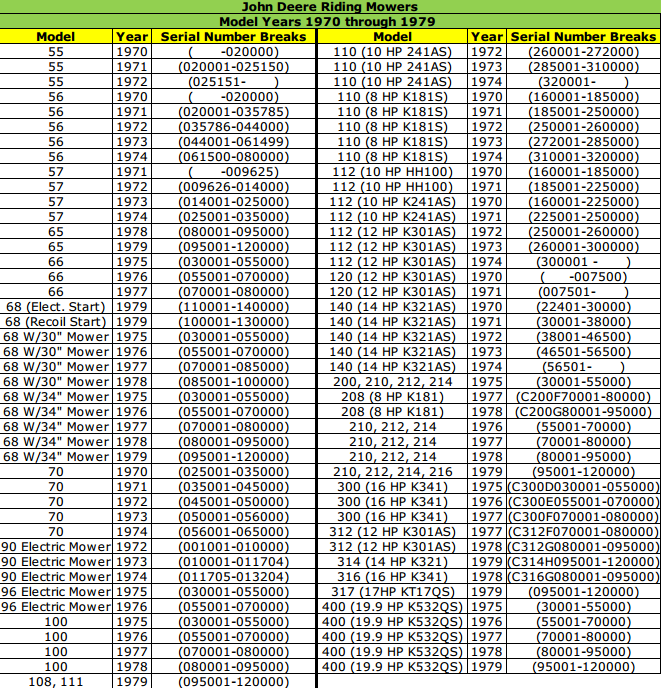 John Deere Riding Mowers in the 1980s
At John Deere, the 1980s were a time for evolution and reaching milestones. In addition to introducing new designs, such as the R and S Series, John Deere also manufactured its millionth lawn and garden tractor during this decade!
Deere Goes Diesel
In 1984, Deere's first tractor to combine a diesel engine with hydrostatic drive and power steering made quite the impression in the tractor industry. This impressive machine was the John Deere 430, which was very similar to the 420 model, but powered with a Yanmar 3-cylinder water-cooled diesel engine instead. The 430 weighed 1,170 lbs, making it the heaviest and strongest John Deere of its time.
Evolution of the 300 Series
The redesign of the 300 Series led to the introduction of the 318. What was great for customers was that many any attachments of the 140 and 300 Series could still be used on the new model 318; however, many exciting features were added:
Rear-frame redesign from "closed" to "open" configuration
Annunciator lights implemented into the dash panel
Square-shaped fender deck
Reserve fuel tank for increased productivity
The best part? During this time, John Deere hit the big 1 million milestone – manufacturing its millionth lawn and garden tractor, with the 318 model outselling any other models.
The R and S Series
As we know, Deere always looked to accommodate customers managing both big and small operations, which is why the R Series and S Series were introduced.
The R Series (R70, R72, and R92) was a good fit for customers needing a solution for smaller pieces of land. Key features included 5-speed gear-drive transmission, in-line gearshift, full-length welded steel frame, and a tight turning radius of 27 inches. This provided operators with even more dependability, long equipment life, as well as on-the-go shifting.
For those with lawn slightly bigger than what was fit for the R Series to undertake, Deere produced the S Series riding mower (S80 and S82). These machines had a 30-inch cutting width, electric start and 8 horsepower engines.
For a complete list of riding mower by model, year and serial number, check out the charts below.
John Deere Riding Mowers in the 1990s
Not to be undermined by the previous decade, the 1990s carried on the trend of growth for John Deere lawn and garden tractors. With the introduction of several new models, including the LT, LX, GT, and GX series, John Deere hit 2 more exciting milestones before the close of the millennium.
Exponential Growth
The 90s were known for many things but for Deere specifically, this was a time for exponential growth in both numbers and technology. In the 1990s John Deere hit both the 2 million and 3 million milestones, manufacturing its 2 millionth lawn tractor with the LX188 model and its 3 millionth tractor with the LT133 in 1998.
This is certainly a sentiment to how the company increased sales during this time; however, it's not the only thing Deere was working on during this time. Let's look through a few landmark models that were critical to the history of the John Deere riding mower.
LT Series
In the late 1990s, the LT Series (133, 155, and 166) became one of the most popular John Deere mowers ever. With this series, operators could experience high-quality wide cuts and a greater amount of fuel compared to competitive models in its class. An emphasis was put on comfort with the adjustable operator seat for those who spent long hours on their equipment The new Xenoy material instead of steel-hood also kept this machine in better condition.
LX Series
The LX Series was first introduced in the 90s and remained for 16 years to follow. Customers remember this series for its versatility, as each model was compatible with several sizes of mower decks to meet operators' needs. The LX Series was also great for a variety of other projects around the yard. For example, owners could latch a snow blower attachment to the machine to help fight off winter storms.
GT and GX Series
The GT and GX Series were very similar to one another when it comes to style and uses. For customers with plots of land around 4 acres in size, both machines can hook up to other implements like snow blowers, baggers, carts, front blades and a variety of rear attachments like aerators, and utility carts. These machines were best fit for owners who needed a little more power and size for their weekend activities.
Check out the charts below for a complete list of riding mower by model, year and serial number.
John Deere Riding Mowers in the 2000s
Last but certainly not least, Deere made a few noteworthy updates to existing models in the 2000s. The focus here has largely been around offering more power to customers thanks to models in the LA and X Series.
LA Series
This model combines power and versatility to make a perfect fit for medium-large-sized lawn owners. Key features include the full-length steel welded frame, full pressed lubrication, castiron front axles, headlights, translucent fuel tank including a sight gauge, comfortable operator station, Edge Cutting system, and option for Reverse Implement. Backed with plenty of power, this series also incorporates the John Deere's trademarked CargO Mount system, allowing for a large bagger or other heavy rear-mounted equipment to be easily attached. Other attachments like lawn sweepers, front blades, tractor shovels, mid-mount blades, carts, snow blowers, sprayers, and aerators can be easily added to the LA.
X Series
What's unique about this series of John Deere riding mowers? The technology is what sets this machine apart, as it transfers power to the wheels through the use of the hydrostatic transmission to save time during operations and eliminate unnecessary gear-changing to speed up or slow down. The X Series also incorporates the Edge Cutting System and tight turning radius. This all helps improve convenience, performance, and reliability.
The charts below provide a full list of these riding mower by model, year and serial number.
We hope this historical breakdown helped you get a better idea of how riding mowers got to where they are today. Still interested in learning more about the history of John Deere riding mowers? Be sure to check out some of the related articles listed below.
Related Articles: