The American Society of Agricultural and Biological Engineers (ASABE) is dedicated to recognizing the best in the industry in terms of product innovations each year with the AE50 Award. John Deere is one of the many companies that has been recognized in the past for its machinery, and this year, it has done it again – several pieces of John Deere equipment have been given the AE50 Award from the ASABE.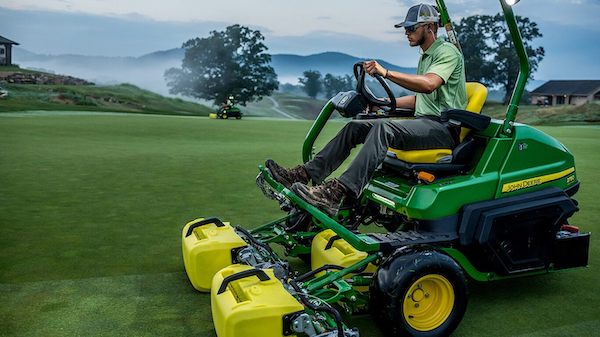 This year's AE50 winners include a wide range of machines, systems, components, software, and services that have been recognized for their innovation, significant engineering advancement, and impact on their respective markets.
Let's take a look at the equipment from Deere that has been honored with AE50 Awards from the ASABE this year.
John Deere 2700 and 2750 PrecisionCut™ and E-Cut™ Hybrid Triplex Mowers
The 2700 and 2750 PrecisionCut and E-Cut Hybrid Triplex Mowers each received an AE50 Award from the ASABE. The mowers were praised for their innovative designs, which were created based on customer challenges and feedback. Each model is equipped with the TechControl system, enabling operators to input commands to control nearly everything regarding performance.
LS475 Liquid System and N500C Series Air Drill
The LS475 is a liquid application system that was developed as an option for Deere's F4365 High-Capacity Nutrient Applicator. The AE50 Award recognizes the impact it has on ag service providers and large-acre producers who need rate-volume flexibility. The N500C Series Air Drill also received the AE50 Award for helping operators improve seed placement accuracy out in the field.
John Deere M and R Series Commercial Walk-Behind Mowers
These mowers from Deere received AE50 Awards for their innovative designs and efficiency. They not only improve productivity on the job but operator comfort, as well. Each of the models has new steering controls, improved hand position, and increased frame clearance to minimize operator fatigue.
Compact Tractor Quik-Knect™ System
The Compact Tractor Quik-Knect System received the AE50 Award for the innovation it brings to the food and agriculture industry. This system prevents twisting or forcing to line-up the splines when attaching rear implements. It increases operator ease and enhances productivity on the job.
If you have any questions about any of the AE50 Award winners from John Deere, you can contact your local John Deere dealer.
If you enjoyed this post or want to read others, feel free to connect with us on Facebook, Pinterest, or Twitter!
You might also like: