John Deere knows that in order to take on a long workday, producers need reliable equipment that is designed to help cross off every task on their to-do list. With this in mind, the company has revamped its entire combine header lineup to include HDR Rigid Cutterbar Drapers, RDF HydraFlex™ Drapers, CR and CF Corn Heads, and a BP15 Belt Pickup. Ultimately, the goal is to provide customers with the machinery they need to achieve maximum harvesting capacity while minimizing grain loss under any condition.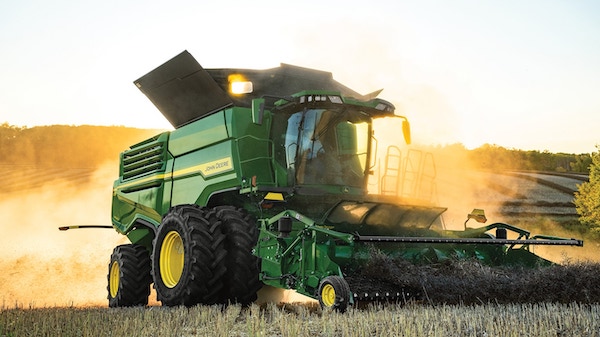 Let's take a closer look at these combine headers and the features that make them perfect for taking on a hard day's work out in the field.
Drapers
The HDR Rigid Cutterbar Drapers are perfect for small grains, oilseed, and soybean producers who are looking to maximize their combine's acres per hour.  This is achieved thanks to a new hinged frame that provides terrain-following capability with a broad wing range.
Producers can also opt for the John Deere RDF HydraFlex Drapers, which are built on the proven technology of the existing John Deere 700FD while also providing new features to limit grain loss. All RDF HydraFlex Drapers also feature a new Two-Speed Center Feed Section that allows operators to slow down the feed drum and center feed belt by 20%, as needed.
Corn Heads
John Deere CR Rigid Corn Heads are designed to help producers who utilize X Series, S Series, and T Series Combines to harvest more bushels per hour. The heads feature a 19-inch cross auger and rolled auger floor to improve grain handling. The increased torque of the large auger ensures the corn head is not the limiting factor, so producers can achieve the true bushels-per-hour potential of the combine.
John Deere CF Folding Corn Heads include all of the features of the CR Rigid Corn Heads, as well as a low-profile folding frame for easy transport. The head also requires less storage space when the workday comes to an end.
Belt Pickup
The BP15 Belt Pickup for small grains and oilseed producers allows customers to harvest more acres per hour with an X Series, S Series, or T Series Combine. It can also deliver a 20% faster feed rate than the Deere 615P to handle high-volume crops in difficult conditions. The BP15 features an improved feed rate adjustability, meaning producers can spend less time making alterations and more time harvesting.
To learn more about the new combine header lineup from John Deere, watch the video below!
If you have any questions about the HDR Rigid Cutterbar Drapers, RDF HydraFlex Drapers, CR and CF Corn Heads, or BP15 Belt Pickup, you can contact your local John Deere dealer.
If you enjoyed this post or want to read others, feel free to connect with us on Facebook, Pinterest, or Twitter!
You might also like: