To cater to customers looking for new equipment that packs a punch in terms of horsepower, John Deere has not only updated its lineup of 7R and 8R Tractors for the 2021 model year, but it has also added the 7R 350 to round out the bunch. The 7R 350 has 350 rated engine horsepower, which is a 20 horsepower increase over the largest model year 2020 7R Tractor. It also has a base weight of 24,700 pounds and offers the best power-to-weight ratio of any John Deere tractor on the market.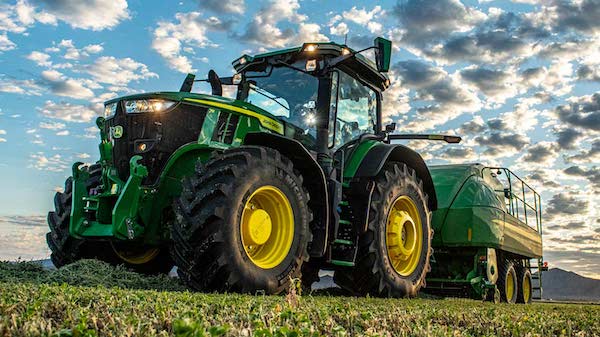 Let's take a look at some of the other key features of the John Deere 7R 350 that work together to enhance productivity, comfort, and overall capabilities.
Ultimate Comfort and Convenience Package
With this package, operators can enjoy unsurpassed visibility, operator comfort, control placement, and ride and sound quality. Thanks to features like a CommandARM™ console with hitch- and hydraulic-integrated controls, a 4600 Generation 4 CommandCenter™ Display, and a premium sound system, operators are guaranteed to enjoy their days out in the field, no matter how long they may be.
Maximum Visibility
Customers can opt for one of three visibility packages when ordering the 7R 350 – this includes the Select Visibility package, the Premium Visibility package, and the Ultimate Visibility package. Depending on which option they go for, operators will enjoy varying levels of illumination that will allow them to work from early in the morning to late at night, getting the most out of each day.
Smoother Ride Quality
In terms of cab comfort, 7R 350 customers will benefit from the John Deere Active Seat II, which uses an electrical control system to ensure a smoother ride. Building on the features of the air suspension seat, this seat comes with the addition of a ride firmness switch with three positions – plus, minus, and mid position – that provide different levels of performance.
CommandPRO™ Control
This John Deere tractor also comes available with the CommandPRO™ control, making it simpler for operators to manage the machine and work more efficiently. With unique inching control and the ability to adjust speeds with ease, it has never been easier, or more comfortable, for operators to enjoy top of the line performance as they work through their list of tasks.
Triple-Link Suspension Plus
Customers can also opt for the TLS plus, a fully integrated, self-leveling front suspension system that is designed to increase field and transport productivity. By providing exclusive front suspension using a hydro-pneumatic self-leveling system, TLS Plus gives operators more control while also improving ride quality.
If you have any questions about the 7R or 8R Tractors from John Deere, you can contact your local John Deere dealer.
If you enjoyed this post or want to read others, feel free to connect with us on Facebook, Pinterest, or Twitter!
You might also like: