In an effort to provide more power and versatility to its customers, John Deere has announced that it is updating its line of 7R Series Tractors for model year 2020. In addition to offering new levels of comfort, these tractors will also include the latest precision ag technology.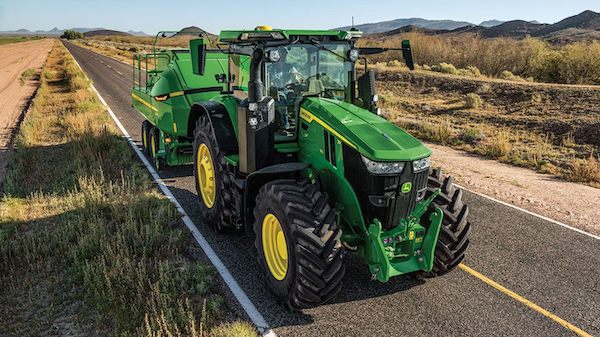 "New 7R Tractors deliver high-horsepower capabilities in a compact, easy-to-maneuver chassis," said Tammy Lee, marketing manager, production agriculture for John Deere. "The latest updates strengthen dependability and simplify routine maintenance and service work while adding new technology."
Let's take a look at some of the updates that were made to the 7R 210, 7R 230, 7R 250, 7R 270, 7R 290, 7R 310 and 7R 330 tractors.
Integrated Intelligence
Each of the 7R Series Tractors for model year 2020 will come with an integrated Gen 4 4600 CommandCenter™ display, StarFire™ 6000 integrated receiver, and AutoTrac™ activation. The suite of John Deere technology allows customers to automate their fleet and document the machinery as each piece works out in the field.
New Transmission
The 7R Tractors come with the e23™ PowerShift transmission which can handle sudden, high-torque power loads while maintaining quick and smooth shifts. Customers also have the option of going with the Infinitely Variable Transmission™ as well.
Cab Comforts
The cabs of the 7R Tractors come with an extra two inches of headroom and a 24% wider entry path, making for easier entering and exiting. Customers can also choose from Select, Premium, and Ultimate cab packages which offer bonuses such as a leather seat with electronic adjustment.
Visibility Boost
Similar to the cab packages, there are three visibility packages offered to customers when they order a 7R Tractor: Select, Premium, and Ultimate. Ultimate Visibility comes with 22 work LED and eight convenience LED lights, twice as many lights as current models, for nighttime efficiency.
Varying Horsepower
The 7R Tractors range in horsepower from 210 to 330, meaning customers have a wide array of options when it comes to selecting a tractor for their specific needs.
For more information on John Deere 7R Series Tractor updates, watch the video below.
If you have any questions about the new 7R Series Tractors for model year 2020, you can contact your local John Deere dealer.
If you enjoyed this post or want to read others, feel free to connect with us on Facebook, Pinterest, or Twitter!
You might also like: